Undergraduate
Ernest James (Mathematical Sciences) – A Mathematics major with a minor in Philosophy and a member of the Citadel Honors Program. Ernest is an intelligent, self-motivated, goal-oriented, and hard-working student. He has a 4.0 GPA. In addition to being excellent in all his coursework, Ernest was awarded and participated in two SURE projects:(1) Use Mathematical Modeling on COVID-19, 2020 (with Dr. Chen), and(2) Applications of the LRC Circuit Equation, 2022 (with Dr. Lyons).He presented his work and results of Projects (1) and (2) at the 2021 and 2022 Citadel Student Excellence Day, respectively, and SURE Conferences. He is currently working on the 2nd part of Project (2) with Dr. Lyons. He is planning to present his new results at the 2023 Citadel Student Excellence Day, the 2023 MAA-SE, and the 2023 AMSSE Annual Meetings in the spring of 2023.Ernest also solved two open problems posted in The Fibonacci Quarterly during his freshman and sophomore years.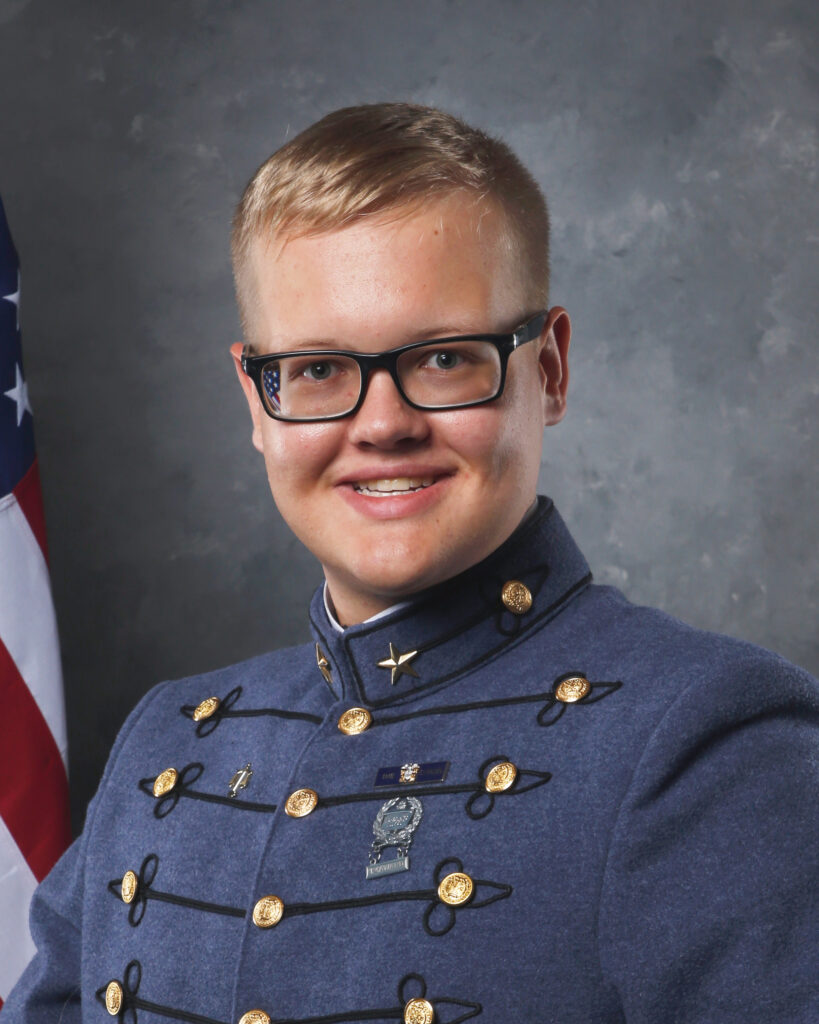 One of his two results was published in The Fibonacci Quarterly and the other one was presented at the 2022 MAA-SE Annual Meeting. Ernest participated in the Math Jeopardy Competition hosted by the Department of Mathematical Sciences in the fall of 2019, and his team won first place in the competition. He was also a member of the Citadel Math Jeopardy Team participating in the Math Jeopardy Competition at the 2022 MAA-SE. Ernest has a passion for helping fellow students who are struggling in mathematics to succeed. He was a math tutor working in the Math Lab during the AY 2021-2022 and has been a PI (peer-instruction) leader for Calculus I (MATH 131) since 2021 to help students. Ernest is actively involved in recruiting math majors. He volunteers to meet pre-knobs virtually or in person and shares his experience as a math major and cadet. He also serves on the SFSSM Dean's Circle for math majors. For his academic excellence, Ernest is awarded a gold star every semester, and was a recipient of the Outstanding Freshman, Sophomore, and Junior Awards in 2020, 2021, and 2022, respectively. He will also receive the Reves' Award as an outstanding senior in 2023 by the Department of Mathematical Sciences.
Benjamin Race (Cyber and Computer Sciences) – Benjamin (Ben) Race is one of the most Outstanding Students (in terms of Academic Excellence, Leadership, Service, and High Impact Practices) that the Department of Cyber and Computer Sciences has ever graduated. He graduated in December 2022 with triple majors in Computer Science, Mathematics and Cyber Operations. His GPA was 3.86. Towards the end of his freshmen year, Ben was eligible to apply for Department of Defense Cybersecurity Scholarship (DoD CySP) because he had a lot of transfer credits. He applied for DoD CySP and was awarded this prestigious scholarship for sophomore, junior and senior years. Very few students have obtained this prestigious scholarship during their sophomore years. Ben has already received a job offer from Naval Information Warfare Center (NIWC). He worked with NIWC as an intern in summer 2021 and summer 2022. Ben was the recipient of the prestigious Citadel Distinguished Scholars Program. He was a member of The Citadel Cyber Team that was placed 2nd in Palmetto Cyber Defense Contest that was organized by NIWC. Ben is an active member of The Citadel Cyber Club, The Citadel Association for Computing Machinery (ACM) Club, and The Citadel Math Club.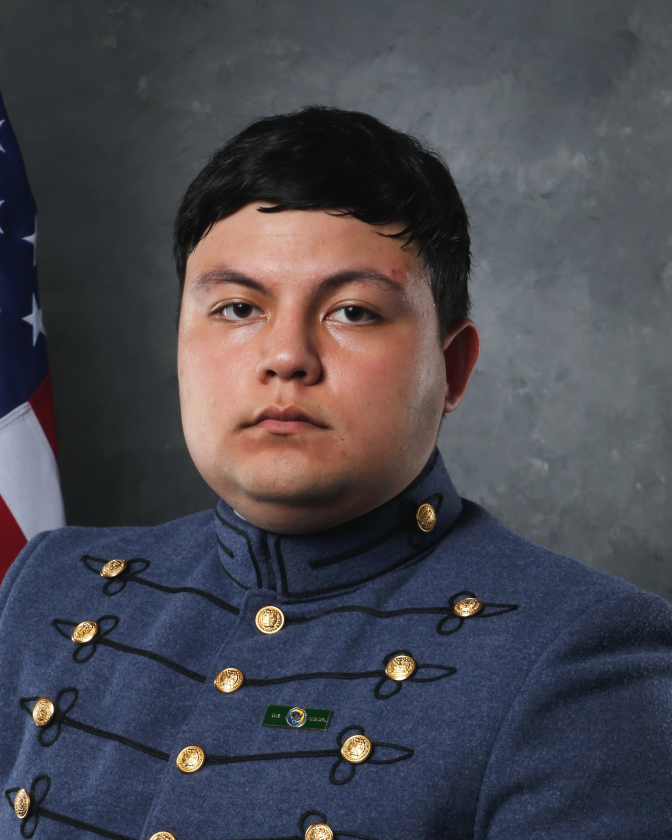 He is the President of the Citadel Cyber Club. He participated in National Cyber League (NCL) in Fall 2020, Spring 2021, Fall 2021, Spring 2022, and Fall 2022. He was ranked 75th in the NCL Fall 2022 where 7500 students from all over the country participated in this competition. He also led The Citadel ranked 19 out of 470 colleges nationwide in the NCL's Cyber Power Ranking. He also participated in National Cyber Exercise (NCX) in Spring 2021 and Spring 2022.Ben worked on two research projects. He worked with Dr. Wittman on Dimension Reduction of Hyperspectral images. He also worked with Dr. Banik and Dr. Mukherjee on Applications of Homomorphic Encryption on Cloud Computing. He presented poster papers at the Citadel Student Research Conference. He also solved open research problems from Fibonacci Journals and published his solution on Fibonacci Quarterly Volume 59 No 3 August 2021. In Fall 2022, he participated in Information Security Research and Education (INSuRE) Group Research Project on Trust in 5G Network under the guidance of a Technical Director from the National Security Agency.He was listed in Dean's List from Fall 2019 to Spring 2022, and Gold Stars from Fall 2020 to Spring 2022. Ben was a member of The Citadel DoD Cyber Institute Cohort from Fall 2021 to Fall 2022. He served as a Math Tutors at The Citadel Student Success Center from Fall 2020 to Fall 2022. He obtained Network+, Security+ and Certified Ethical Hacker Certifications. Very few undergraduate students obtain these professional certifications before their graduation. Ben is a rare kind of student who has both an exceptional natural ability and an eagerness to learn. He constantly challenges himself and performed outstandingly as a leader in the Corps of Cadets. I strongly recommend Benjamin Race for the CASM Award for Outstanding Undergraduate Student (SCCC).
Ian Jenkins (Nursing) – Ian Jenkins has been recognized by faculty in the Swain Department of Nursing as an outstanding student. Ian is a senior-year cadet with a grade point average of 3.96. Ian's academic excellence has been recognized with honors such as the President's List, a Gold Star recipient, and a recent induction into Sigma Theta Tau, the International Honor Society of Nursing. Ian is a leader in his class. He is consistently polite, kind, and thoughtful of the needs of others. He excels in the clinical setting. Ian has academically challenged himself throughout his education at The Citadel. He has a great interest to learn and continuously registers for classes that are not necessary to attain a nursing degree. His desire to learn will be an asset as he continues to reach for his goal to become a Certified Nurse Anesthetist. In addition to his academic excellence, Ian is an active member of the Corps of Cadets.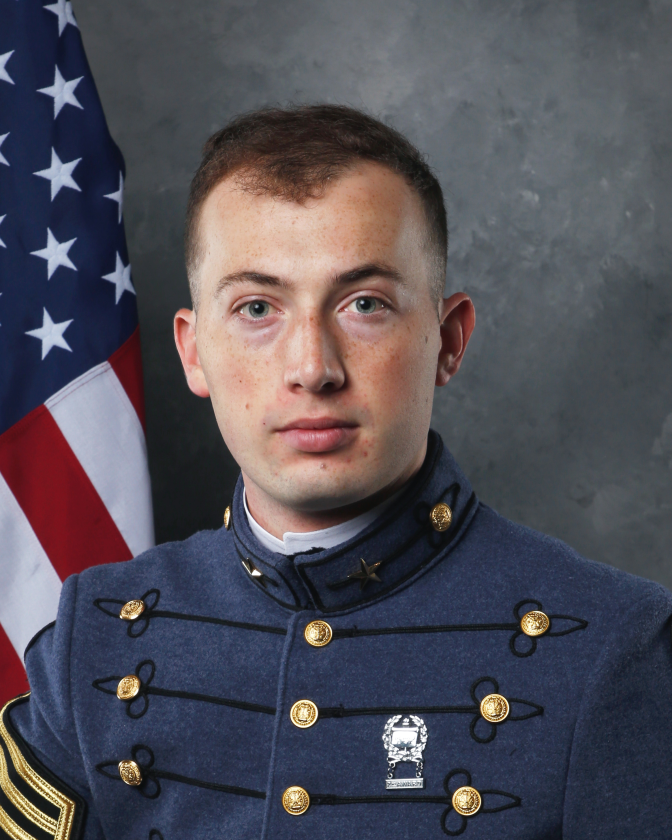 He holds the rank of Captain and serves as the Regimental Athletic Officer. He works closely with Battalion Athletic Officers and the Campus Athletic Offices to achieve a climate that supports the physical abilities of the cadets. He is a member of the Summerall Guard. Ian won a Rifle King challenge and set a school record of holding his rifle in a specific position for 90 minutes. Ian secured the position of a nurse extern at Roper Saint Francis hospital where he provided patient care and was a member of the healthcare team. His volunteer activity consists of campus-related activities, and with a church in his hometown where he served as a video and sound technician for four years. This is the second nomination that Ian has received from the Swain Department of Nursing as an outstanding student! He also received this recognition as a junior-year nursing student. Ian is our first student to be recognized as an outstanding student for two consecutive years. Please accept this nomination for Ian Jenkins to be given the utmost consideration for the undergraduate Outstanding Student in the Swain Family School of Science and Mathematics.
Alexandria Carter  (Physics) –  Cadet Carter is an excellent student, majoring in physics with a 3.6 GPA. She balances her coursework with a significant amount of leadership and service to the community. She has a Navy commission and she is well on her way to becoming a nuclear submarine officer. Academic Excellence and Participation in High impact Practice Extracurricular Activities – Cadet Carter is an exceptional research student. She was awarded a NASA SC Space Grant Palmetto Academy research position for the summer of 2022. As part of this, she worked with Dr. Kaelyn Leake and myself designing, fabricating, and characterizing novel polymer structures. She showed great ingenuity and initiative during the project. She demonstrated one of the highest levels of independence of all the research students we have mentored. She did an outstanding job of pushing through the challenges of research. We published a proceedings paper as part of the 2022 SPIE Optics + Photonics conference based on this work. She is a co-author on this paper, "Layer by layer thin film fabrication with in-process laser patterning" that was part of this international conference. Ally was instrumental in this work and the results would not have been possible without her time, effort, fortitude, and creativity.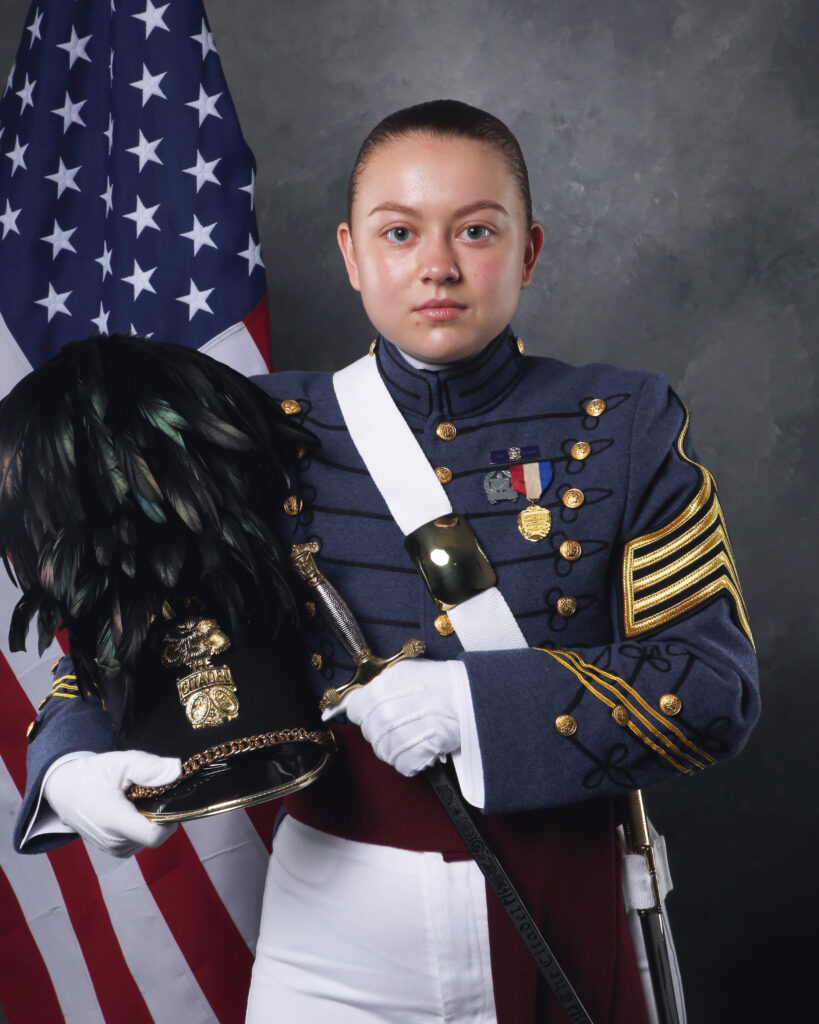 As part of her senior capstone project, her team is designing and characterizing wearable gas sensors with an eye toward miniaturing the system. Such devices have a variety of applications, for example, in the military. They have submitted an abstract based on their work to The National Conference on Undergraduate Research (NCUR) that will be held in April of 2023. Leadership and Service to Others – Cadet Carter excels as a leader and is committed to helping others. As the Regimental Academic Officer, she is one of the top-ranking cadets of the Class of 2023. As part of this position she has significant responsibilities for the optimizing the ability of each cadet to excel in academics. She has also been a departmental tutor, in additional to many other roles in service to others. Cadet Carter helped organize and run the Summer 2022 Applied Physics High School Event with the department. These are hands on events with the goal of generating excitement for physics and increasing interest in physics at The Citadel. Ally not only helped during the event she also prepared a large amount of the materials and taught one of the activities. She was an outstanding example to the high school students.
Mary Ballantine (Biology) – Mary is currently a senior majoring in Biology and minoring in Molecular Biology and Biochemistry. She has received Gold Star Recognition in 5 of her 6 semesters at The Citadel and holds a cumulative GPA of 3.905. Mary is deserving of this award based on her exceptional academic record, commitment to research, selfless service to others, and numerous leadership activities. Mary has participated in a several research projects related to microplastic pollution over the past two years. Mary began working in the Weinstein laboratory as a research assistant where she sampled and processed sediment and water samples for microplastic particles as part of an NIH grant examining the relationship between environmental levels of these particles and those found in oyster tissues. During this time, she became interested in conducting her own research project and designed a study to assess atmospheric deposition as a pathway by which microplastic particles are introduced into coastal waters. Over the next year, Mary built collection devices and deployed them at four locations in the Charleston area. She then monitored them weekly for atmospherically deposited particles. Her results, when published, will be impactful.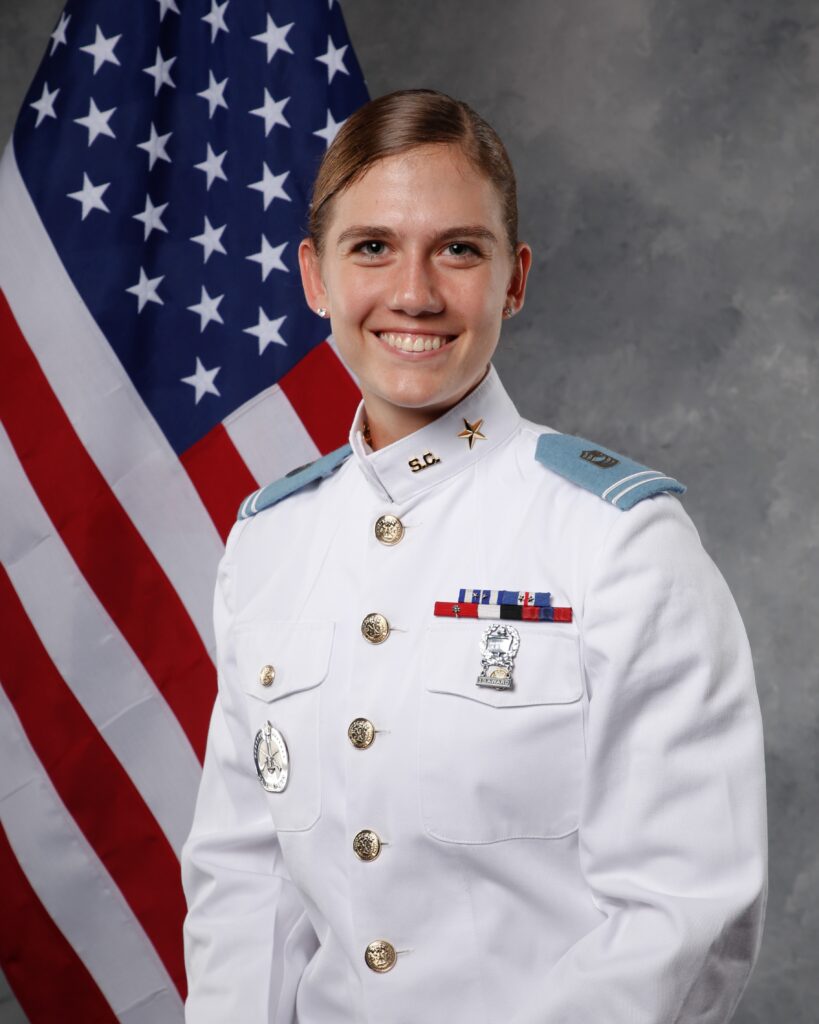 Mary found that the abundances of atmospherically deposited microplastic particles, especially microscopic tire particles, were dependent upon location with the highest levels associated with the collection site adjacent to the Ravenel Bridge (4,826 particles/m2/day). Mary's results suggest that proximity to sources, such as roadways and bridges, strongly influence the abundance and types of microplastic particles deposited in salt marshes. This past November, Mary presented these findings at the annual meeting of the Society of Environmental Toxicology and Society. Mary has also established an impressive track record in service and leadership activities. Mary serves as a Combat Medic Specialist in the Army National Guard, and she has several related certifications including an Emergency Medical Technician License and a State EMT License. In March 2020, Mary was called up by the National Guard to serve on the COVID Task Force. During this time, she continued to attend her Citadel classes (remotely during the lockdowns) so as not to get behind in her coursework. This past summer, Mary worked at a Free Medical Clinic in Nairobi, Kenya providing medical related services to the underprivileged as part of Drs. Imam and Yee's study abroad experience. Within the SC Corps of Cadets, Mary serves as Athletic Officer and is a member of the Regimental Band. Mary also serves as the Vice President of the Theta Chapter of Alpha Epsilon Delta, an honor society for health pre-professionals, and as Vice President as Omicron Delta Kappa, an honor society for leaders.
Graduate / Active Duty
AnnaLeigh Runion (Health and Human Performance) – AnnaLeigh joined our MS program after completing her undergraduate degree in Exercise Science (GPA 3.94) at Norwich University where she served as company commander in the Norwich University Corps of Cadets.
Since arriving at The Citadel, AnnaLeigh has continued to demonstrate academic and leadership excellence both inside and outside of the classroom. AnnaLeigh has been an integral component of faculty research and service projects such as the Army ROTC strength and conditioning initiative. She has served in multiple graduate assistant roles including coaching Cadets in four RPED courses. In the classroom, AnnaLeigh performance is simply outstanding (GPA 3.92), consistently going above and beyond what is expected. In addition to AnnaLeigh' s impressive academic and service record she is also a highly decorated member of The Citadel's Air Force ROTC Detachment 765. For example, she was recently presented with the Air Force Association Award which is given to the #1 third-year Cadet in the nation (see attached resume of additional ROTC accolades).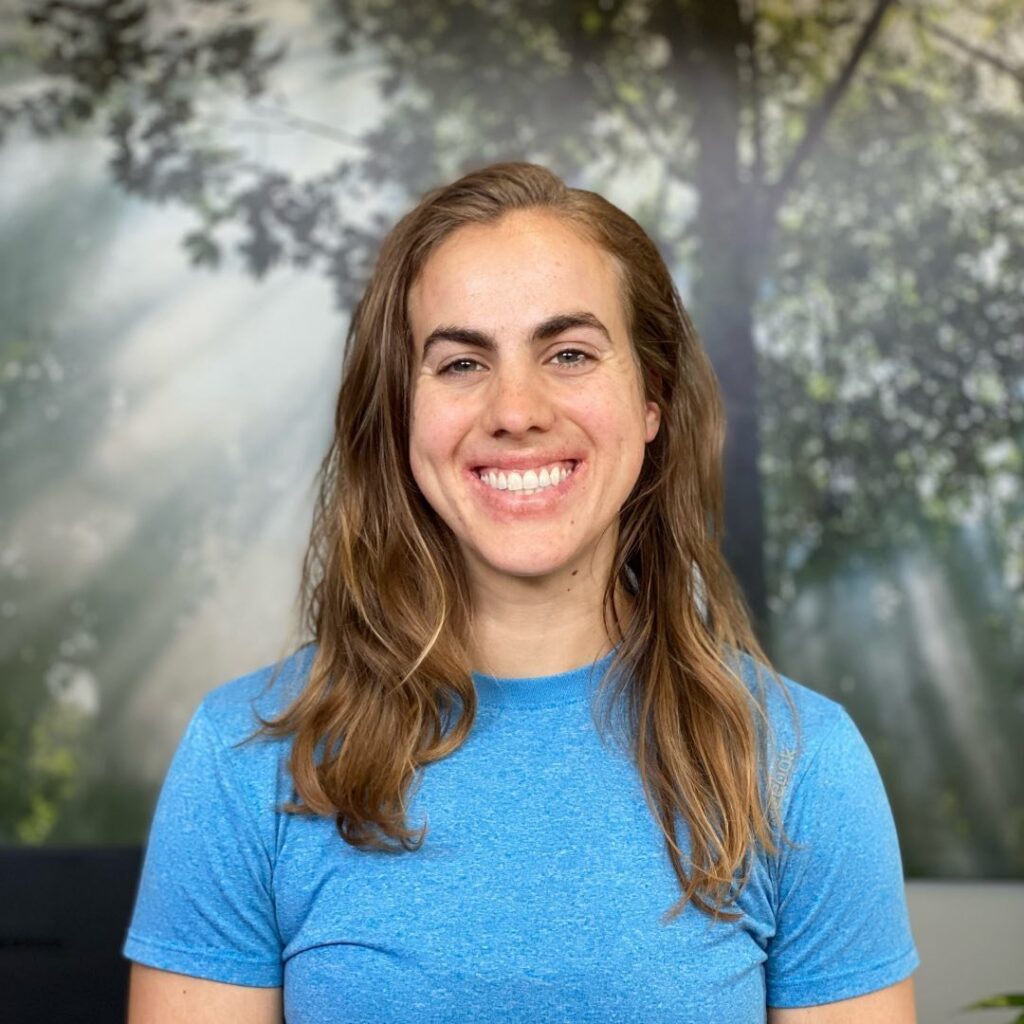 Katlin L. Thompson (Biology) – Katlin is a dedicated and diligent student who has maintained a 4.0 GPA as a graduate student in the Master of Arts program in Biology at The Citadel. Katlin graduated with a bachelor's degree in biology from the University of North Georgia and holds certification as a nurse assistant and patient care technician level II. She recently worked as a lab associate in medical pathology at the Medical University of South Carolina and plans to apply to medical school after The Citadel. She is interested in the fields of internal medicine, critical care, trauma and pediatrics.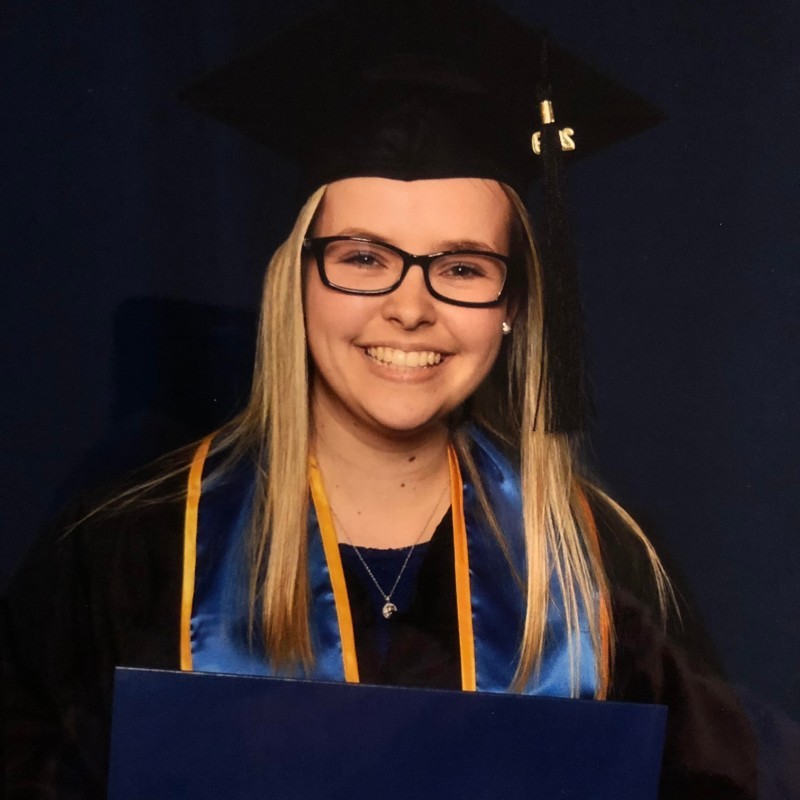 Courtney Dayre Smith (Nursing) – Courtney is a student in the evening program for the Bachelor's of Science Degree in Nursing. Her academic excellence has been internally recognized with repeatedly making the Dean's list, and externally with her recent induction into Sigma Theta Tau, the International Honor Society of Nursing. Her nomination as an outstanding student was an immediate and easy decision by the faculty in the Swain Department of Nursing. Courtney is perceived as a leader in her class. When there are questions or concerns about a class or the program, Courtney serves as the spokesperson. Her classmates defer to her to her knowledge when faced with challenging nursing content. She consistently engages in class discussion with a true desire to understand and to apply her knew knowledge into her work as a medical assistant.
She seeks to understand the correlation of nursing knowledge and its application into practice. From the perspective of improving patient care, we have witnessed her challenge the dogma related to skills or procedures that are common to nursing. These actions highlight her ability to be successful in graduate level nursing education. Courtney works full time as a medical assistant for an internal medicine practice. She works during the day and completes her classes in the evening. Courtney has a consistent record for volunteering in activities associated with her membership status with the Junior League of Charleston since 2020, and as a volunteer for Agape Hospice Care as a patient sitter since 2021. Courtney's ability to maintain a grade point average of a 4.0 while balancing the demands of a full-time job with the academic demands as a full-time student in a nursing program is quite remarkable. Her accomplishments are a rarity in nursing. She truly is an outstanding student.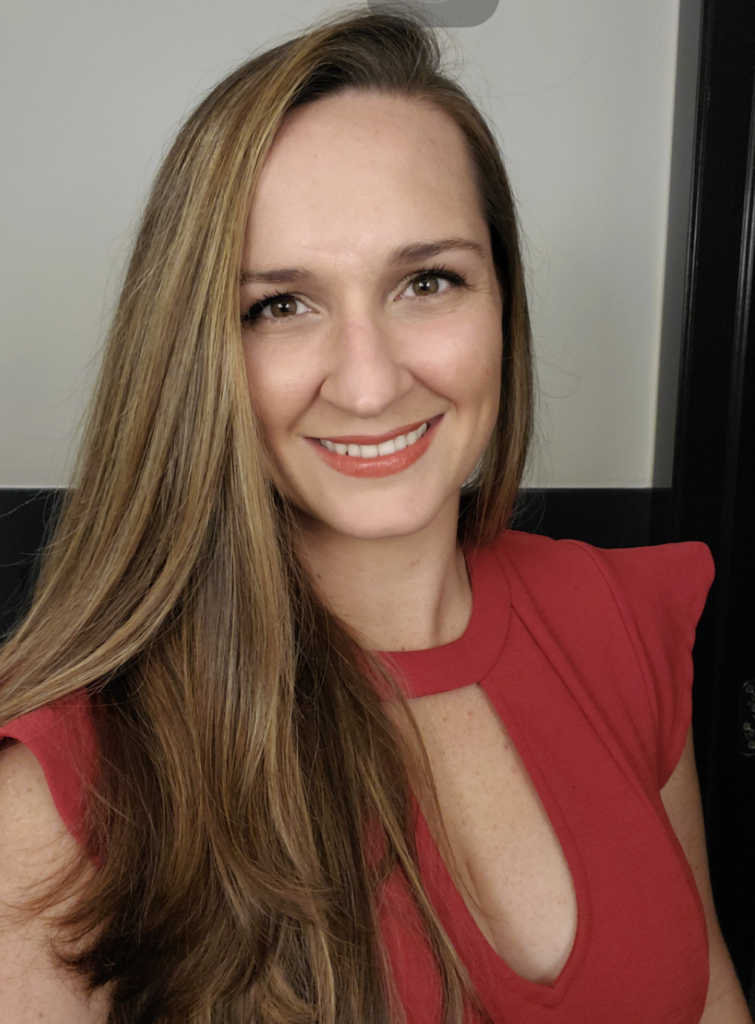 Jonathan Barr (Biology) – Lt. Barr shows outstanding achievement in each area considered important for this award, beginning with maintenance of a perfect 4.0 GPA in our MA in Biology program, all while working and maintaining combat readiness in the US Army National Guard. He currently serves as a 1st Lieutenant S4 Logistics Officer in the National Guard, after having previously been deployed in a combat operation. Impressively, he's taken a wide variety of courses, including several that are "outside his wheelhouse" of organismal biology. Further, he has maintained an impressive pace toward finishing his degree, with a completion date that will let him walk at the graduation ceremony in May 2023. Jonathan's academic experience here extends beyond the classroom: supervised by Dr. John Weinstein, he will conduct original research in spring semester 2023 into the effects of microplastics in the environment. During his undergraduate years here at The Citadel, he was active in the Bond Volunteers and the Powerlifting club.