The Kerr Reading Room was created to provide students with a quiet study space, a place to meet classmates to work on group projects, and a place to relax and read a book. The Kerr Reading Room is open every school day for all business students to use. A well lighted central area boasts a five-foot by seven-foot projection screen linked to a workstation for the development of presentations, group work and meeting discussions. The conference table seats up to ten people comfortably.
In addition, attached to the main area of the room are three private study rooms with monitoring windows each equipped with 32″ LG monitors and workstations for individuals or small groups to review projects.
For students with downtime or a few moments to relax between classes, comfortable seating for reclining is also provided. Students may peruse the provided current financial papers, business-related or study-abroad materials or catch up on assigned text reading in this area.
---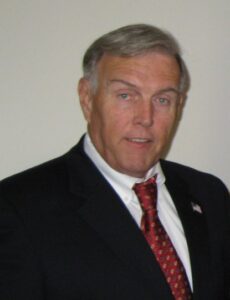 The Kerr Reading Room was made possible through the generous donation of James J. Kerr, Sr., a 1965 Citadel Corps graduate and successful local business professional.
James, "Jimmy" Kerr is a past president of the Baker School of Business Advisory Board. His contribution of the Kerr Reading Room has provided an additional opportunity for students of both The Corps of Cadets and Graduate College to develop their abilities and knowledge more thoroughly.
The Baker School of Business welcomes all business students to utilize this unique space.