The Industry Series includes artwork comprised of the major industries that make up South Carolina's economy.
---
This series is a gift from Kevin J. Lenahan, '16 and Connor S. Lenahan, '19
---
IMPORT/EXPORT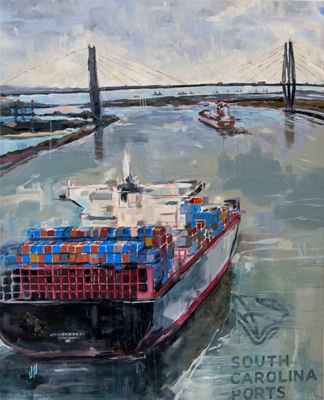 International trade involving importing and exporting goods accounts for an estimated 580,000 jobs (roughly 1 in 5) throughout South Carolina. Simply put, the Import/Export industry is vital to the health of Charleston and the state at large. Top markets that South Carolina services are: Germany, Canada, China, and Mexico. Small businesses account for 85% of all South Carolina exports. The top two goods exported from South Carolina: vehicles and aircraft. Due to growing trade agreements, South Carolina is positioned to become a leader in shipping throughout the United States.
---
AUTOMOTIVE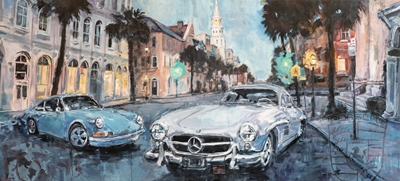 With more than $27 billion in revenue, Mercedes Benz, BMW, and Volvo call the low country their manufacturing home. As such, the automotive industry is a staple throughout the state. Our namesake donor for the school of business building, Rick Bastin, owns and operates the largest Mercedes Benz dealership on the East Coast. Additionally, the namesake donor for the business school, Tommy and Victoria Baker owns and operates one of the largest Mercedes Benz dealerships in the region. Honor, Duty, & Respect are some of the values taught throughout their organizations and thanks to their generosity, those values will continue to be embodied at The Citadel.
Photos of the artist painting "Automotive"
---
MANUFACTURING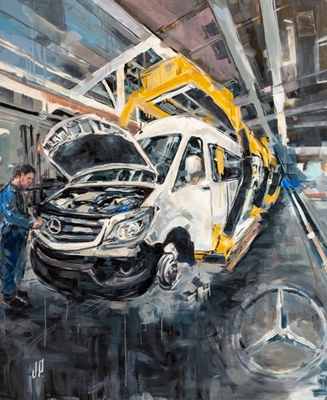 The manufacturing industry employs approximately 12% of all South Carolinians. Manufacturing businesses across the state consist of aerospace, automotive, textiles, chemical, steel, biomedical products, and small businesses. Many of the major automotive industries call South Carolina home. Mercedes, Volvo, and BMW utilize the resources of South Carolina to produce products that are shipped all over the world. Additionally, Boeing located the manufacturing of its Dreamliner aircraft in South Carolina.
---
AEROSPACE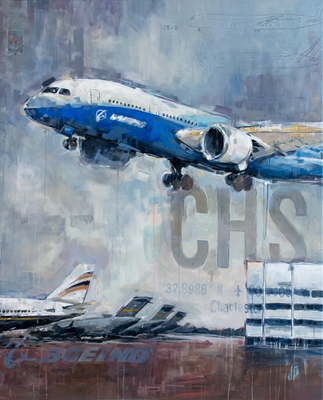 South Carolina is a leading state in the Aerospace industry. With a combination of public, private, and academic partnerships, the aerospace industry promotes collaboration for future research and development. South Carolina is home to over 400 private aerospace firms and 4 central military installations. The aerospace industry accounts for $14.13 billion of the state's GDP and has more than 130,000 workers within the industry throughout the state. South Carolina accounted for 9.1% of the total US market share for exported goods in aerospace, aircraft, and spacecraft goods.
Photos of the artist painting "Aerospace"
---
MILITARY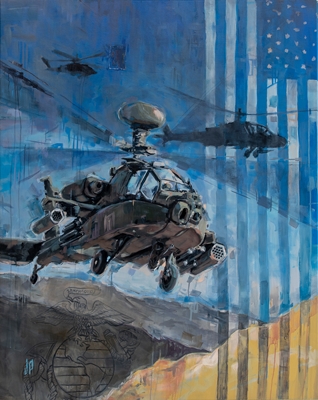 South Carolina has a distinguished military history dating back to the 1600s. Since the founding of Charleston and the greater state of South Carolina, the defense industry and service presence have grown exponentially. During World War 2, over 180,000 South Carolinians (including 2,500 women) joined the armed forces. Today, South Carolina is home to many private and government military firms accounting for $2.6 billion in annual contracts from the Naval Information Warfare Center (NIWC – pronounced Nī' wick), formerly known as SPAWAR.
Photos of the artist painting "Military"