2022 – 2023 Academic Year
Justin Halladay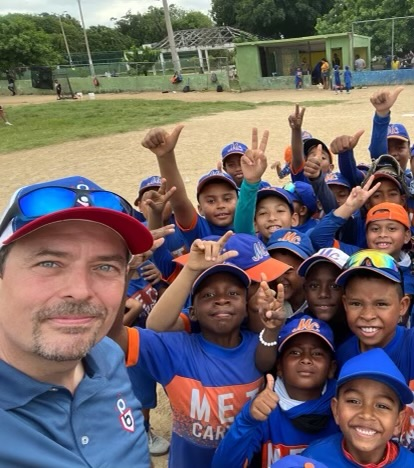 Founder, Project Beisbol and Sobrevida Communications
Thursday, Sept. 22 at 9:30 a.m.
Justin was born and raised in Chester Springs, Pennsylvania and attended Malvern Prep where he developed his passion for baseball and community service. He has a bachelors degree in International Studies and Spanish from West Virginia University, which included two study abroad trips to Spain. He also had the opportunity to study the history and economics of Cuba in Cuba in 1998 with Dr. William Trumbull, a trip which had a profound impact on him and the creation of Project Beisbol years later. After undergrad, he dedicated much of his 20's studying, traveling and working in the Americas, Europe, Russia, Northern Africa and the Middle East. Upon returning, he completed an MBA in International Business from Florida Atlantic University, which also included a study abroad component to Brazil in 2006. On that trip to Brazil, Justin conceived the idea for Project Beisbol while writing his master's thesis on the evolution of baseball in Latin America and a social program to address the market failure of baseball internationally. In 2008, Project Beisbol was founded with the mission of supporting local youth baseball and softball programs in Latin America with equipment donations and education opportunities, while promoting great hemispheric unity. In 2013, he resigned from his marketing position of eight years at Cleveland Clinic Florida to move to Colombia to dedicate himself fully to Project Beisbol and his English institute Sobrevida Communications. In 2021, Justin was awarded the distinguished St. Augustine Award for his community service by Malvern Preparatory School. He currently lives in Medellin, Colombia, traveling frequently to South Florida and Pennsylvania.
---
2021-2022 Academic Year
Reagan Cannon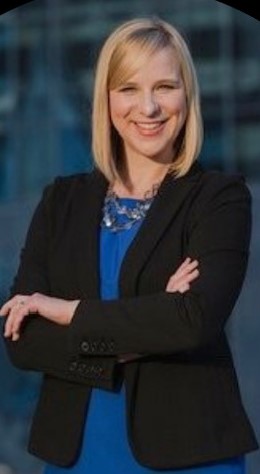 Chewy Executive
Monday, April 18 at 1:00 p.m.
Reagan is a dynamic executive, who has experience leading multifaceted organizations comprised of business strategy, technical product development, and large scale global operations. She has consistently created shareholder value through record breaking sales results and multi-million dollar cost savings initiatives, all while maintaining best-in-class customer satisfaction scores. With over 20 years of leadership experience, she has led teams in multiple industries including wireless, streaming media, workplace virtualization and e-commerce. Her organizations have spanned from handpicked specialized experts to large scale operations of 10K+ employees in support of multibillion dollar businesses. She drives results by establishing a clear, strategic vision, communicating boldly in a global, virtual environment, innovating new technology to delight customers, and fostering an inclusive culture that rewards excellence.
An established and highly praised leader, Reagan has the unique ability to attract and develop world-class senior talent in domains across product development, strategy, program management, training, operations, technology, and analytics. She drives the strategy for talent management, org effectiveness, and leadership development in order to procure the highest performing talent needed now, and in the future, for scaling organizations. In order to future-proof, and continuously raise the bar on these skills, she completed Invite Change's coaching certification program and acquired her ACC coaching certificate in 2021.
Outside of work, Reagan actively coaches and mentors the next generation of leaders including female leaders on confidence development, high-potential talent on career advancement, and small businesses on strategic planning. She is currently on the board of Medical Teams International (medicalteams.org), a non-profit that delivers lifesaving medical care to those in need. She is also on the Advisory Board of 4word, a non-profit focused on raising professional women into senior positions. In 2016, Reagan published her first book, The Cure for Career Quicksand, where she chronicles the lessons learned in the first 10 years of her career.
---
Aaron and Christine Marley
Biggby Coffee Multi-unit Owners/Operators
Monday, Feb. 21 at 1:00 p.m.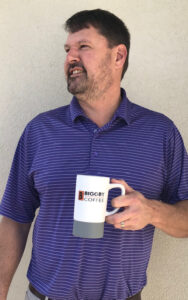 Aaron Marley –Owner/Operator + Area Representative; South Carolina
A graduate of College Of Charleston, Aaron initially accepted a Sales position with Icon in DC, post-graduation. After a couple of years, he returned to Charleston, SC to work for himself and open BIGGBY Coffee's first SC location [in Mt Pleasant], and has since never looked back.
In his additional Area Representative role, Aaron shares the BIGGBY brand with future prospective franchisees in addition to educating his current franchisees in everything small business start-up from lease negotiation, employee training, and even assisting in property location. With well over a decade in the Charleston community, he is a wealth of information when it comes to commercial real estate and small business ownership [the good, the bad and the ugly] in greater Charleston for current and future entrepreneurs.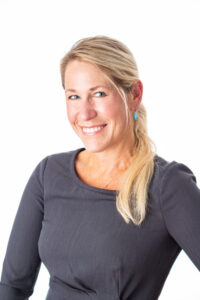 Christine Marley – Community Relations + Marketing Manager; BIGGBY – greater Charleston
While Christine was finishing her BS in Hospitality Management and Business Administration from East Carolina University, she had already held a position as Clubhouse Manager at a private Country Club in eastern North Carolina. After managing several private Club's in North Carolina – even working her way up to Assistant General Manager at Greenville Country Club, she eventually relocated to Charleston 20 years ago for the Programs & Events Director position at the Kiawah Island Club.
After more than 15years leading TEAMS and curating a myriad of family and VIP programs on Kiawah, she now uses her talents working with her family business sharing vast marketing + events skillsets, and overseeing community initiatives for BIGGBY Coffee N. Charleston and Summerville, SC.
---
Alexei Oduber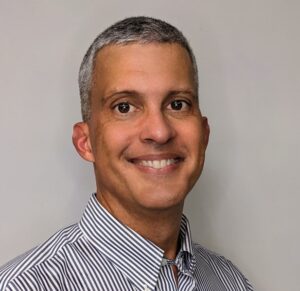 Managing Director, GAC Panama Shipping
Sept. 9, 2021 at 4:30 p.m.
Mr. Alexei Oduber has been involved in Tanker, Liner, and Agency Operations in Panama since 1991 where he started working with the Panama Canal. He managed a fleet of tankers, barges, and supply vessels for ancillary services. As the Administrative Manager of the Canal Transit Agency responsible for over 300 transits per month, he implemented innovative commercial projects, established Hamburg Sud's commercial presence in Panama while accountable for commercial, operational, vessel utilization, and equipment usage as the country manager.
Alexei is currently the Managing Director of GAC at Panama, part of the GAC Group based in Dubai. Along with a network of over 30 GAC offices in the USA, Brazil, Trinidad, Guyana, and Uruguay, he has focused on providing specialized services to America's tanker and bulker sectors.
He has spoken at international events, including presenting in Nairobi, Kenya and to the African Nation Assembly of the World Trade Organization.
As an active member of the Panama Chamber of Shipping, while presiding over the Education Committee, he designed and implemented a program of visits and presentations to different high schools with nautical programs. He has been a member of the Panama Nordeste Rotary Club since 1998 and served as President of the Club in 2005. In his spare time, he completed six (6) Ironman Triathlons (3.8km swim, 180km bike, and 42.2km run).
Born in the Republic of Panama​, he graduated from The Citadel, The Military College of South Carolina, in May 1990.  Subsequently, he obtained an MBA from Nova Southeastern University and then completed ​Executive Education at ​Wharton School of Business, The University of Pennsylvania.
---
2020-2021 Academic Year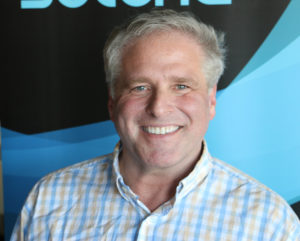 Glenn Starkman
Co-Founder, Soteria
Mar. 25, 2021, at 5pm
Before co-founding Soteria in 2014 Starkman worked in the asset management and institutional financials businesses at Sanford C. Bernstein, Goldman Sachs and UBS, ending this part of his career with responsibility for global businesses and as a member of multiple global business boards at UBS.
Starkman modernized sales teams utilizing tactical methods to increase sales across multiple products and services across a global client base while embracing technological changes in the industry which guided the business through tremendous disruption.
A dynamic business-building executive, Starkman leverages deep-seated relationships and utilizes his business acumen to ensure Soteria client security programs are appropriately tailored to the unique business and compliance requirements of their respective organizations. His industry experience complements that of his security expert colleagues to ensure clients receive customized services that provide a value-add. Starkman works closely with Soteria consultants and analysts to provide a high bar for client experience which has created a key differentiator for Soteria versus its competition.
From 2016 to 2018 Starkman assisted SC Cyber as part of its Advisory Board.
Starkman has also volunteered his time since 2014 as entrepreneur-in-residence at the College of Charleston where he was asked to continue the efforts of Mr. Tommy Baker, ensuring the ENTR 445, Tommy Baker Lecture Series, would continue on a great path for the Students of CofC.
Starkman and his wife relocated to the Charleston community in 2012 and have three adult-aged children.
---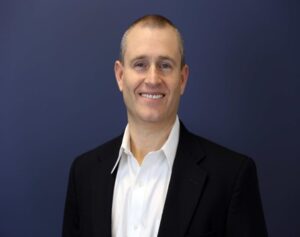 Billy Smith
EVP, Global Sales at PhishLabs
Jan. 26, 2021, at 8 am
Billy has 24+ years of experience in cyber security. He has worked for SPAWAR, Cisco, LURHQ, Secureworks, Qualys, Waratek and PhishLabs. Billy is passionate about growing small cyber security companies and is currently an investor and employed as EVP, Global Sales at PhishLabs. In addition to his involvement in cyber security, he has invested in real estate and mortgages. Billy enjoys exercising and spending time with his wife, Hayley, and twin daughters, Katelyn and Kendall.
---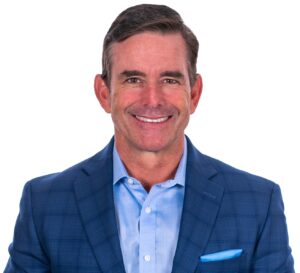 Dan Streetman
CEO of TIBCO Software Inc.
Nov. 10, 2020
Dan Streetman is the Chief Executive Officer of TIBCO. Dan is an expert at leveraging real-time data to enable faster, smarter decisions. Prior to leading TIBCO, Dan helped propel significant data-driven commercial transformations, most recently at BMC, Salesforce, and C3.ai. He is a strong advocate for creating cultures of collaboration, and he honed his leadership skills as a U.S. Army officer, serving in combat operations and receiving decorations including the Bronze Star. In addition to his commercial leadership experience, Dan voluntarily served during an active duty deployment in Baghdad as the strategist for the commanding general of MultiNational Corps, Iraq. Dan actively advocates for strategically managing data to solve complex problems and as well as for veteran employment in technology. He serves on several non-profit boards supporting education and employment for veterans. Dan is a distinguished graduate of the U.S. Military Academy at West Point, where he served as the first regiment commander, and he earned an MBA at Harvard Business School.
TIBCO Software Inc. unlocks the potential of real-time data for making faster, smarter decisions. TIBCO's Connected Intelligence platform seamlessly connects any application or data source; intelligently unifies data for greater access, trust, and control; and confidently predicts outcomes in real-time and at scale. Learn how solutions to our customers' most critical business challenges are made possible by TIBCO at www.tibco.com.
---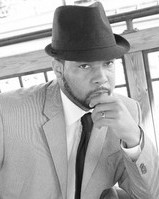 Duran Lawson
Zaxby's Franchisee
Oct. 13, 2020
Two friends and college teammates at The Citadel – one a quarterback and one that has been a 2-time Pro Bowler as a NFL receiver and kick returner, playing currently for the Buffalo Bills and in the past for the New York Jets, Detroit Lions, Atlanta Falcons, Arizona Cardinals and for the Washington Football Team, where I covered him.
An idea that came after a round of golf, simply because the two were hungry. One business with plans of a major expansion during a global pandemic.
Welcome to the wild ride that Andre Roberts and Duran Lawson have been on for the last 15 years or so.
Click here to read the entire Sports Illustrated article
Click here to view photos
---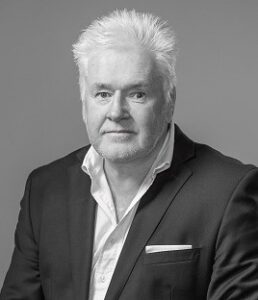 Stuart Williams
Founder and CEO of Impact Economics
Sept. 17, 2020
Stuart co-founded and became President & CEO of The Strategic Research Institute (SRI) which he built into one of the world's leading business-to-business conference companies. In 1993, Stuart co-created the global platform of "Making A Profit While Making A Difference" for which he was awarded a Trademark. Today, more commonly known as "Profit and Purpose."
After using the Leadership and Management strategy of Profit and Purpose to create almost $1Billion in realized shareholder value from the companies he started and sold, and or worked with, Stuart has spent the past 12 years designing a new form of inclusive capitalism and economics that clearly upholds his thesis that modern business leaders are now the most important people in the room when it comes to building a sustainable future. He calls his design "Impact Economics", and it empowers everyone to participate in and personally benefit from the creation of a sustainable future.
Click here to view photos
---
Previous Speakers
| Name | Title | Date | Photos |
| --- | --- | --- | --- |
| Jesse Pierpoint | Founder and CEO of Jesse Pierpoint Fine Art | Feb. 20, 2020 | Click here to view photos |
| Jeff Plotner | Founder and CEO of Brackish Bowties | Jan. 30, 2020 | Click here to view photos |
| William Beach, Ph.D. | Commissioner for the Bureau of Labor Statistics | Nov. 21, 2019 | Click here to view photos |
| Faithe Dillman | Founder and CEO of Marbaloo Marketing | Oct. 21, 2019 | Click here to view photos |
| Eric Dorre | Head of Equities for SIX Swiss Stock Exchange | Sept. 19, 2019 | Click here to view photos |
| Tom Davin | CO-CEO of Black Rifle Coffee Company | Mar. 28, 2019 | Click here to view photos |
| Riley Csernica | Owner of Csernica Consulting & CO-Founder of Tarian Orthotics | Feb. 21, 2019 | Click here to view photos |
| Matthew Holguin | Owner and Founder of Working to Give | Feb. 8, 2019 | Click here to view photos |
| David Webster | Director of Sales of Samsung NeuroLogica | Nov. 9, 2018 | Click here to view photos |
| Ian Blair | Founder and CEO of BuildFire | Oct. 12, 2018 | |
| Sallie Halsey | Brand Ambassador for BotKeeper | Apr. 5, 2018 | |
| Grace Eleyae | Founder & CEO of Grace Eleyae (Satin Lined Caps-SLAPS) | Mar. 20, 2018 | Click here to view photos |
| Robert Wood | Chief Security Officer of SourceClear | Nov. 17, 2017 | |
| Bethany Lerch | Former Military Advisor to Coalition Troops in Kabul, Afghanistan | Oct. 23, 2017 | Click here to view photos |
| James Phelan | CFO of the Ratkovich Real Estate Company | Sept. 29, 2017 | Click here to view photos |