The Homage Series includes artwork that depicts an Homage to our distinguished female alumni.
---
This series was established in honor of Dr. Ilene Bezjian to celebrate women in business.
---
NANCY MACE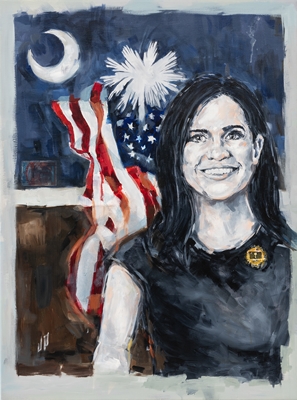 Congresswoman Nancy Mace grew up in the Lowcountry. She is the daughter of a retired Army General and retired school teacher. Before being sworn into Congress, Nancy earned accolades as one of the most fiscally conservative members of the South Carolina General Assembly; she's also one of the most pro-conservation lawmakers in the state of South Carolina. Nancy grew up in Goose Creek, S.C. And when she dropped out of high school at the age of 17, her parents said, "If you're going to stop going to school, you got to start going to work." She immediately became a waitress at the Waffle House on College Park Road in Ladson (exit 203). Nancy earned her high school diploma a few months later by taking college classes at Trident Technical College in North Charleston. She graduated magna cum laude from The Citadel, the Military College of South Carolina, where she was the school's first female to graduate from its Corps of Cadets in 1999. In 2004 Nancy earned a master's degree from The University of Georgia. Go dogs! She is the author of In The Company of Men: A Woman at The Citadel, published by Simon & Schuster in 2001.
Photos of the artist painting "Nancy Mace"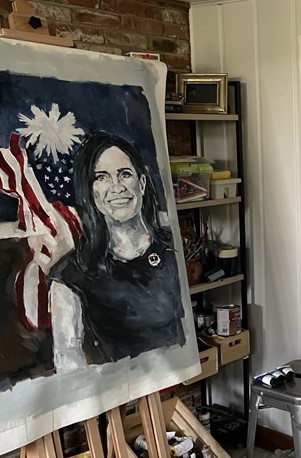 ---
SARAH ZORN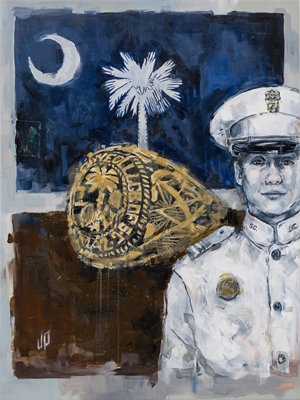 Sara J. Zorn is the first woman in the history of the 175-year old Citadel Military College to lead the South Carolina Corps of Cadets as the regimental commander. The official ceremony in which Zorn took over the leadership, in which a gilt-handled sword was handed to her by her predecessor, Dillon Graham, took place on May 4, 2018. She has three black belts in karateZorn's mother, who served in the United States Air Force, died when Zorn was 16 years old. Zorn won a four-year Army scholarship and will serve in the military for at least 5 years after graduation. She is from Warrenville, South Carolina, and majored in Business Administration. She attended Midland Valley High School in Aiken County and began her studies at The Citadel in 2015.
Photos of the artist painting "Sarah Zorn"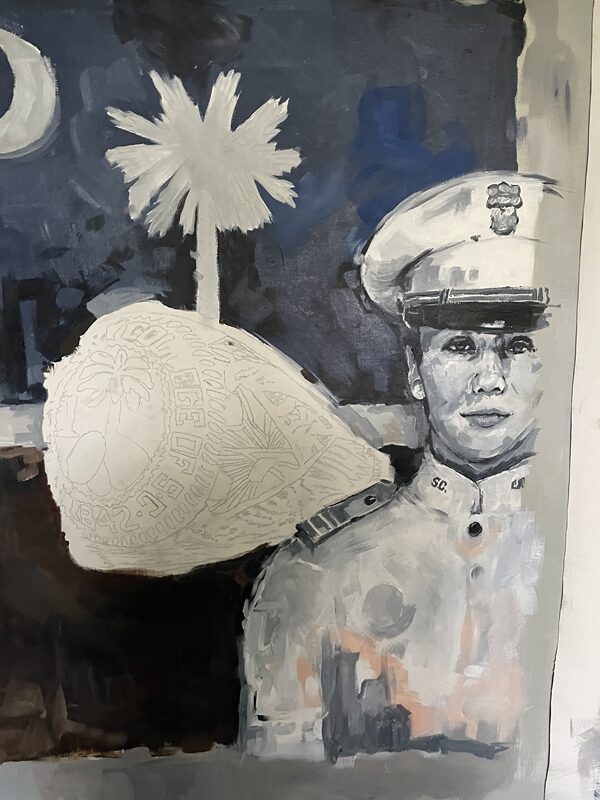 ---
ALLISON DEAN LOVE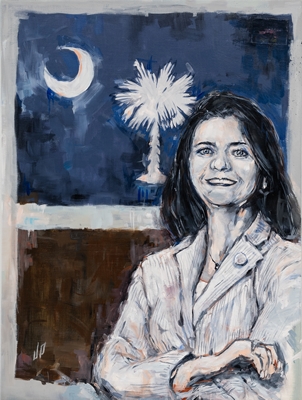 Allison Dean Love has served more than 23 years in higher education board governance. Her service includes the South Carolina Commission on Higher Education, as former Governor Nikki Haley's appointee as the public four-year institutions' representative. She served as vice-chair, chaired the Public Agenda Ad Hoc Committee to create a new strategic plan for higher education, and chaired the Executive Director/President search. She also served on the Lowcountry Graduate Center Board of Directors, where she was chair and vice-chair. She is currently serving on The Citadel Board of Visitors where she has chaired the Communications and Community Relations Committee for many years. Love also serves on the Executive Committee, Education and Leadership Development Committee, and the Legal Ad Hoc Committee. She previously served on numerous other committees, including Board Development and Board Composition Ad Hoc Committees, as well as search committees for president, vice president, provost, and legislative liaison.
Photos of the artist painting "Allison Dean Love"