---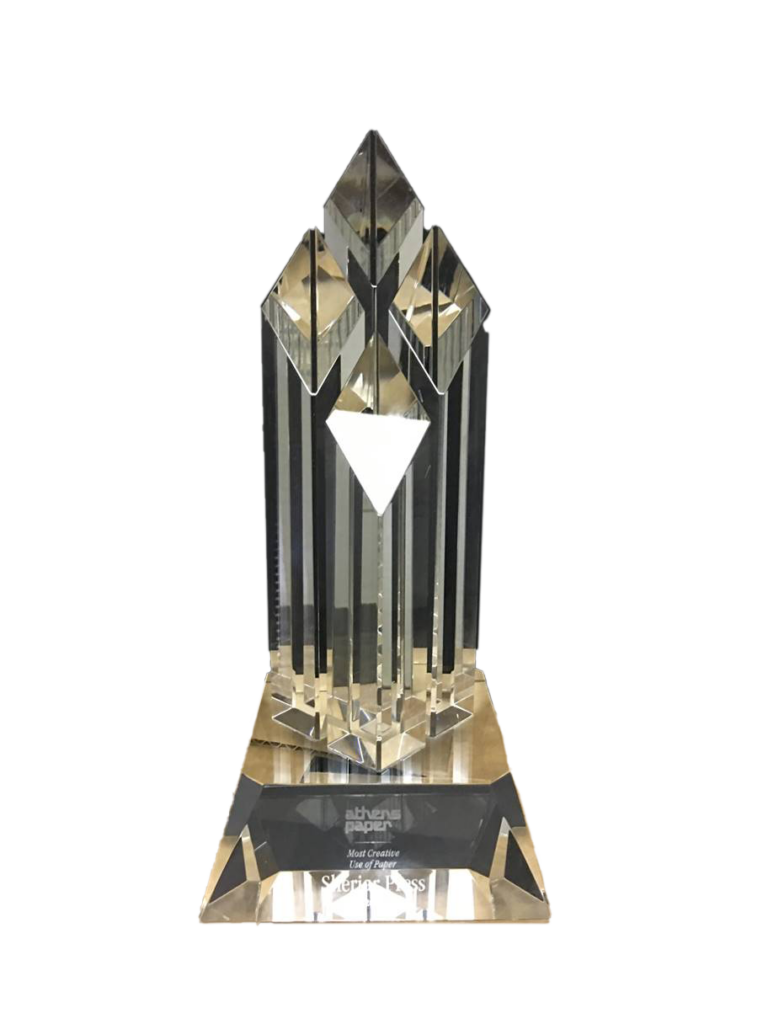 Printing Industry of The Carolinas (PICA)
Awarded April 14, 2021
---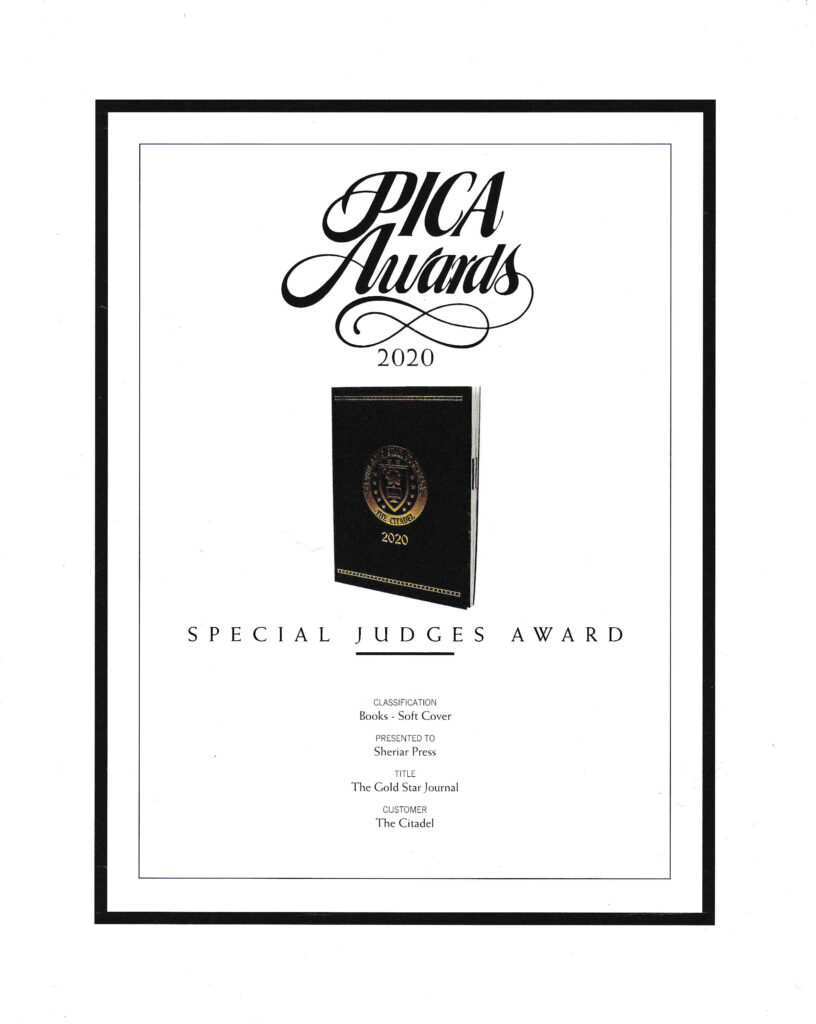 Special Judges Award for
Soft Cover Booklet
Printing Industry of The Carolinas (PICA)
Awarded April 14, 2021
---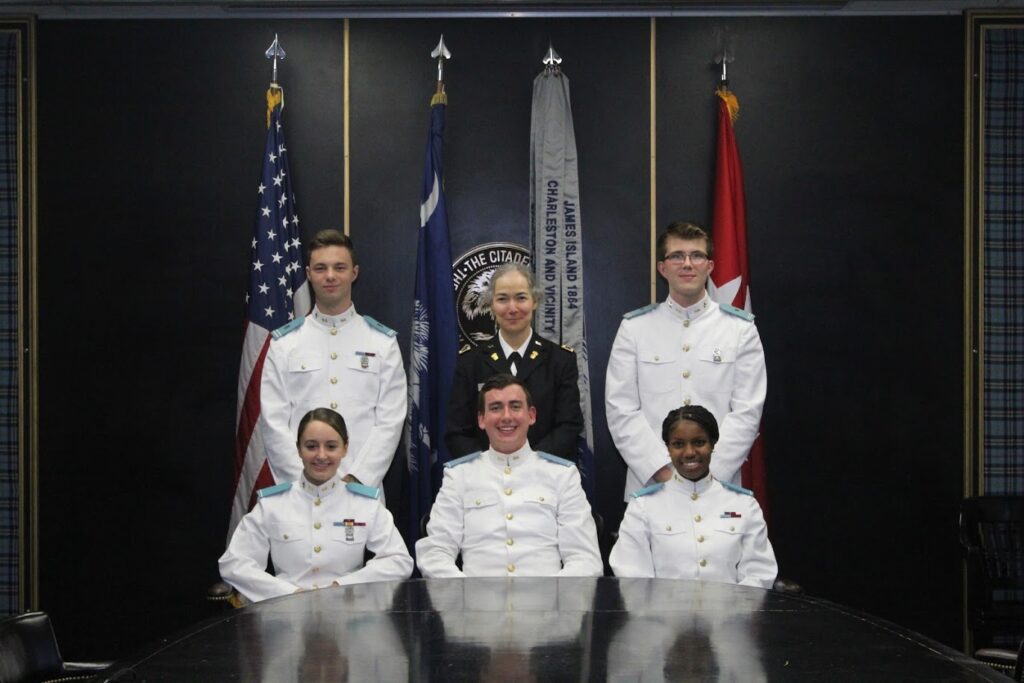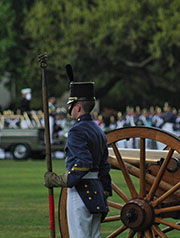 ---
Editor-in-Chief
Jake Norris, 2022, Computer Science Major.
---
Assistant Editors-in-Chief
Taylor Diggs, 2022, Political Science Major.
Carleton Bailiff III, 2021, Psychology Major.
---
The Editors
---
Daniel Wilkes, 2021, Political Science and History Double Major.
Steven Jones, 2022, Mechanical Engineering Major.
Ashley Ruiz, 2022, Political Science and Intelligence Double Major.
---
"The 24th edition of The Gold Star Journal is dedicated to John Whiten in honor of his nine years of education, assistance, and encouragement. Mr. Whiten is an essential member of The Citadel Family, and also an honorary member of The Gold Star Journal team. Thank you and we look forward to many more editions with you!"– The 2020 Gold Star Journal
---
To view the entire 2020 edition, click this link or the cover above.
---
The Gold Star Journal Excellence Award
Established Fall 2019 by Dr. and Mrs. James F. Boyd, Class of 1971.
This Award provides funds towards the Student Awards.
---
Best Overall Paper
"Human Trafficking: A Major Issue for the US," Mark Vowels II, Class of 2020, Intelligence and Security Studies Major.

Human trafficking is a serious problem in the United States. The U.S. ranks within the top three for countries of origin for victims of human trafficking (U.S. Department of State, 2019). Alarmingly, 85% of victims in the U.S. are American born citizens (Keiper & Chiaramonte, 2019). While public awareness of the issue increases, less action is being taken by the government to stop it. In 2018, there were fewer investigations started or prosecuted than in years past. Furthermore, federal aid to victims of sex and labor trafficking also seemed to decline (U.S. Department of State, 2019). Offenders of human trafficking are able to exploit poor communication between law enforcement agencies and a lack of education on the subject to avoid arrest and prosecution (Desilet, 2019). Human trafficking threatens vital domestic institutions, such as the foster care system, provides a large source of income to cartels, and further complicates the immigration crisis.
---
Best Undergraduate Paper
"The Wisdom of the Crowd, Matthew Blair," Class of 2020, Computer Science and Mathematics Major.

Wisdom of the crowd is the collective opinion of a group of individuals rather than that of a single expert. This paper will address why this phenomenon occurs, its strategic implications, and how companies use this area of mathematics to do many things, including predicting the future with extreme accuracy.
---
Best Graduate Paper
"Rwandan Domestic Counterinsurgency Strategy: Iron First with International Indifference," Blake Harllee, Graduate Student in Military History.

This article analyzes the domestic counterinsurgency police of the Kagame Regime in Rwanda during the late 1990s. Drawing upon firsthand accounts, journal articles, governmental investigations, and the reports of Human Rights groups, it will be shown that the Rwandan domestic counterinsurgency policy was extremely brutal. Far from being the "city upon a hill" that African nations should emulate, modern Rwanda is a totalitarian police state whose government has brutally repressed all opposition, perceived and imagined. Ranging from targeted assassinations and political arrests to massacres that killed thousands of civilians, the Rwandan program was unique in that it was exceptionally cruel while also accepted by the international community at large. This paper corrects the historiography of Post-Genocide Rwanda, which has been largely ignored or even justified the crimes against humanity committed by Paul Kagame's regime in Kigali.
---
Best Photograph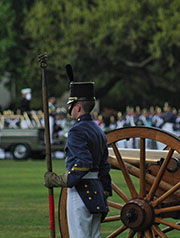 Zachary Adkins
Class of 2021
Mechanical Engineering Major.
General Walters' First Review
---
The GSJ Distinction in Photography
A Collection of Photographs by Dashawn Costley, Class of 2022, Psychology Major.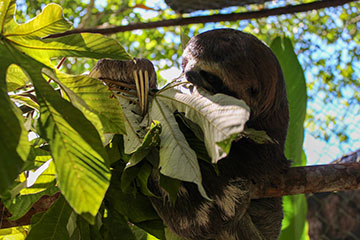 ---
Featured Papers
"Defining the Gap between Reality and the Fantastic in E.T.A. Hoffman's Romantic Literature," Kennedy Fravel, Class of 2023, Biology Major.

German Romanticism was a cultural movement that took place in Germanophone countries in the late 18th and early 19th centuries. Intellectuals of this movement, known as naturphilosophers, valued the study of the natural world with an emphasis on the spirit while trying to merge the disciplines of science and literature. "The Golden Pot" and "The Mines of Falun," both by German naturphilosopher E.T.A. Hoffman, illuminate the desire of German Romantic writers to amalgamate the seemingly polar specialties of scientific research and artistic development.
"Identifying the Impacts Due to the Correlation Between Charleston's Crime Rate and Gentrification," Harrison Wedgeworth, Class of 2021, English and French Double Major.

As Charleston has expanded over the past 50 years, the issue of gentrification, the preservation of Charlestonian culture and what some consider "Old Charleston" has arisen. This paper will analyze this cultural loss and the long-term effects on the crime rate and the city itself as a whole.
"American Nuclear Energy in the Twenty-First Century," Luke Timmerman, Class of 2022, Mechanical Engineering Major.

Nuclear power's viability as a safe mainstream power source for the American people has been subject to contentious debate and speculation since its invention during the Second World War. Today, we face the worldwide threat of global warming due to increasing greenhouse gases, pollution and energy demands. Nations are laboring to find a sustainable, low-carbon energy option that can be implemented now – and nuclear power meets the criteria. As the original pioneers of nuclear energy, we as Americans must use our technical know-how to expand this vital power source to benefit us all and combat the climate crisis.
"Ethics in Artificial Intelligence," Elizabeth Spoehel, Class of 2020, Mathematics and Computer Science Double Major.

This paper will begin to answer the question of whether it is ethical to try and match machine intelligence to that of human intelligence. Everyone has seen dystopian movies where AI (artificial intelligence) or robots have gone against their intended purpose. Will that be the end result no matter what is done to try and combat it? Are humans destined to create their own ruin? What steps can be taken to prevent the doomsday scenarios played out in fiction from becoming reality? By answering these questions, the ethical nature of AI research will become clearer.
"Antarctica: Continued Cooperation?" Grant Speer, Class of 2022, Political Science Major.

Often times, when we hear mention of Antarctica, we think of a desolate, freezing environment at the bottom of the world. In reality, Antarctica has a rich history of exploration and science. It even was on the brink of becoming a war zone in the 1950s due to its location and resources. A treaty, that is still in effect today, was signed and thus prevented a war. As the world around us is evolving with the resurgence of Russia and rise of China, the peace of Antarctica is threatened. The uncertain road ahead for Antarctica will surely be of extreme importance in the near future and will likely have lasting global affects.
---
Featured Photographs
The 2020 Gold Star Journal features beautiful photographs taken by the following students:
Shiloh Brooks, 2020, History Major.
James Jeffcoat, 2022, Mechanical Engineering Major.
Garrett Saylor, 2022, Mechanical Engineering Major.
Taylor Sterba, 2022, Political Science and Spanish Major.
---
2020 Edition Donations
The 2020 edition was made possible by donations from the following individuals and groups:
The Daniel Library.
Dr. and Mrs. Samuel M. Hines, Jr., Emeritus Provost and Dean of The College.
Dr. Suzanne T. Mabrouk and Mr. Stephen S. Jones.
Dr. and Mrs. Phillip V. Manning, Class of 1958.
---