---
Editor-in-Chief
Leon E. Hontz, Class of 2009, Political Science (International Politics and Military Affairs) and Spanish Major.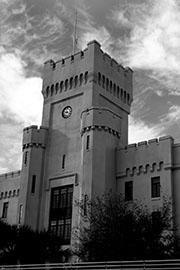 ---
The Editors
Charles (Trey) J. Williams III, 2010, Biology Major and Chemistry Minor.
Thomas J. Sullivan III, 2010, Biology Major.
---
This issue features the largest number of papers ever published in a single issue of the journal, eight of the finest papers submitted. These papers represent the six different academic departments at The Citadel: chemistry, English, fine arts, history, political science, and psychology.
---
To view the entire 2008 edition, click this link or the cover above.
---
Featured Papers
"An In-Depth Look at Mental Illness in Othello", Joseph C. Collins, Class of 2010, Chemistry Major.

Othello is one of the most complex characters in Shakespearean tragedy. His rapid breakdown has been studied intently by many scholars; but what really causes him to fall apart? Is it Iago's trickery? Is it jealousy? While these causes have been looked at in detail, there may be a different explanation; Othello was suffering from a severe mental disorder, known as schizophrenia. While the term schizophrenia has only been around for a little more than a century the disease has been around for much longer. Mental illness is something that has accompanied man throughout its development. Throughout the play, there is much evidence to support the claim that Othello was suffering from schizophrenia. This mental disorder plays a very crucial role in the play, and has a tremendous impact on how the story progresses. The debilitating effects of the disease are what cause Othello to go mad and spiral out of control, leading to the final act of the play where the disease finally overcomes him, causing his meltdown.
"The Crusades and the Current Conflict in the Middle East," Jerome C. Edelson, Class of 2009, Biology Major.

This essay, which was written as a final project for Dr. Politano's Honors psychology class, focuses on psychology and religion. Throughout the course, we discussed how various leaders came to power and the tactics that they used. When studying the crusades and the modern war in Iraq, there are many similarities. These similarities are explored and contrasted. Interestingly enough, basic facets of human nature seem to repeat themselves in throughout time.
"An In-Depth Analysis of Maya Angelou's Poem 'I Know Why the Caged Bird Sings'"

Tso-Chun Meng, Class of 2010, Mathematics Major.
Kai Hsiao, Class of 2010, Business Administration Major.
Kei-Tai Yu, Class of 2010, Physics Major.

"I Know Why the Caged Bird Sings" is a poem which illustrates the difference between the lives of a free bird and a caged bird. The author, Maya Angelou, uses a caged bird as a metaphor for African Americans. This metaphor alludes to the racial discrimination and stereotypes that white people used to oppress African Americans before the Civil Rights Movement. Angelou effectively uses imagery, structure, and voice to convey the plight of the African Americans in their fight to break free.
"Democracy in the Modern World," Leon E. Hontz III, Class of 2009, Double Major in Political Science and Spanish with a Minor in East Asian Studies.

As seen throughout modern history, democracies can prove either highly effective as in the United States, or can be immense failures as seen in many African nations. The main question that is posed by this lack of consistency within the track record of democratic nations is: why some states succeed so prominently while others fail to show any growth under a democratic system? It is in the interest of the global community to prevent state failure. By exploring specific case studies of democracies in action, spanning the spectrum of successful statehood, one is able to gain a better understanding of the benefits of the democratic model and the challenges that face the spread of democracy throughout the modern world.
"Comparing Landscape Artistry Through the Years," Franklin D. Elliott Jr., Class of 2008, Electrical Engineering Major.

This comparative essay was assigned to me last semester by my Art Appreciation teacher, Professor Janice Rossmann, a magnificent and stimulating mentor. She encouraged our class on a daily basis to "appreciate the art which significantly influences our lives." As a final assignment to the class, she asked us to submit an essay comparing the work from two different artists. For this essay I chose to compare the work of two highly regarded landscape painters, Fredric Edwin Church's Heart of the Andes and Claude Lorrain's The Tiber from Monte Mario Looking South. I selected these two landscape paintings because the artists hail from two different centuries. However, they both accurately represent the entire spectrum of this particular art genre. Professor Rossmann challenged me to effectively demonstrate my knowledge of the vocabulary terms and themes learned throughout her course as I wrote this essay. I felt compelled to prove to her how much I had grown to appreciate art for its many wonderful qualities. As an Electrical Engineering major by trade, this essay embodies the spirit of the "Renaissance Movement." People of that remarkable time period possessed a tremendous aptitude to learn in all scholastic subjects.
"Caligula, Public Enemy: Why He Needed To Be Killed," John P. Stinson, Class of 2008, History Major.

Caesar Augustus set the bar high for the Roman emperors who would follow him. His successor, Tiberius fell short of the standard, and the mob looked forward to the day when a dynamic new emperor would come to power. A young man by the name of Caligula was that very man they believed would bring back the glory of Augustus. Indeed, Caligula appeared promising once he took power, performing a number of charitable acts for the Roman people. Just when the people's love for Caligula showed itself to be deeper than a sense of relief that Tiberius had finally been replaced, they quickly decided they wanted someone new. After all, Caligula had not been exactly what they were looking for in an emperor. Unable to impeach, the solution became murder.
"China's Health Care Problems: No Universal Solution," Clayton E. Carter, Class of 2008, Health and Wellness Major.

Although China's health care system has changed dramatically to try and suit the requirements of its citizens, it has never been able to meet the needs of the most populous nation in the world. Under the direction of Chairman Mao, an inefficient, undereducated, and underfunded medical system ultimately failed to provide adequate care. This scheme is compared to the more modern system established by Deng Xiaoping, which traded universal accessibility for capitalistic gains, thereby taking quality medical assistance away from the people who could not afford it. This calls for another transformation, one that can treat every citizen, regardless of socioeconomic class or location, with high quality health care.
"A Chemical and Historical Account of Gunpowder," David A. Poston, Class of 2008, Chemistry Major.

Gunpowder is one of the most influential chemical mixtures ever discovered. Its historical origin and development are discussed in this paper as well as the chemical and physical properties that are responsible for its explosive nature. Several variations of the traditional black powder are described through their chemical makeup along with their applications both currently and historically. Various schools of thought about the first discovery of gunpowder are presented with citations from historical sources to support the basis for these ideas. Final attention is given to analyzing the impact and influence gunpowder has affected on the human race since its first appearance some twelve centuries ago.