The Citadel Academy of Engineers honors engineering leaders from both the public and private sectors who have enjoyed substantial success in their professional lives and made significant contributions to their communities. All our inductees have lived a life consistent with The Citadel School of Engineering mission, which is to "educate and develop Principled Engineering Leaders to serve a global community" and with the School's values that include integrity, diversity, respect for others, professional and intellectual development for all, and excellence through continuous improvement.
The School of Engineering chose the crystal obelisk as a tangible memento of being chosen to the Academy of Engineers. The Obelisk represents the engineers of our past who built or invented Engineering feats like the Washington Monument, the transcontinental railroad, the Brooklyn Bridge, the telegraph, the electrification of our nation and the world to mention just a few of the structures and devices that were built and invented without the incredible tools of today. In addition, we feel that each of our inductees have been servant-leaders; that is, engineering leaders who see their role in the world to first serve others through their incredible skills.
---
Charles B. Coe, '73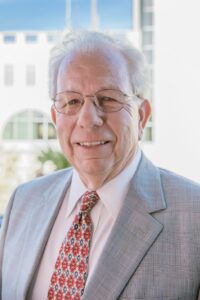 Charlie Coe is a 1973 graduate of The Citadel with a Bachelor of Science degree in Electrical Engineering. Academically, he was second in his class. He attended The Citadel as a veteran student after serving with the U. S. Army in Vietnam. Born and raised in Charleston, Mr. Coe held a long-standing personal goal of attending The Citadel, particularly because of its distinguished electrical engineering curriculum. The veterans program allowed him to pursue a degree while starting a family with his wife of over 50 years, Janis. For Mr. Coe, the exceptional and caring faculty and staff at The Citadel, combined with the influence of the school's core values and high standards of excellence, provided a solid foundation for a successful 28-year telecommunications career, mostly with BellSouth.
Upon graduation, Mr. Coe was recruited by AT&T to join its management development program. This "up-or-out program" was designed to provide the multi-disciplinary management skills and experiences necessary for future senior management and executive roles. Through this development program, he earned a Master's of Business Administration degree in 1983 from Georgia State University. After the 1984 Bell System Divestiture, he was recruited by BellSouth, one of the seven independent regional companies formed as a result of the Bell System breakup, to lead the startup and development of a conceptual international interest of the company into a strategic corporate diversification.
As President of BellSouth International and in a period of eight years, Mr. Coe led the transformation of this interesting idea into a multi-billion dollar portfolio of successful telecommunications businesses in 17 countries in Europe, Asia, Latin America, and Australia. All of these businesses were joint ventures with home-country partners and occasionally other multi-nationals as partners. The majority of these businesses were based on cellular networks, and the remainder provided services based upon traditional land-line networks and, in one case, a satellite network.
As a result of the Telecommunications Act of 1996, BellSouth was facing a rapidly changing competitive environment in its domestic business. BellSouth Telecommunications, which was formed by the combination of Southern Bell and South Central Bell, was by far BellSouth's largest subsidiary. As such, it faced the brunt of the challenges of transformational change necessary to move from a regulated enterprise to a competitive one. To navigate these challenges, Mr. Coe was asked to lead the transformation of Bellsouth Telecommunications as President. During his tenure, the company enjoyed its best-ever revenue and profit growth, introduced internet services to its customers, deployed high speed connections to residences, and fulfilled the letter and spirit of the Telecommunications Act to facilitate the connection of its network to those of its competitors.
Since retiring from BellSouth, Mr. Coe has served as a director of two public companies, Dycom and Internap; as a director of Amerisure Mutual Insurance; and as a director of numerous startup and early-stage technology ventures. He considers his most important activity since retirement to be his nearly 16 years of service on the Board of Directors of The Citadel Foundation, where he served as Vice Chairman for four years and subsequently as Chairman for four years. During this period, the Foundation successfully completed The Citadel's most ambitious capital campaign to date and is now approaching completion of a second campaign that will be more than twice as successful as the first.
Over time, the family Mr. Coe started while at The Citadel has grown to include three children and seven grandchildren. The family gathers in full at least twice a year at his and Janis's home on Wadmalaw Island. He enjoys playing golf, and he and Janis enjoy traveling together.
---
Col John (JC) C. Dominick, '71, USAF (Ret)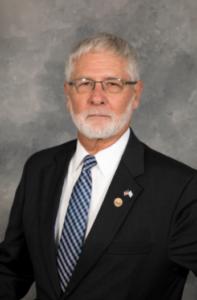 Colonel JC Dominick is a retired Air Force Colonel with 25 years of experience in the tactical and operational levels of warfare. During his service to our country he has flown a single-seat fighter, taught many young pilots how to fly, led test teams in advanced radar systems development and commanded various units across the globe. He has served as a command pilot, instructor pilot and standardization and evaluation pilot. He has amassed over 5000 flight hours in multiple aircraft including the A-10 Thunderbolt II, the T-38 Talon and the CT-39 Sabreliner. Further, he led the Third Republic of Korea Air Liaison Office, Camp Red Cloud Republic of Korea; served as the Commander of the 355th Operations Support Squadron, Operations Officer 358th Tactical Fighter Training Squadron, and Deputy Commander of the 355th Combat Support Group, Davis Monthan AFB, Tucson, AZ. He retired from the USAF in 1996.
For the past 20 years in the civilian sector, Col Dominick worked for MITRE Corporation, a Federally Funded Research and Development Corporation, serving our nation's public interests. He has amassed extensive experience leading through interactive leadership and building exceptional, highly productive teams. He has worked as a systems engineer in Missile Defense Agency, deployed to Operation Iraqi Freedom as the Air and Space Operations Center Chief Engineer, developed future war-fighting systems through Air Force experimentation and served as Site Leader for two operating locations, one foreign and one domestic. He has extensive experience in cross-service systems development and delivering advanced technologies to war fighters around the globe. He retired from MITRE in June of 2017.
Col Dominick joined The Citadel Board of Visitors as an Alumni elected representative 1 July 2017, and is in his first year of a six-year term. He is a member of four Board Committees – The Strategy, Vision and Governance Committee, the Operations and Risk Management Committee, the Education and Leadership Development Committee, and the Communications and Community Relations Committee.
He received a Bachelor of Science Degree in Electrical Engineering in 1971 from The Citadel, The Military College of South Carolina, and a Master of Arts Degree in Personnel Management from Webster University in 1985.
He has been married for 47 years to Sandy K. Bradley the prettiest girl from Camden, South Carolina, has two children, Beckie and Lisa and 4 grandchildren.
---
Robert (Bob) Kiggans, '65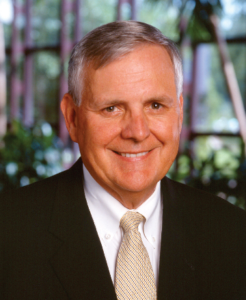 Robert (Bob) serves as the Vice Chairman of the Board of International TechneGroup, Inc., a software company in the Cincinnati area. He also serves on the ASM International Council of Advisors and The Citadel Engineering Advisory Board.
Mr. Kiggans has over thirty years of experience in program and technical management, advanced computer and product data technologies, manufacturing technologies, and command and control systems. Previously, Mr. Kiggans was Chief Operating Officer of SCRA and President of its Federal Sector.
Mr. Kiggans also served as the Chairman of STEM Premier, a South Carolina start-up company. Previously, he was the first President and CEO of ATI, an SCRA affiliate, and General Manager of PDES, Inc., an international standards collaboration. Prior to that, he was Vice President of SCRA and Director of the Advanced Technology Group. Mr. Kiggans was also Director for C3I Advanced Systems at Cincinnati Electronics. He was Deputy Director, Information Science and Technology Office, at the Defense Advanced Research Projects Agency (DARPA) before joining Cincinnati Electronics. As Assistant for Program Integration with the DoD Joint Program Management Office, he supported the development of a multi-billion dollar computer/communications upgrade program. While with the Air Force Strategic Air Command (SAC), he was a Radar Navigator on the B-52 aircraft, flying over 150 combat missions in Southeast Asia. Later, he directed advanced computer technology initiatives, including development of a multi-million dollar automated executive information system. Earlier in his career, he completed the Electronic Data Systems (EDS) Systems Engineering Development (SED) Program and became a software systems engineer for EDS.
He was Chairman of the IMS International, a global advanced manufacturing collaboration. Prior to that, he was Head of the United States Delegation to the IMS program. He was also a Research Fellow with the National Institute of Standards and Technology, a former senior member of the Society of Manufacturing Engineers, and a Tau Beta Pi Eminent Engineer. Mr. Kiggans was awarded the International Leadership Award by the American Society of Mechanical Engineers for his outstanding leadership in furthering the discipline of computers and information in engineering. He was also a recipient of SCRA's Knowledge Economist Award which recognizes individuals who have made outstanding contributions to South Carolina's knowledge economy. He received a B.S. degree (Distinguished Graduate) from The Citadel and an M.S. degree (Honor Graduate) from the Air Force Institute of Technology.
At The Citadel, Bob was a three-year letterman in basketball and co-captain in his senior year. He was the recipient of Gold Stars and Dean's List on several occasions. He also received the Chicago Tribune Award as the Outstanding Air Force Cadet and was selected to Who's Who Among Students in American Universities and Colleges.
After serving twenty years in the Air Force, Bob retired from DARPA as a Lieutenant Colonel. During his twenty years, he received several decorations, including DEFENSE SUPERIOR SERVICE MEDAL, DISTINGUISHED FLYING CROSS, MERITORIOUS SERVICE MEDAL with ONE OAK LEAF CLUSTER, and the AIR MEDAL with ONE SILVER and FOUR BRONZE OAK LEAF CLUSTERS.
---
Alvin E. Kite, Jr. '55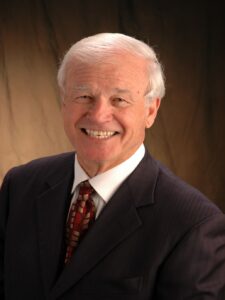 Alvin E. Kite, Jr. is Chairman Emeritus of the Board of Trustees and was the founder and Chairman of Kite Companies, Kite started in 1960 and grew into one of the nation's largest interior construction firms. Under Mr. Kite's leadership, Kite Companies grew to include Kite Development Corporation, KMI Realty Advisors, Inc., and Kite Construction, Inc., which has provided general and interior construction and construction management services in North America, Europe, the Middle East, and North Africa. In 2004, the Kite Group of Companies became a public Company, Kite Realty Group Trust, and is traded on the New York Stock Exchange (KRG). Mr. Kite became Chairman Emeritus December 2008 and continues to be a consultant for Kite Realty Group Trust.
Mr. Kite is an Owner and Managing Partner of the Indianapolis Conrad Hotel.
The Indianapolis Conrad has received the following awards:
US News & World Report 2016, 2015, 2014 and 2013 #1 Hotel in
Indianapolis Luxury Hotel of the Year, 2016, 2017 Hilton North
American Luxury (Conrad & Waldorf Astoria) Portfolio Recognition.
Conde' Nast Traveler 2016, 2015 Top 10 Hotels in the Midwest,
"Top 101 Hotels Suites in the World" Trip Advisor: Travelers''
Choice Awards 2010 Top 25 U.S. Hotel Expedia Insiders' Worldwide
Conde Nast Traveler 2007, 2008, 2009, 2010, 2011 and 2012 Top 100 U.S.
Mr. Kite has been active in numerous Indianapolis-based charitable organizations, including Community Hospitals Foundation; RCA Stadium Revitalization Committee; Indianapolis Tennis Championships, Inc.; Crossroads of America Council BSA (including the chairmanship of the 2002 and 2003 Governors Annual Fundraising Campaign); Indianapolis Regional Economic Development Partnership; the Indianapolis Marion County Public Library Foundation, Inc.; and Riley Children's Foundation. Mr. Kite served as President of the Board of Directors of Meridian Hills Country Club in Indianapolis, the Board of the Indianapolis Tennis Championships, and the Indianapolis Symphony Orchestra. Mr. Kite graduated from The Citadel with a Bachelor of Science in Electrical Engineering with honors, and is a member of The Engineering Honor Society of Tau Beta PI.
Upon graduation, he went to work for IBM as an Electrical Engineer until he was called to active duty in the US Air Force 1955-1958 and served as a Fighter Pilot and a Troop Carrier Pilot. While in the air force reserves he was called back to active duty for the Cuban missile crisis in 1962. After the crisis he returned to the reserves and retired to devote his full time to building the company.