Linda Figg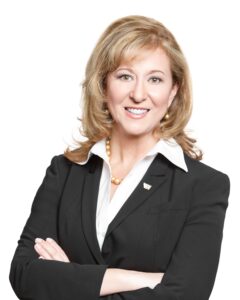 Linda Figg is President/CEO and Director of Bridge Art for the FIGG Bridge Group (FIGG), an international family of companies that exclusively specializes in bridges. Linda has over 33 years of experience in leadership, management, financing, and aesthetic design of landmark bridges from concept through construction. In 2002, Linda became President and owner of FIGG, taking over the reins from her father, Gene Figg, who founded the firm in 1978. She holds a Civil Engineering degree from Auburn University.
With construction values totaling over $14 billion, FIGG bridges have been completed, are under construction, or are being designed in 42 states and 6 countries. Many of these bridges have set new industry standards in design, technology, materials, efficiency, and ease of construction. FIGG bridge designs have been heralded on the covers of more than 300 books and publications, most notably on 13 covers of the prestigious Engineering News-Record. FIGG bridges have received 355 awards for their owners, recognizing economy, innovation, sustainability, and aesthetics, including three Presidential Awards through the National Endowment for the Arts: the Sunshine Skyway Bridge crossing Tampa Bay, Florida, the Blue Ridge Parkway Viaduct around Grandfather Mountain, North Carolina and Natchez Trace Parkway Arches, Tennessee. This national honor has been given to only five bridges. Notable FIGG Bridges also include the New I-35W Bridge in Minneapolis, Minnesota to replace the bridge that collapsed across the Mississippi River in 2007 and the Penobscot Narrows Bridge and Observatory in Maine, featuring the tallest public observatory on a bridge in the world at 420 feet. FIGG Bridges have been featured on the front page of USA Today, and in seven documentaries on The History Channel series Modern Marvels, PBS, and National Geographic. In 2007, FIGG received the Pro Patria Award in Florida given by the US Department of Defense for the Company's outstanding service to support FIGG Team Members in the Army and Navy reserve.
Linda was named as one of Engineering News Record's Top 22 Newsmakers in 1998 and Concrete Construction magazine named Linda as one of the 13 most influential people in the concrete industry in 2007. In 2010, Linda was named to the Alabama Engineering Hall of Fame. In 2011, she was inducted into the National Academy of Construction (NAC), which noted her "vision behind new technologies in bridges that are important to the long-term viability of our nation's infrastructure." In 2011, Linda served as the first female Chair of the Construction Industry Round Table (CIRT), an advocacy group comprised of one hundred CEOs of America's leading engineering, architectural, and construction companies". In 2014, American Road & Transportation Builders Association awarded Linda the Ethel S. Birchland Lifetime Achievement Award. Linda served as President of the American Segmental Bridge Institute from 2012-2014.
Dedicated to expanding public dialogue about the nation's infrastructure, she pioneered the FIGG Bridge Design Charette™, a unique series of interactive community listening, learning, and aesthetics development sessions, and has facilitated more than 300 public workshops for the creation of world-class bridges.
Linda's passion for creating artistic, environment-friendly, economical and functional bridges has led her to focus on ways that landmark bridges can improve the quality of life in communities across America.
---
Edwin Burrow Hill, Jr.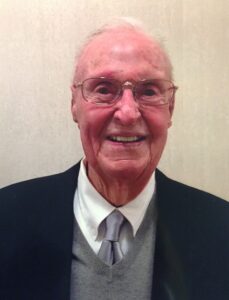 Born in 1924 in Greenwood, SC, to a 1921 Citadel graduate in Engineering, Edwin B. Hill, Jr. entered The Citadel in 1941. Ed was drafted after completing his sophomore year into the Army Air Corps as a private. After his acceptance to navigation school and graduating as a flight officer, Ed was stationed in Italy and assigned to the 15th Air Force as a navigator on B-17s. Upon his completion of 39 months of service to his country, he returned to The Citadel, receiving his Civil Engineering degree in 1949.
After graduation, Ed was recruited to join a large local general contractor, rising through the ranks from labor foreman, timekeeper, engineer, assistant superintendent, superintendent and estimator over seven years. He and a partner formed Palmetto Construction Co in 1956 which grew to be a large regional firm, now known as Hill Construction. He completed numerous projects at the Charleston Naval Base, the Air Force Base, the Missile Base, including the C-5A hangar and the C-17 Flight Simulators. Thousands attend schools, work in buildings, shop in supermarkets, attend churches, sleep in hotels, attend sporting events in stadiums (such as the Family Circle Tennis Cup), ice skate, and eat in restaurants he built.
From the Bell Tower at The Citadel, the John Monroe Holliday Alumni Center, renovating barracks to the Ernest F. "Fritz" Hollings Corps of Engineers Building, Ed and his companies have happily served The Citadel for over 50 years. What began with his father in 1921, lead to 3 generations of his family having 4 graduates of The Citadel, all in Engineering, (father) E. Burrow Hill '21, Edwin B. Hill, Jr. '49, (brother) George S. Hill '50, and (son) E. Burrow Hill, III '75.
Ed and his wife, Joyce, who reside in Charleston, SC, have three grown children, seven grandchildren and one great-grandchild, all who love sharing Ed's love of spending time on the water.
---
William "Bill" Sansom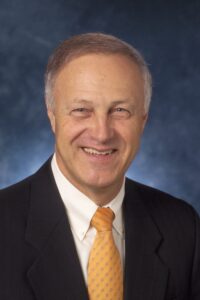 William B. Sansom became the chairman and chief executive officer of the H.T. Hackney Co. in May, 1983. Hackney is a diversified company involved in wholesale grocery, including a potato chip company, gas and oil, and furniture manufacturing.
Bill is a native of Johnson City and graduated from West High School in Knoxville. After high school, he enlisted in the Marine Corps and then attended The Citadel where he received a degree in Civil Engineering.
While at The Citadel, Bill was the Commander of the Summerall Guards and the Regimental Commander. He was a member of the Junior Sword Drill, as well as the recipient of the Star of the West Award and Commandant's Trophy, USMC Quantico.
He joined American Limestone Company in 1964 as an engineer, then in 1974 served as president of American Limestone until being named as Commissioner of Transportation for the state of Tennessee in 1979. In July of 1981, Sansom was named as Tennessee's Commissioner of Finance and Administration. In 1983, he left state government to become chairman and chief executive officer of Hackney. Hackney does business in 20 states with 3800 employees.
Bill has been active in many organizations. He was president of the Knoxville Chamber of Commerce, chairman of the Knoxville Community Development Corporation, president of Tennessee Business Roundtable, president of the Boy Scout's Great Smoky Mountain Council, and has served on many other boards. In addition, he has served as president of The Citadel Development Foundation, chairman of The Citadel Trust, and as a board member at Maryville College, Wake Forest University, and The University of Tennessee Board of Trustees for 16 years. He has been on the board of the Oak Ridge National Lab, as well as the Board of Directors of the Tennessee Valley Authority, having served as Chairman for five years. He continues to also serve on several additional boards, including two public corporations, Astec Industries and Mid-America Apartment Communities. He is recently retired from First Horizon Corporation Board, and is a past member of the Martin Marietta Materials Board.
Bill and his wife, Elisabeth, are very active in their community and church, Cedar Springs Presbyterian. They have a daughter, Kathryn, who has four children and lives in Knoxville with her husband, Tommy Eggleston. Their son, Lewis, graduated from The Citadel in 1995.
Guy Haywood White III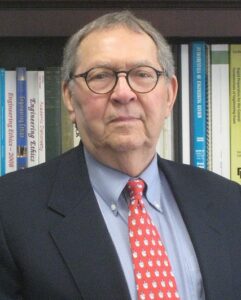 Guy White received the Bachelor of Science, Electrical Engineering degree from The Citadel in 1956 and a Master of Engineering Degree from Clemson University in 1977.
He served for eight years as an officer in the U.S. Army Reserve and the SC National Guard.
While a product development engineer in Pennsylvania with Westinghouse Electric Corporation, Distribution Transformer Division, he was granted a patent for a primary winding switch used to increase distribution system capacity. After returning to South Carolina he began work with SC Electric and Gas Company in rate application related to energy use in systems for vertical construction.
White entered the consulting engineering field in 1964 and carried on an independent practice until he joined the firm of Durlach, O'Neal, Jenkins and White, Mechanical and Electrical Engineers. As Principal electrical engineer, he designed commercial and institutional projects throughout the Southeast and in the Sixth Naval District for the Department of Defense.
In 1972, he formed Tectonics Engineering Consultants with two partners providing structural, mechanical and electrical engineering. He served as President from the firm's inception until 1986 when the firm diversified and White started a new company, Guy White and Associates, Electrical Engineers (now GWA, Inc.). The firm provides vertical and horizontal engineering with specialties in systems fault and performance analysis, systems master planning and electrical engineering for data centers and health care facilities. White transferred ownership of that firm in 2001 and retired from active practice in 2010.
A registered professional engineer (retired) in Pennsylvania, North Carolina, Georgia, West Virginia, Florida, Tennessee, Virginia, Maryland and Texas; and PE Emeritus in South Carolina, White served as electrical engineer of record for nearly five thousand projects throughout the eastern United States.
He is a life member of the Institute of Electrical and Electronics Engineers and was a member of the National Society of Professional Engineers, the American Council of Engineering Companies, The National Fire Protection Association, The Illuminating Engineering Society of North America, the Acoustical Society of America and the Association of the United States Army.
He received the Service to the Profession Award from the American Council of Engineering Companies of South Carolina in 2005. He is a member of The Citadel School of Engineering Executive Board and the ECE Department Advisory Board.
He is a charter member of Tau Beta Pi, Gamma Chapter, The Citadel. He served on the Partnership Board of the USC School of Medicine, was Chair of the City of Columbia Electrical Board of Appeals, and is a Presbyterian Elder.