LTG Thomas P. Bostick (USA, Ret.)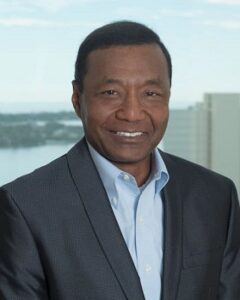 Lieutenant General (Ret) Thomas P. Bostick is a 1978 graduate of the U.S. Military Academy and holds Master of Science Degrees in both Civil Engineering and Mechanical Engineering from Stanford University, and a PhD in Systems Engineering from George Washington University.
He currently serves as the Senior Vice President of the Environment Sector at Intrexon, a leader in the engineering and industrialization of biology to improve the quality of life and health of the planet. Most recently, he served as the 53rd Chief of Engineers and Commanding General of the U.S. Army Corps of Engineers, where he was responsible for most of the Nation's civil works infrastructure and military construction. Lt. Gen. (Ret.) Bostick also served as the Deputy Chief of Staff, G-1, responsible for total Army personnel and manpower; Commanding General, U.S. Army Recruiting Command; and as the Assistant Division Commander-Maneuver; and then Assistant Division Commander-Support of the 1st Cavalry Division.
He deployed with the Division in support of Operation Iraqi Freedom before commanding the Army Corps of Engineers Gulf Region Division, where he was responsible for more than $18 Billion of reconstruction in Iraq. Lt. Gen. (Ret.) Bostick also served as an Associate Professor of Mechanical Engineering at West Point and was a White House Fellow, working as a special assistant to the Secretary of Veterans Affairs.
Lt. Gen. (Ret.) Bostick has been one of the leading advocates in the federal government on resilience and developing a systems approach to watersheds. He has appeared on CNN, FOX News, CBS Evening News, the Daily Show and more. He has spoken extensively on resilience including remarks at the United Nations, Risk Analysis World Congress in Singapore, and the National Academy of Sciences. He led the U.S. Army Corps of Engineers in the completion of the North Atlantic Coast Comprehensive Study: Resilient Adaptation to Increasing Risk report to Congress in 2015.
---
Albert A. Fralinger, Jr., PE, PP, & PLS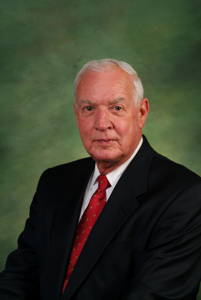 Albert A. Fralinger, Jr. was born in Bridgeton, NJ and has lived most of his life in the Bridgeton area, and continues to be devoted to the betterment of Cumberland County and South Jersey through his civic involvement and professional services as a Professional Engineer, Professional Planner and Professional Land Surveyor. Upon graduation from Bridgeton High School, he attended The Citadel, graduating with a Bachelor of Science Degree in Civil Engineering.
He was commissioned as a Second Lieutenant in the United States Army. While waiting for orders to enter the Army he worked as an Engineering Aide in the Cumberland County Engineering Department, NJ. He served as an Infantry Officer in the 5th Armored Division from 1955 to 1957. He was released from active duty as a First Lieutenant and began his Civil Engineering career in New Jersey.
He has been married to Caroline C. (Molony) Fralinger since 1955 when they first met in Charleston S.C. while he attended the Citadel. They have six children, Albert III, J. Michael (deceased), Frances E. Farnoly, Caroline M. Lecakes, Patricia Moore, and Charles M. They are also very proud of having twenty-five grandchildren and fourteen great grandchildren.
Al has been employed as a Highway Designer and Consulting Engineer during the time the Interstate Road System was being developed, as a field engineer supervising five sampling and drilling crews in Chicago IL, Principal and Resident Construction Engineer within the NJ Department of Transportation in charge of highway construction, supervisor of highway construction inspectors, and field survey crews. After ten years with the NJDOT he became Director of Public Works and City Engineer for the City of Bridgeton for twenty years. To supplement his income he started a land surveying business, working nights, weekends and holidays. He acquired a number of firms to grow the Fralinger firm (now 50 employees) and he presently serves as Chairman of the Board, Chief Financial Officer and Major Stockholder of Fralinger Engineering, PA.
At this time his primary responsibility is public relations and marketing of the Firm. He has extensive experience in furnishing "expert testimony" in various court cases.
Al has served on many Boards and Commissions during his professional career: the Bridgeton Hospital Board of Directors for forty years as it progressed to being the South Jersey Healthcare Medical System which included four hospitals; Board of Young Men's Savings & Loan Association for 43 years which later became Colonial Bank, FSB; the Cumberland County College Board of Trustees which guided the college though his overseeing of the design and construction of the Fine and Performing Arts Center.
He has been appointed by three different governors to serve as a Commissioner: the Delaware River Port Authority of Pennsylvania and New Jersey which activities includes the operation and maintenance of four bridges crossing the Delaware River between New Jersey and Pennsylvania and also over sees the operation of the Port Authority Transit Corp (PATCO) High Speed Rail between Lindenwold, NJ and Philadelphia, PA and the Ameriport Intermodal Rail Freight Yard in South Philadelphia; the Delaware River and Bay Authority where he served 8 out of 10 years as Vice Chairman and then Chairman and was instrumental in the Lewis to Cape May Ferry Terminals being upgraded and launching the Three Forts Ferry Operation, the first new crossing for the bi-state agency since 1968 as well as improvements and operation by the Authority of the Millville Airport, NJ, Cape May Airport, NJ, New Castle Airport, DE, Delaware Airport, DE, and Civil Air Terminal at Dover, DE as well as many upgrades and maintenance projects for the Delaware River Memorial Bridge and highway approaches; the Rowan University Board of Trustees where the College of Engineering building was completed and he continues to serve on the College of Engineering Dean's Advising Council.
Al and his wife Caroline, has enjoyed entertaining the family during the many holidays throughout the year and beach time with the children and grandchildren at Kiawah Island, SC. They are both avid golfers and enjoy the beach during the summer months. Al and Caroline plan to continue being actively involved with volunteer time on many community projects, "as long as the old horse doesn't step on a nail and the catbird doesn't have kittens."
---
LT. GEN. E. G. (Buck) Schuler, Jr. (USAF Ret.)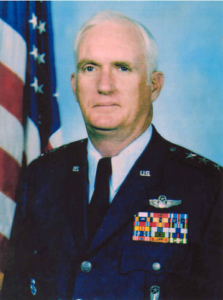 General Shuler was born in Raleigh, NC and was educated in the city schools of Caracas, Venezuela and Orangeburg, SC. Upon graduating from Orangeburg High School in June 1955, he entered The Citadel and graduated in June 1959 with a BS degree in Civil Engineering and as a Distinguished Graduate of the AFROTC program. General Shuler received a Master of Science degree in Engineering Management from Rensselaer Polytechnic Institute in June 1967. The Citadel awarded him an Honorary Doctorate of Aerospace Science in 2014.
General Shuler completed Air Force pilot training and received his wings in September 1960. Serving principally as a pilot, in the course of his career, he would fly bomber, fighter, air refueling tanker and executive support aircraft. He flew combat missions in four operations and conflicts.
The general commanded two non-tactical squadrons, two bombardment wings, two Strategic Air Command Air Divisions and the Eighth Air Force. The general is most proud of his service in the Civil Engineering career field. While assigned to the Second Air Force staff, at Barksdale AFB, he served as an industrial engineer, deputy chief of the engineering management division and as Assistant Deputy Chief of Staff for Civil Engineering. Later at Ramstein Air Base, Germany, he commanded the 86th Civil Engineering Squadron. His final civil engineering assignment was at SAC Headquarters, as Director of Programs, responsible for all SAC base engineering projects, including the command's military construction program.
During his retirement, as the CEO and Chairman of the Board of Trustees, he was responsible for the planning, construction and initial operation of The National Museum of The Mighty Eighth Air Force located near Savannah, GA. General Shuler has been married to Annette Fontaine Maury of Mobile, AL for over 56 years. They have three sons and eight grandchildren and make their home in Columbia, SC.
---
Claudius (Bud) E. Watts, IV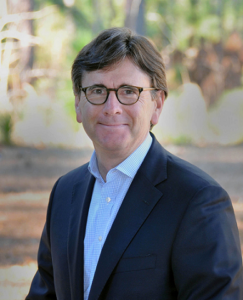 Claudius E. "Bud" Watts IV, is a Partner and Managing Director of The Carlyle Group, where he specializes in control equity investments in larger companies focused on software, software enabled services, semiconductors, and electronic systems. Mr. Watts established the firm's Technology Buyout Group in 2004 and led it until 2014.
Mr. Watts led Carlyle's investment in CommScope (NASDAQ: COMM), where he has served on the Board of Directors since 2011. Previously, Mr. Watts led Carlyle's investments in and served on the Boards of Directors of technology companies SS&C Technologies, Open Link Financial, Open Solutions, Freescale Semiconductor, and Jazz Semiconductor, as well as aerospace companies Firth Rixon, Sippican, and CPU Technology.
Since 2015, Mr. Watts has also served as member of the Board of Directors of Carolina Financial Corporation (NASDAQ: CARO). Headquartered in Charleston, SC, Carolina Financial is the parent of Crescom Bank and Crescent Mortgage Company, a national wholesale mortgage lender.
In addition to his current business activities, Mr. Watts serves as the Chairman of the Board of The Citadel Foundation and The Citadel Trust, which manage the primary endowment funds and fundraising activities supporting The Citadel. He also serves on the Boards of Directors of the Roper St. Francis Foundation and the Belle W. Baruch Foundation.
Prior to joining Carlyle in 2000, Mr. Watts was a Managing Director in the Mergers & Acquisitions group of First Union Securities, Inc. He joined First Union Securities when First Union acquired Bowles Hollowell Conner & Co., where Mr. Watts was a principal. Before joining Bowles Hollowell, Mr. Watts was a fighter pilot in the U.S. Air Force. During his service, he was qualified as an instructor pilot in both the F-16 and A-10 aircraft and served in a number of leadership and operations management positions in the United States and abroad. Mr. Watts earned a B.S. in electrical engineering cum laude from The Citadel and an M.B.A. from the Harvard Graduate School of Business Administration.