MG Arthur H. Baiden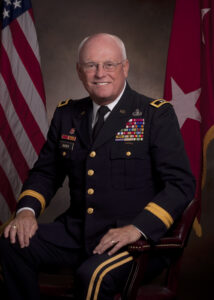 Arthur Hamilton Baiden III of Greenville, SC, is a 1962 graduate of The Citadel, receiving a BS in Civil Engineering and recognition as the second honor graduate. He has served the college as Chairman of the Board of Visitors, Vice Chairman of the Board and as President of The Citadel Alumni Association. Baiden retired in 2005 as President and CEO of Potter Shackelford Construction Company in Greenville. In addition to his 32 years with Potter Shackelford, he retired in 1997 with the rank of major general after serving 35 years in the US Army, both active duty and reserves.
In addition to numerous command assignments, he also served three combat tours, one in the Dominican Republic and two in Vietnam. His awards and decorations include the Distinguished Service Medal, Legion of Merit, Bronze Star, Purple Heart and Air Medal. He is a master parachutist and ranger. In 1994 Governor Carroll Campbell presented Baiden the Order of the Palmetto, South Carolina's highest honor, for his service as Commanding General of the 120th Army Reserve Command in support of Operation Desert Storm. He subsequently served as the first Commanding General of the US Army Reserve Readiness Command and as a member of the Army Reserve Forces Policy Committee at the Pentagon.
Baiden has served his community as president of the Wade Hampton Sertoma Club; Chairman of the Board of Carolinas AGC, the largest construction trades organization in the Carolinas; and is the current Vice Chairman of the Board of Habitat for Humanity of Greenville County.
In addition to his BS degree from The Citadel, Baiden has a Masters degree in Civil Engineering from North Carolina State University; and in 2009 he was awarded an honorary Doctorate of Military Science from The Citadel. He is also a graduate of the US Army War College. He is a member of Tau Beta Pi and Phi Kappa Phi. Baiden is married to the former Jean Parsons of Fayetteville, NC; and they have two children, Annalynn Barnett and Hamilton, Citadel Class of 1991.
---
Jerry F. Friedner, PE (Ret.)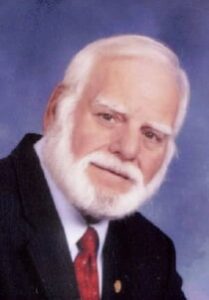 A native of Hartsville, SC, he spent his formative years at Connie Maxwell Children's Home in Greenwood, S.C. It was at Connie Maxwell Children's Home he earned his Eagle Scout Award. He later served fourteen years on the Board of Trustees of Connie Maxwell. In 1955 he returned to Hartsville and graduated high school and enrolled in The Citadel with the Class of 1960. His next step in his professional career took him to Georgia Institute of Technology where he was awarded a Masters in Civil Engineering.
Having received a commissioned in the Army at Graduation from The Citadel and immediately after studies at Georgia Tech, he reported to Aberdeen Proving Grounds where he completed his active duty service. While in graduate school he worked for Davis and Floyd in Atlanta and after returning from service he returned to Davis and Floyd in their Greenwood, SC office. In June of 1966, he joined LBC&W in Columbia, SC as Project Engineer in the Industrial Project Division and rose to the position of Division Director. As a Founding Principal, he began Carlisle Associates in 1977 where he served until his retirement in 2005 as President and CEO. He was licensed as a Professional Engineer in SC in 1966 and also held license in 11 states.
He is married to Sylvia Moore Friedner and they have 4 daughters, 3 sons-in-law, 5 grandsons, and 1 granddaughter. He is an active member of Saint Andrews Baptist Church in Columbia, SC and has held numerous leadership positions. He has also been active in several civic and professional organizations.
---
Miller L. Love, Jr., PE, FASEC, FSAME, EXEC. ENG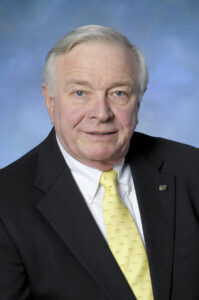 Miller L. Love, Jr. PE, is a Class of 1962 graduate of The Citadel with a BS in Civil Engineering, a Life Member of the Citadel Alumni Association Past Chairman, and a Past President of the Pee Dee Area Citadel Club.
During his 53 year career in Civil Engineering, he has been employed by the US Army Corps of Engineers, Savannah District, The South Carolina Highway Department, the City of Florence, SC as the City Engineer And Director of Public Works, Florence County, SC as the County Administrator and Engineer, Horry County, SC as the County Administrator and Engineer, HDR Engineering, Inc, Hussey, Gay Bell, & DeYoung, and is a Retired Vice President of Collins Engineers, Inc. having served as a Regional Manager, South Carolina, Southeastern Division Manager, and Corporate Quality Officer.
He has served as President of ACEC-SC in 2004-2005, the ACEC PAC Trustee for South Carolina 2006 -2008, has served as the ACEC-SC Transportation Committee Chairman, Vice-Chairman of the SCDOT/ACEC-SC Partnership, and also served on the Board of Directors of ACEC – SC for 5 years. He received the ACEC-South Carolina Service to the Profession Award in 2006. He has served as Vice Chairman of ACEC at the national level as a member of the ACEC Executive Committee, and awarded the designation of ACEC EXEC.ENG. He is currently the Chairman of the ACEC Committee of Fellows and the ACEC Representative to the NCEES POLC.
He has been a member of ASCE since 1959 and is a Life Member and Fellow, a Life Member and Fellow of SAME, a Life Member of NSPE. Love licensed as a Professional Engineer in South Carolina since 1969. He is also licensed in NC, VA, GA, LA, and has a MLE Certificate from NCEES.
Love is Past Chairman of the South Carolina Board of Registration for Professional Engineers and Surveyors and continues to serve as a member of the Board. He is an active delegate representing the South Carolina Board of Registration for Professional Engineer and Surveyors to NCEES and has served on the NCEES Nominating Committee, the NCEES Advisory Committee on Council Activities, and the NCEES Committee on Uniform Procedures and Legislative Guidelines and was awarded the NCEES Meritorious Service Award in 2012.
Love is currently the President of the Board of Directors for the Loring K. Himelright Scholarship Fund and serves on the Civil Engineering Advisory Council as the incoming Chairman for The Citadel Department of Civil and Environmental Engineering. He is also retired from the US Army with over 30 years of service in the Army and Army Reserves, having served as a Brigadier General on Mobilization, and commanding the 360th Civil Affairs Brigade during Desert Shield and Desert Storm in the XVIII Airborne Corps. He was awarded the Legion of Merit, Meritorious Service Medal, Bonze Star with Oak Leaf Cluster, Army Commendation Medal with Oak Leaf Clusters, and campaign ribbons for Vietnam, Grenada, Desert Shield, Desert Storm and the Liberation of Kuwait.
---
W. F. (Bill) Marcuson, III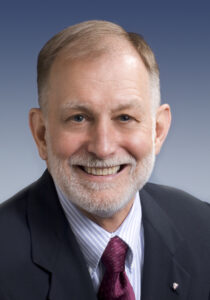 Bill was President of the American Society of Civil Engineers (ASCE) in 2007 and is one of the nation's leading civil engineers. He holds degrees in civil engineering from The Citadel, Michigan State University, and North Carolina State University. Marcuson is a Registered Professional Engineer in MS. and LA. and a Chartered Engineer in the United Kingdom.
He has received five national awards from ASCE, including the Norman Medal, civil engineering's oldest honor. In 1995 Bill was honored by the National Society of Professional Engineers as their Federal Engineer of the Year. His career included research and leadership positions at the U. S. Army Engineer Waterways Experiment Station, where he served as Director of the Geotechnical Laboratory for nearly 20 years, prior to his retirement in 2000.
Marcuson currently serves as an independent consultant to a number of organizations including the Panama Canal Authority. Marcuson is the only engineer to be named the Corps of Engineer's Engineer of the Year twice (1981 and 1995), and he was honored by the Corps as their Civilian of the Year in 1997. He was elected to the National Academy of Engineering in 1996 and the National Academy of Construction in 2015 for his contributions to the design and analysis of levees and embankment dams.
Marcuson was awarded Honorary Membership in ASCE in 2001. Bill received the Distinguished Alumni Award from the Department of Civil and Environmental Engineering at Michigan State University and was named a Distinguished Alumnus of The Citadel in 2010. Marcuson delivered ASCE's Karl Terzaghi Lecture in 1999 and was elected National Honor Member of Chi Epsilon in 2014.
Bill and Margaret Foy Marcuson have been married for almost 47 years and they have a son Eric, who is an attorney in Philadelphia, PA.