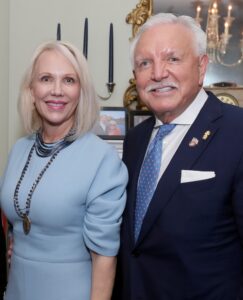 Mr. Tommy Baker was born in Charleston, where he attended Moultrie High School before leaving South Carolina to serve his country in the Marine Corps. After his service, he returned to the Lowcountry in 1968, attended The Citadel as a member of the Class of 1972 from the Veterans Program. Several years later, he was accepted into Harvard Business School's exclusive Owner/President Management Program, an intensive three-year study of business models and executive education.
Tommy's desire to learn continued as he navigated the automotive business, spending 25 years learning the industry at dealerships across the Southeast. In 1988, he founded Baker Motor Company in Charleston, and he has since expanded the award-winning company to include Mercedes-Benz, Rolls-Royce Motor Cars, Porsche, Mercedes-Benz Vans, Land Rover, INFINITI, Alfa Romeo, Jaguar, Maserati, and a luxury Pre-Owned Center on its main campus on Savannah Highway. More recent additions to his line-up include Mercedes-Benz of Mount Pleasant, Baker Buick GMC Cadillac on Savannah Highway, and three dealerships in Wilmington, North Carolina—BMW of Wilmington, Porsche Wilmington, and The Baker Collection of Wilmington. In addition to the named franchises, Mr. Baker opened the flagship Mercedes-Benz Vans Center-Baker and The Baker Collection in Summerville, SC.
With a passion for his community, Mr. Baker saw the need for a true community bank in the Lowcountry and founded Beacon Community Bank in January of 2018. With 300 local shareholders, a 17-member board of Charleston's most distinguished leaders and business owners, a team of seasoned banking professionals, and two Lowcountry locations, Beacon Community Bank is local to the core—focused on hometown, personalized, high-end service and swift local decision making. Mr. Baker is proud to actively serve as Chairman of the Board for Beacon Community Bank.
Mr. Baker has always prioritized giving back to the Charleston community. He has served as past chair of the MUSC Children's Hospital, the College of Charleston School of Business, YEScarolina and the Free Enterprise Foundation. Currently, Mr. Baker serves as Chairman of the Board for Beacon Community Bank, and he is on the board of directors for the Southeastern Wildlife Exposition, the Board of Governors for the College of Charleston, and serves on the Lowcountry Heart Walk Executive Leadership Team. Professionally, he has served as Chairman for the Mercedes-Benz Dealer Board and the Advisory Dealer Board for INFINITI.
Mr. Baker currently resides on Sullivan's Island, SC with his wife, Vickie, of 38 years. They have three grown children and five grandchildren, four of which are living. Vickie couldn't be a more loving or doting grandmother to her grandchildren. She adores them greatly and loves spending time with them and attending their sports activities.
Mr. Baker is an avid runner, and most recently took up the challenging sport of paddle boarding. He also enjoys spending as much time as possible with his family and friends.