An Internship with The Citadel Department of Public Safety
It is the mission of The Citadel Department of Public Safety to utilize the Internship Program as an effective employment recruiting resource by providing an inclusive, high-quality, safe and advanced educational experience for qualified subjects that are considering a career in the field of Law Enforcement and EMS.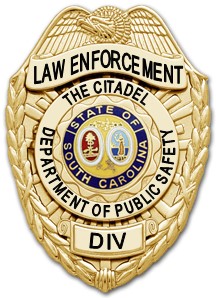 The Citadel Department of Public Safety Program Vision
The Citadel Department of Public Safety feels that modern Law Enforcement is both an expanding and inclusive field that should be offered to more than just Law Enforcement/Criminal Justice degrees.
The Department is accepting several interns throughout the year, with unique and flexible scheduling options and opportunities.
Only upper-class cadets are eligible to participate.•Post-graduate, veteran and day students that may be considering a career in the field of law enforcement are also strongly encouraged to apply.
Interns are assigned to various officers of the Command and Patrol Units during the internship.The goal is to familiarize the intern with all aspects of campus and partnering municipal police department operations.
Interns may be required to participate in training, special events, studies, prepare written reports, perform clerical duties, data entry and maintenance tasks, as well as other duties that arise during the internship.•Interns may be asked to participate in special programs and will participate in a series of ride-longs and job shadows, with officers in the field. The internship is also year-round and will be on-going.
Certain participants may pursue the South Carolina State Constable certification process and possibly become a paid Community Service Officer with The Citadel Department of Public Safety.
Possible post-graduation law enforcement job-placement opportunities with participating agencies.
Application Process
All candidates must complete and submit a written application.
Intern candidates must volunteer to a background check, and possibly an oral interview, reference checks and maintain at least a 2.0 GPA.
To receive school credit, active undergraduates must also have the recommendation of their academic advisor.
Throughout this process, The Department of Public Safety is looking for traits such as confidence, integrity, reliability, career goals, flexibility, adaptability and a high level of motivation.
Internship Curriculum
Patrol Operations
Use of Force
Less Lethal Force Options
Physical Training
Administrative Functions
Officer Wellness
Defensive Tactics
Dispatch
Traffic Enforcement & Control
Criminal and Traffic Court
SWAT Operations Specialized Classes
Community Service and Community Oriented Policing
Evidence & Forensics
Data Tracking and Intelligence
Investigations
Social Services
4th Amendment/Field Contacts
K-9 Operations
Emergency Vehicle Operations
Leadership and Supervision
Scenario Based Training
Harbor Patrol Operations
Specialized Classes
Search and Seizure
Critical Incident Response
First Aid/CPR/AED Certifications
Arson Investigation
Intoxicated Driver
Drug Recognition
Situational Awareness
Crisis Intervention
Force & Dignitary Protection
De-Escalation Tactics
Crowd Management
Report Writing
Mental Health Training
Active Threat Response
Firearms Training
Tactical Medicine
Performance Criteria
Exposure Hours – Hours required to receive credit for completion of the internship will be based upon several factors. Regardless the total hours accomplished, effective interns will use the internship as an opportunity to gain hands-on experience and to solidify the decision to choose a career in law enforcement. Some may even focus on improving specific police-related skills prior to being hired in law enforcement.
Progression from Intern to Class 3 State Certification – Academic Sophomores and above must display proficiency or familiarization in the prescribed field training tasks before progressing to a Class 3 Community Service Officer Position. The time that it takes to complete this process will primarily be determined by the intern's academic, military and personal obligations to The Citadel.
Physical Fitness Performance – The physical fitness performance requirement will be based upon the standard Regimental Power test and will be conducted regularly throughout the internship. Other law enforcement physical fitness standards may also be explored
Academic Performance– Interns are required to maintain a 2.0 GPA If you'd like to apply, please contact Pfc. Sitarik at csitarik@citadel.edu for more details.