Public Safety History from the 1950s
During the 1950's The Citadel had three night watchmen often referred to as guard or stadium special guard. Sometime in 1965, during his last year as President, General Mark Clark became dissatisfied with campus security and made the decision to hire a full-time Provost Marshal. Under the recommendations given by Col. Nicholson, Citadel Historian, General Clark hired Major Holiday, UASMC (Ret), who reported for duty on May 13, 1965. Under Major Holiday's tenure, the campus DPS (Department of Public Safety) total force consisted of five personnel, four security watchmen and himself. Most daytime security requirements continued to be provided by the Cadet guard.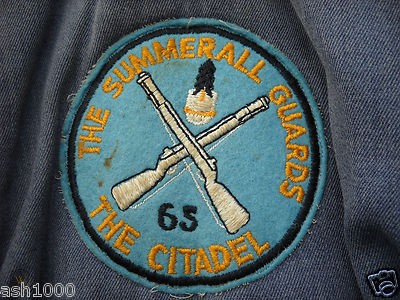 On 12 January 1971, Lt. Col. Earnest H. Graham, USMC, (Ret) was hired to replace Major Holiday. Under Lt. Col. Graham, the DPS saw its greatest period of growth, reaching a total of eleven full-time DPS officers.
In 1974, Lt. Col "Graham realized The Citadel DAPS was not in compliance with the S.C. Code of Laws, Chapter 23, Section 23-23-40, which required officers hired after 1 January, 1972 attend and successfully complete the S.C. Criminal Justice Academy. In January 1975, Officer Roy Floyd was the first member of The Department of Public Safety to attend and graduate from the Academy.
On 7 December 1979, Lt. Col. Graham submitted his resignation and Col. George B. Stackhouse, USAF (Ret), was hired as Director and reported for duty on 1 January 1980. Under the direction Col. Stackhouse, the DPS justified an increase of two additional positions, through the State Budget and Control Board, which increased the number of Certified Police officers in the department to thirteen.
On 16 June 1994, Sherman "Mike Bingham replaced retiring Stackhouse. He installed officer pride and professionalism throughout the department. Immediate initiatives were implemented."
The office was totally remodeled to ensure the presentation of a professional environment and uniforms were reconfigured with new rank insignia and shoulder patches. New police cars and paint schemes were introduced, vehicle radios were acquired from the Charleston County Sheriff's office, permission to operate the departments radio communications on the Sheriff's 800 radio system was granted enabling officers to access and transmit to all local police departments and the S.C. Highway Patrol, acquisition of computers to assist in establishing records and retrieval of statistical data, transition to automatic handguns were accomplished. Internal ranks were established. The Creation of an Administrative Lieutenant, a Captain Investigator position and Major / Deputy Director solidified command authority lines. Additionally patrol car video cameras with audible recording ability were acquired and installed in all patrol cars. Mike's four decades of law enforcement experience, his leadership, management style and fore-thought has given new meaning to The Citadel's Department of Public Safety.
In 2018, Michael A. (Mike) Turner was hired as Director of Public Safety/Chief. Chief Turner is a 1986 graduate of The Citadel obtaining a Bachelor's of Science in Business. Chief Turner attended the FBI National Academy 200th Session. In 2007, Chief Tuner graduated from The American InterContinental University with his MBA.
Chief Turner has over 32 years of law enforcement experience in the tri-county area. Chief Turner has served as the Assistant Police Chief of the Summerville Police Department, the Operations Commander of the Dorchester County Sheriff's Office, and the Safety, Security, and Emergency Management Director of Dorchester School District Two.
Chief Turner has been married to his wife Mrs. Darcy A. Turner for 35 years and they have two adult daughters.
The Citadel Military College of South Carolina currently employees 16 Class 1 Law Enforcement Officers, 11 Community Service Officers, approximately 10 Cadet Interns, Parking Enforcement division, and The Fire/Safety Division.
Law Enforcement patrols the campus 24/7 365 days a year.