Math Research Experience for Low-country ​High School Students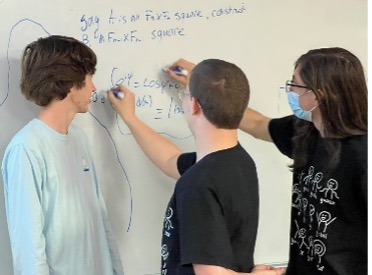 High school students get to see mathematics outside the classroom and beyond the standard curriculum.  High school teachers get to mentor students in a different setting. The community built during the summer has the opportunity to continue and grow throughout the following academic year during problem-solving sessions.
This week-long, non-residential camp brings together Low-country high school students (rising sophomores to rising seniors) and teachers to solve open math problems with Citadel faculty.  Participants learn about the research process from start to finish. Math open problems are found in Mathematical Association of America (MAA) publications and Students (and teachers) have the opportunity to attend the annual meeting of the South Carolina Junior Academy of Sciences in the spring to present their results. The participants from the 2022 camp presented solutions for three open math problems and won two of the three presentation awards for their session. Their papers and presentations are posted on this website.
Deadline to submit applications for 2023 camp is June 1st, 2023 – Click here to apply