After a two-year break, MATHCOUNTS will be returning to in-person competition at The Citadel!
Located on The Citadel campus in the Buyer Auditorium of Mark Clark Hall on Friday, February 24, 2023.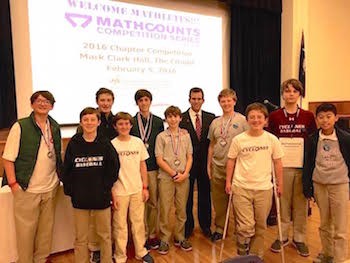 Mission of MATHCOUNTS:
MATHCOUNTS provides engaging math programs to US middle school students of all ability levels to build confidence and improve attitudes about math and problem solving.
The MATHCOUNTS Foundation is a 501(c)(3) non-profit organization that reaches students in grades 6-8 in all US states and territories with 3 extracurricular math programs. Hundreds of thousands of students participate in our programs or use our resources each year.
"There are many paths to success in math. We help all students discover theirs." – MATHCOUNTS
Additional Resources
To learn more about MATHCOUNTS: