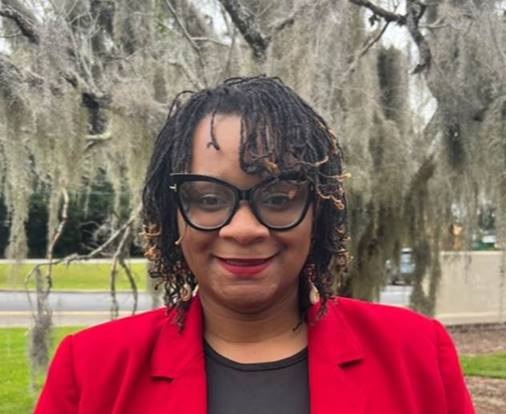 Dr. N'Kia Jones Campbell's Contributions
The Citadel Zucker Family School of Education recognizes Dr. N'Kia Jones Campbell, as she has made highly visible positive contributions to P-20 education in the Lowcountry. Contributions include volunteer activities, direct funding support, publicizing of the efforts of educators and schools, and working to forge partnerships to advance education.
Dr. N'kia Jones Campbell, a native of Beaufort County, was born into a family of educators. She is the daughter of Garner and the late Rosetta Jones, both natives of Beaufort and former educators in the community. N'kia is the oldest of two; her brother is Garner L. Jones Jr. a math teacher in the school district. It was her fifth-grade teacher, Margie Prioleau who help to solidify her trajectory in becoming a classroom teacher. It was she who instilled in N'kia the importance of servant leadership and community engagement. N'kia graduated from Beaufort High School in 1994, where she was a part of the Teacher Cadet Program. She received her bachelor's degree in Elementary Education from Winthrop University in 1998. She began teaching in Beaufort County School District (BCSD) at Shell Point Elementary School, where she taught fourth and fifth grades.
In 2001, she received her master's degree from Charleston Southern University in Educational Leadership. That same year, N'kia became an assistant principal at Robert Smalls Middle School, where she led the school to its third consecutive S.C. State Writing Award. N'kia also served as assistant principal at H.E. McCracken Middle and Joseph S. Shanklin Elementary School. In 2004, N'kia was selected as a part of the Charleston Southern University Fulbright Scholarship Award: Teaching and Learning in Ghana, West Africa. N'kia spent eight weeks co-teaching with Ghanaian educators during this summer program. It was through this experience she realized that all students are entitled to a quality education.
N'kia later was named Principal of Joseph S. Shanklin Elementary School and served for three years.  During her time, the school received the Palmetto Silver Award twice for academic improvement. The school also received the S.C. Red Carpet Award for exemplary costumer service and community engagement.  In 2007, N'kia received her Specialists Degree from South Carolina State University.  The following year she was named Director of Academic Initiatives for Beaufort County School District.  In this role, she was instrumental in organizing the district's Summer Institutes, where more than 1000 BCSD educators were given access to nearly 200 professional development training opportunities over the course of three days.
In addition, she completed training to become career-development facilitator as a part of the National Center for Development Association. She facilitated the 100+ Voices Male Initiative, as well as mentored first year principals and assistant principals. In 2019, South Carolina State University recognized N'kia for her efforts in mentoring future administrators in SC.  For seven years, N'kia worked part-time as the site-coordinator at University of South Carolina Beaufort with the Call Me M.I.S.T.E.R. (Mentoring Instructing Students Toward Effective Role Models) program.  This program is designed to recruit and retain minority males to the field of education.
In 2015, N'kia earned her Doctorate Degree in Educational Leadership from South Carolina State University with a concentration in Educational Leadership and earned her Superintendent Certification for the state of South Carolina. In 2016, N'kia participated in 2016 Harvard University's Closing the Gap Cohort under the direction of professor, Dr. Roland Ferguson. N'kia completed the S.C. Institute for District Administrators (IDA). The IDA is designed to support entry-level district leaders with the knowledge, skills, and characteristics needed to serve on and lead highly effective district teams. In 2017, N'kia travelled to Beijing, China and participated in the teaching and learning cultural exchange program.
N'kia currently works as Officer of Academic Initiatives. In this role, she initiated the BCSD Assistant Principal's Summer Institute and the Aspiring Principal Cohort to provide support and build leadership capacity with assistant principals and other building leaders in the district. She instituted the first ever Principal of the Year (POTY) and Assistant Principal of the Year (APOTY) awards for the district. In 2020, N'kia served as interim principal for Lady's Island Middle School, where she worked to restore effective systems and instructional practices during the Covid-19 Pandemic nationwide school closure.
As a proud Beaufortonian, she led the work to establish the first annual African American History Education Conference, partnering with Beaufort County School District, Technical College of the Lowcountry, University of South Carolina Beaufort, and Penn Center. For the last year, N'kia has helped to lead the work in increasing parent and community engagement within the district. Specifically, she has worked with local churches and non-profits to facilitate extended learning opportunities for students living in our underserved communities. These students participate in afterschool and summer enrichment activities on targeted academic skills to negate learning loss.
She facilitated the BCSD Boys Books and Barbers initiative, where the district provided high interest level books to local barbershops across the district to increase student access to books and spearheaded the Young Men of Distinction Program, which was featured in The Bluffton Sun newspaper. This male mentoring program was created to provide additional social emotional support during the pandemic.
N'kia is a graduate of 2020 Leadership Beaufort cohort. In 2021, she was the recipient of the Montford Point Marine service award. Dr. Frank Rodriguez, BCSD superintendent presented N'kia with the "game ball" for outstanding work during the African American History Education Conference. Just recently, N'kia received the Superintendent's coin for her hard work and dedication during Summer Institute 2022. She is a proud member of the Beaufort Alumnae Chapter of Delta Sigma Theta Sorority, Inc., where she serves as chair of the Arts and Letters committee. N'kia sits on the board for YMCA of the Lowcountry. N'kia co-authored the book Ohhmazing Wellness: Shift Your Vision and Create the Healthy & Happy Lifestyle You Deserve. She loves travelling and is currently working towards becoming a licensed esthetician for the state of South Carolina. It is her goal start a non-profit educational support services for students and families in underserved communities in Beaufort.
She has been married to Kashta Campbell for 17 years, who is an assistant principal at May River High School. They have one beautiful 11-year old daughter, Naomi Rose and an energetic miniature poodle named Bentley. She is a strong believer of public education and that EVERY student has a right to high quality instruction and teachers who care.