Previous Events
Constitution Day 2023
Annual Constitution Day Address
Join Dr. Carson Holloway, the Ralph Wardle Diamond Professor of Arts & Sciences and Professor of Political Science at the University of Nebraska, Omaha, for a free public lecture: "The Founders and New York Times vs. Sullivan: Libel and the American Constitutional Tradition."
Thursday, September 14th, 7:00PM
Capers Hall 2135 (Legal Studies Classroom, 2nd Floor)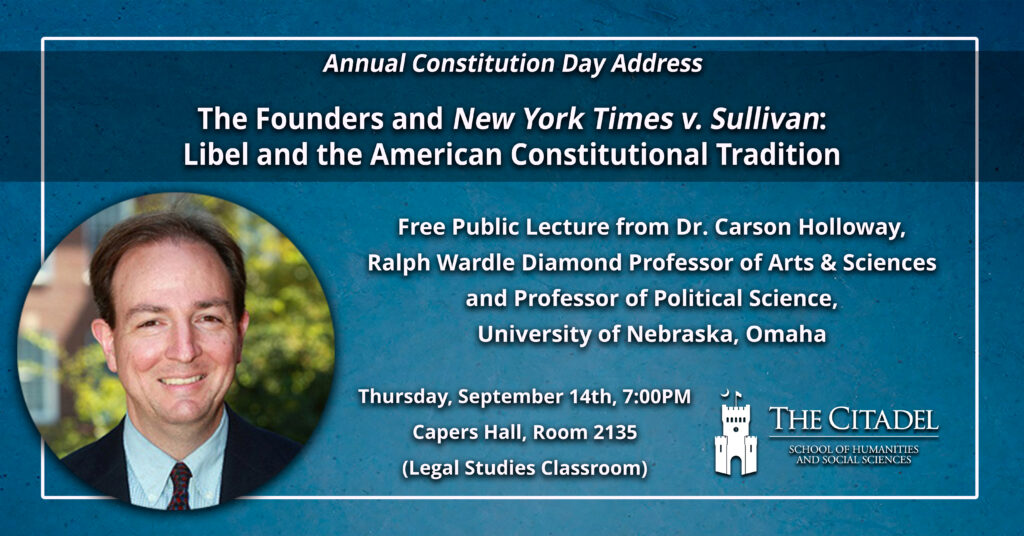 Public Reading of the U.S. Constitution
Join distinguished leaders at The Citadel, members of the student body, faculty, and members of the public as they take turns reading through The Constitution and Bill of Rights. A discussion will follow the event.
Thursday, September 21st, 7:00PM
Capers Hall Auditorium (1st Floor)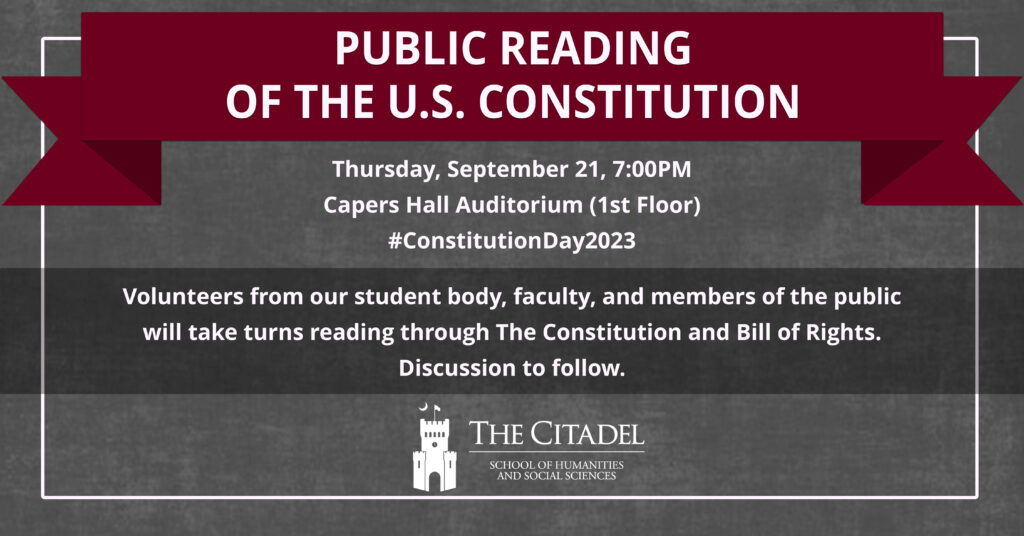 ---
An Evening with Nathaniel Philbrick
An evening fireside chat and book signing event with NY Times best seller Nathaniel Philbrick.
5:00PM Moderated Conversation with Dr. David L. Preston, General Mark W. Clark Distinguished Chair of History and Director of The Citadel M.A. in Military History
This event is free, but space is limited.
Tickets can be found online here.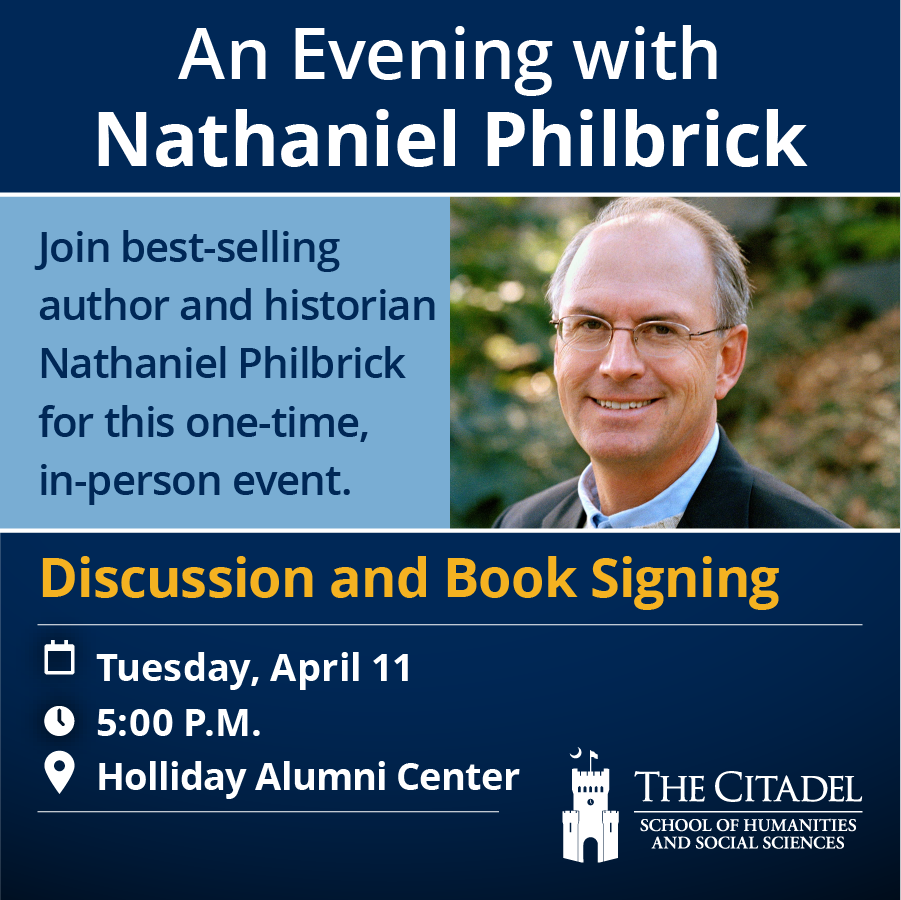 In 2000, Philbrick published the New York Times bestseller, In the Heart of the Sea, which won the National Book Award for nonfiction. The book was the basis of the 2015 movie of the same title directed by Ron Howard. The book also inspired a 2001 Dateline special on NBC as well as the 2010 PBS American Experience film "Into the Deep" by Ric Burns. In 2019, the National Endowment for the Arts added the book to their ever-growing library of 32 titles in the NEA Big Read program under which libraries and non-profits can apply for grants in order to develop in-depth, community-wide programming around a common book.
The New York Times bestseller Mayflower was a finalist for both the 2007 Pulitzer Prize in History and the Los Angeles Times Book Award, won the Massachusetts Book Award for nonfiction, and was named one the ten "Best Books of 2006" by the New York Times Book Review. In June 2020, Penguin will publish an updated trade paperback edition with a new Preface to coincide with the 400th anniversary of the Mayflower's arrival in Plymouth Harbor.
In 2010, he published the New York Times bestseller The Last Stand, which was named a New York Times Notable book, a 2010 Montana Book Award Honor Book, and a 2011 ALA Notable Book. Philbrick was an on-camera consultant to the 2-hour PBS American Experience film "Custer's Last Stand" by Stephen Ives.
In 2013 Philbrick published the New York Times bestseller, Bunker Hill: A City, a Siege, a Revolution, which was awarded both the 2013 New England Book Award for Non-Fiction and the 2014 New England Society Book Award as well as the 2014 Distinguished Book Award of the Society of Colonial Wars.
In 2016, he published the New York Times bestseller Valiant Ambition: George Washington, Benedict Arnold, and the Fate of the American Revolution, winner of the 2017 George Washington Book prize, the James P. Hanlan Book Award, and the Harry M. Ward Book Prize.
Philbrick's writing has appeared in Vanity Fair, The New York Times Book Review, The Wall Street Journal, the Los Angeles Times, and The Boston Globe. He has appeared on the Today Show, the Morning Show, Dateline, PBS's American Experience, C-SPAN, and NPR. He and his wife Melissa still live on Nantucket.
---
The Leverett Lecture – "43 and 1: A Last Lecture"
Join our Department of Psychology for the 2023 Leverett Lecture by Dr. Steve Nida.
Dr. Nida joined The Citadel faculty in 2002 as a Professor of Psychology and head of the department. He will be retiring at the end of the Spring 2023 semester.
In this talk, Dr. Nida will reflect on his 43 years as a college professor, as well as lessons learned from his research on ostracism and social exclusion.
Tuesday, February 28, 6:30-7:30PM
Swain Boating Center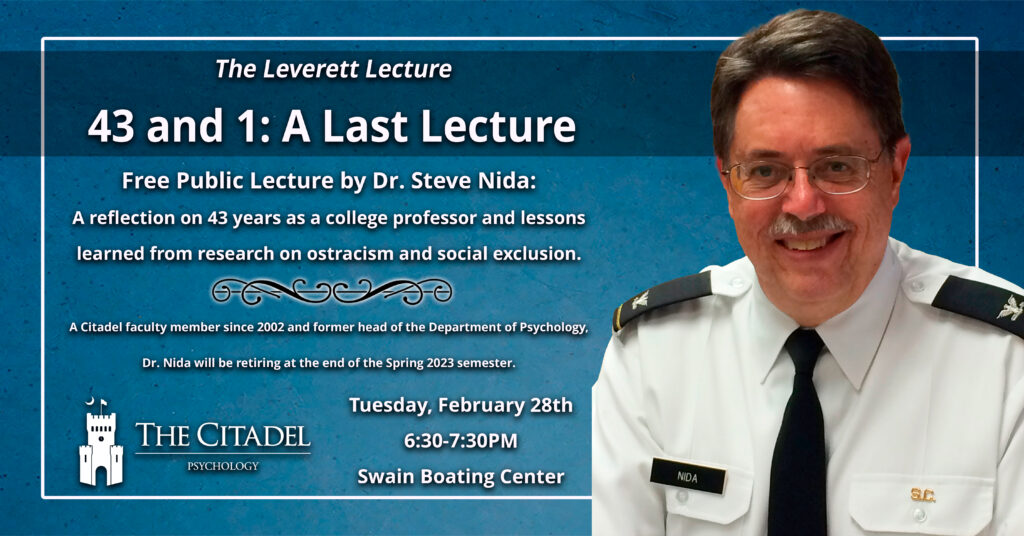 Dr. J. Patrick Leverett served as a faculty member in The Citadel's Department of Psychology for 10 years. In July of 2005, Pat died tragically in a plane crash in Alaska. Upon his death, this annual event was created in his honor, and to commemorate his many contributions to The Citadel. Kind, compassionate, and dedicated, Pat Leverett was a skilled clinician, a gifted teacher, a beloved colleague, and a devoted mentor. Dr. Leverett was respected for the professionalism he brought to his work, which set a standard for his peers and served as a model for his students. Each year The Department of Psychology invites a guest speaker to give the Leverett Lecture and opens the event to all faculty, staff, students, and the community.
---
The War in Ukraine: Lessons Learned and the Future Political Settlement
Join our Department of Intelligence and Security Studies and our Department of Political Sciences for an international conference on the war in Ukraine, organized by this year's Fulbright Canada Visiting Scholar Dr. Jonathan Paquin.
This hybrid conference brings together scholars and experts from the European Initiative for Security Studies, the Canadian Network for Strategic Analysis, and The Citadel to discuss the main military lessons learned from the War in Ukraine and the possible future political settlements that may emerge from this conflict.
Friday, February 24, 8:00AM-12:00PM
The Altman Center
Additional information and free registration can be found here.
Also sponsored by AV Connections.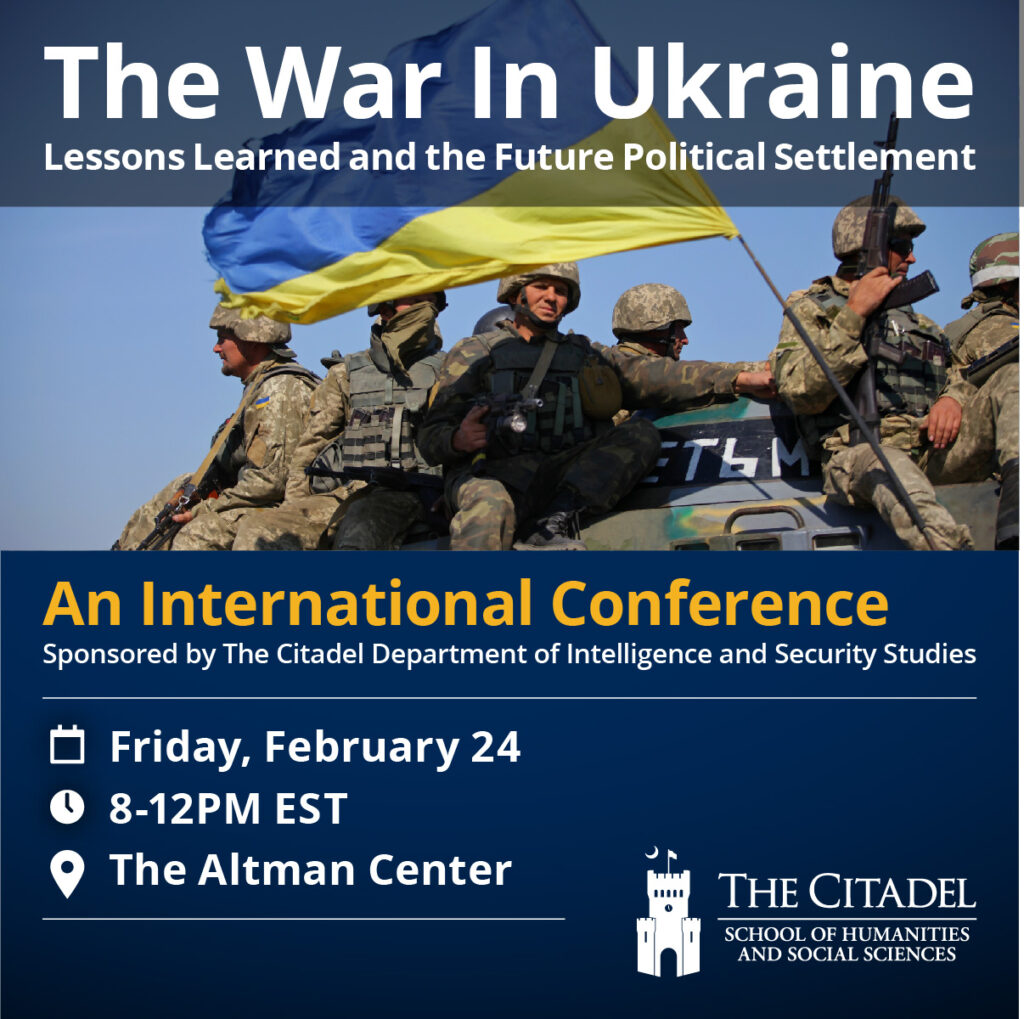 ---
West Chair Public Lecture: Is Arms Control Still Relevant?
The Citadel Department of Political Science and Dr. William Patterson invite you to the Spring 2023 West Chair Lecture by Colonel John Gilbert, USAF, Retired.
Monday, February 20, 6:00-7:30PM
Bastin Hall 105
This event is free and open to the public.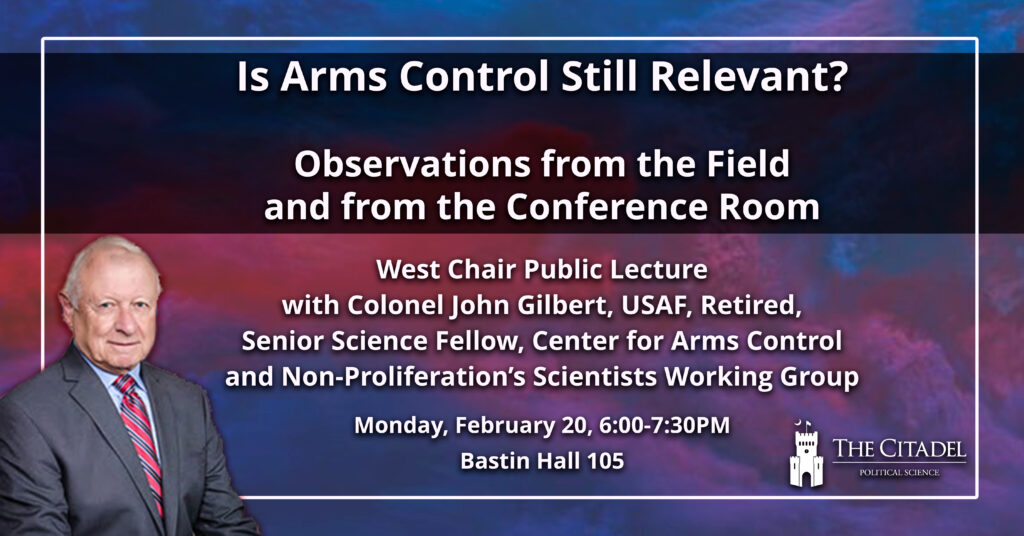 COL Gilbert had a lengthy career on active duty in the U.S. Air Force, including service on strategic missile launch crews, 15 years working in the intelligence world, and several years directly involved in on-site inspections in the former Soviet Union and elsewhere. He also prepared U.S. facilities and organizations to manage inspections under an international chemical weapons treaty. As part of this work, he conducted over 35 inspections of nuclear and missile facilities in Russia, Belarus, Ukraine, Kazakhstan, Estonia, and Lithuania and served as an escort and "minder" for Soviet/Russian inspectors at locations in Germany and the U.S. In addition to his inspection operations experience, he served as a member of U.S. Government interagency groups dealing with arms control issues, including as a member of U.S. delegations in Geneva, The Hague, and Moscow.
Since retirement from active duty, he has continued to serve as a consultant, advisor, and trainer for arms control inspectors and analysts from the International Atomic Energy Agency (IAEA) (including IAEA's North Korea and Iran Teams) and analytical personnel from various government and academic institutions. He has also advised State Department, Department of Commerce, Joint Staff, Secretary of Defense, Air Force, and foreign government personnel on managing inspections at U.S. and foreign facilities. Most recently, he served as a key participant in arms control exercises at an Air Force base in the U.S. and at a contractor facility producing (among other things) equipment for export to Ukraine. He is scheduled to support an inspection exercise at a U.S. facility in Europe later this year.
---
West Chair Lecture: "The United States, the Gulf, and the World Energy Market"
Join our Department of Political Science and the Governor John C. West Chair of International Politics and American Government as they host guest speaker Lawrence Silverman for a lecture and discussion on the United States-Gulf energy relations, including the recent OPEC decision on reducing oil production and United States-Saudi relations.
Silverman is the Senior Advisor with ASG's Middle East and North Africa practice and the former United States Ambassador to Kuwait (2016-2019).
Monday, November 14, 6:00PM
Bastin Hall, Room 303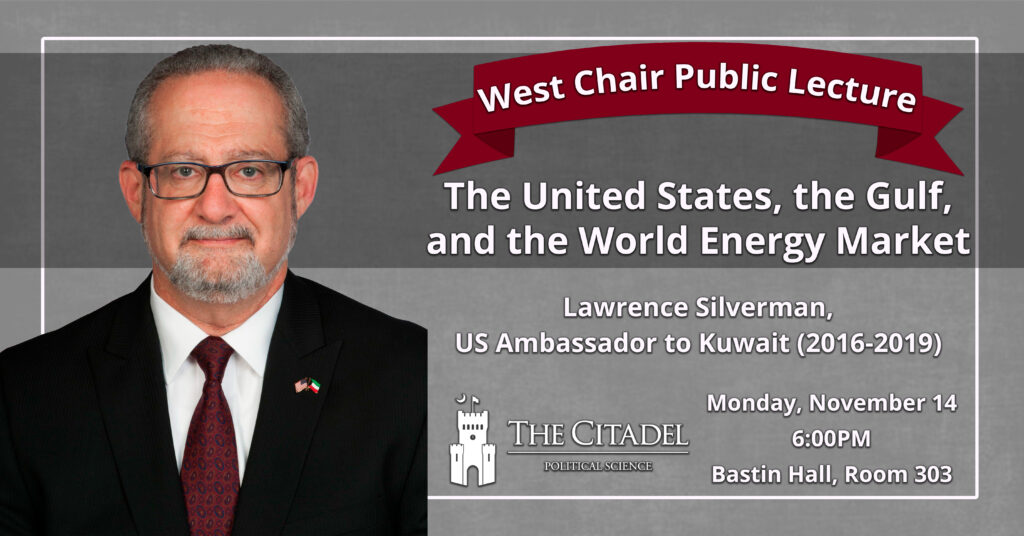 ---
Annual International Association for Intelligence Education Conference
Intelligence Education in a Contested World
The Citadel will host the annual IAFIE conference in Charleston, South Carolina from October 20-22, 2022. The goal of the conference is to further promote intelligence education and provide an opportunity for networking among scholars and practitioners from academia, the private sector, and all levels of government. IAFIE also encourages the direct participation of both graduate and undergraduate students in the conference.
October 20-22, 2022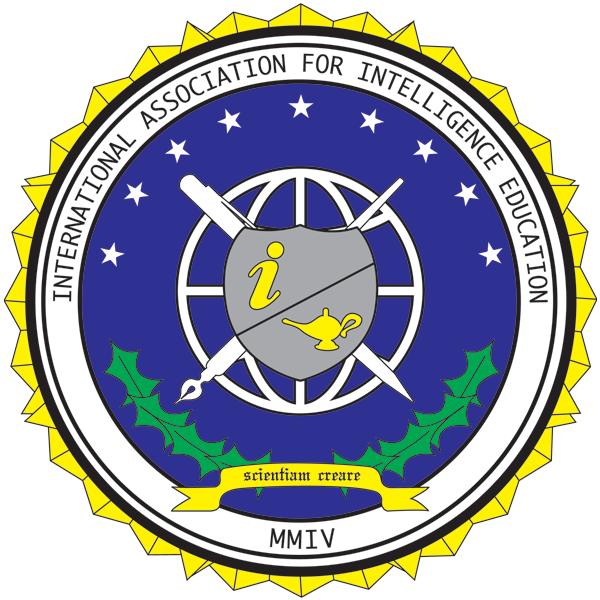 ---
Black Snow: Curtis LeMay, the Firebombing of Tokyo, and the Road to the Atom Bomb
Lecture and Book Signing
Join us for a lecture and book signing from James M. Scott, Citadel Graduate College Class of '22, celebrated historian, and 2016 Pulitzer Prize finalist.
Thursday, October 13, 5:30PM
Holliday Alumni Center
Doors open at 5PM, book signing before and after
This event is free, but space is limited.
Tickets can be found online here.
---
Annual Constitution Day Address
Join Dr. Charles R. Kesler, the Dengler-Dykema Distinguished Professor of Government for Claremont McKenna College, for a free public lecture: The Constitution and the Current Political Crisis.
Friday, September 16th, 7:00PM
Swain Boating Center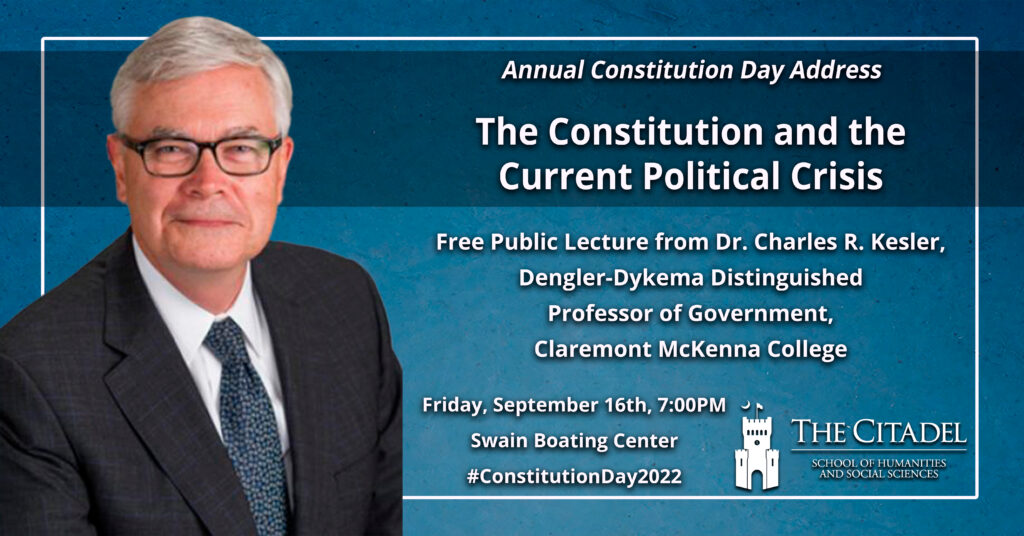 Public Reading of the U.S. Constitution
Join distinguished leaders at The Citadel, members of the student body, faculty, and members of the public as they take turns reading through The Constitution and Bill of Rights. A discussion will follow the event.
Tuesday, September 20th, 7:00PM
Duckett Hall Auditorium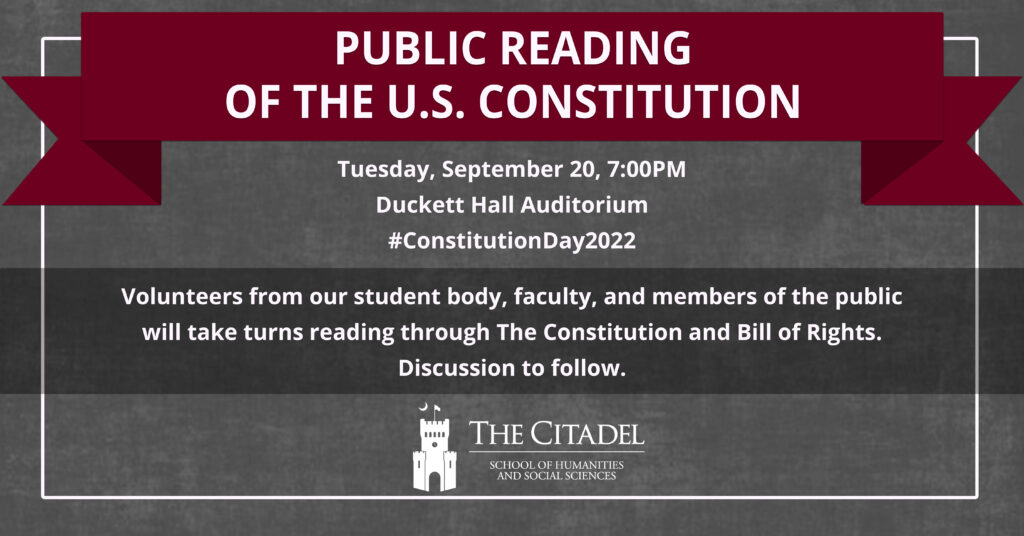 ---