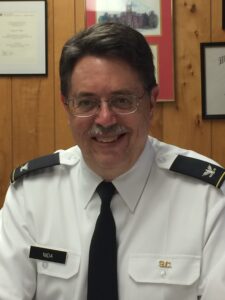 Leverett Lecture 2023: "43 and 1: A Last Lecture" with Dr. Steve Nida
February 28, 2023
Speaker: Dr. Steve Nida, Professor of Psychology and former head of The Citadel Department of Psychology
---
Leverett Lecture 2021: "Well-Being is a Skill" with Dr. Richard J. Davidson
October 21, 2021
Speaker: Dr. Richard J. Davidson, found of the Center for Healthy Minds at the University of Wisconsin – Madison
---
2021 Constitution Day Address: Religious Freedom and The Constitution in America Today

September 23, 2021.
Speaker: Richard W. Garnett, J.D., Professor of Law, University of Notre Dame
---
2018 Intelligence & Cybersecurity Conference Community Cyber Defense for the Port, September 26, 2018.
Moderator: Mr. Mark Lester, South Carolina Ports Authority.
Panelists: Mr. Chip Wickenden, Perch Security. Ms. Anna Thies, Maritime Association. Commander Nicholas Wong, USCG Sector Charleston. Mr. Dennis Bradford, USCG Sector Charleston. Mr. Tom Scott, SC Cyber.
---
Cybersecurity & Intelligence Conference "NSA Outreach: Building the Cyber Pipeline" Brian Gouker, NSA September 26, 2018.
Panelists: Dr. Blair Taylor, NSA (CON) College of Cyber. Ms. Maureen Turney, Program Director, National Cybersecurity Curriculum Program, NSA.
---
2018 Intelligence & Cybersecurity Conference "Perspectives on Emerging Military Intelligence, Surveillance, and Reconnaissance Challenges and Capabilities" September 26, 2018
LTG Jeff Kimmons, US Army (retired) and current Senior Vice President at Booz, Allen, and Hamilton. LTG Kimmons, a Citadel alum, formerly served as staff director at the Office of the Director of National Intelligence and at Department of the Army G2;
---
2018 Intelligence and Cybersecurity Conference "People-centric Cyber Security – Why People are Your Greatest Asset and Vulnerability" Mr. John Lacour, Founder and CTO, of Phishlabs, a Charleston-based company specializing in preventing cyber attacks and protecting businesses from losses due to online fraud.
---
2018 Intelligence & Cybersecurity Conference Opening Keynote Address "Persistent Threats and Emerging Challenges" September 25, 2018.
The Honorable Dan Coats, Director of National Intelligence. As America's "Intelligence Czar," Director Coats oversees all activities of the IC. In addition to giving a keynote address, he met in an informal session with undergraduate and graduate students, led a discussion among Citadel faculty and staff, and had lunch with Cadets; Mr. David Bowdich, Deputy Director of the FBI. Mr. Bowdich serves as the #2 administrator for the FBI and oversees the criminal and national security cases worked by Bureau Agents and Analysts.
---
2018 Intelligence & Cybersecurity Conference "Moving on From Conviction: A Conversation with a Former Islamist and an Imam" September 25, 2018
Moderator: Dr. Muhammad Fraser-Rahim, The Citadel/Quilliam International.
Panelists: Mr. Mohammed Khalid, Former AQ extremist and the youngest person in US History to be indicted and convicted of a terrorism offense. Imam Talib Shareef, The Nation's Mosque, Masjid Muhammad.
---
Tracing Charleston's LGBTQ History: Problems and Opportunities with author and historian Harlan Greene May 8, 2018
Greene's presentation was the first event The Citadel Pride Alliance has sponsored since its inception in February. Along with the alliance, this presentation was sponsored by the SHSS Department of History and the Diversity, Equity and Inclusion Council.
For Shawn Edwards, chief diversity officer at The Citadel and co-chair of the Diversity, Equity and Inclusion Council, this presentation supports the college's commitment to promote a culture of inclusion and equity. "Understanding the history of the LGBTQ community in Charleston provides greater context and strengthens The Citadel's inclusivity for this critical part of our campus community," Edwards said.
The council was formed through The Citadel's current strategic plan, LEAD 2018, and works to create and support a culture of equal opportunity where the personal and professional growth and advancement of every individual is valued and strengthened.
---
Joseph P. Riley, Jr. Endowed Chair of American Government and Public Policy: November 7, 2014
The Honorable Mayor Joseph P. Riley, Jr. will return to his alma mater, The Citadel, to be the first occupant of the Joseph P. Riley, Jr. Endowed Chair of American Government and Public Policy when he retires from his elected position as mayor of the city of Charleston in January of 2016. Riley, who graduated from The Military College of South Carolina in 1964 with a degree in political science, will have been mayor for 40 years when he steps down.
Riley will write his memoirs, be interviewed for an extensive oral history of his life and career, lecture on campus and help arrange guest lectures by other distinguished public servants while serving as the college's first Riley Professor.
---
The Monuments Men: Allied Heroes, Nazi Thieves, and the Greatest Treasure Hunt in History Mr. Robert Edsel, Thursday, April 3, 2014 at McAlister Field House
In the most comprehensive art theft of all time, Adolf Hitler looted thousands of significant masterpieces throughout Europe during World War II. New York Times bestselling author Robert Edsel tells the incredible true story of the Monuments Men, a small group of art experts assembled by President Franklin D. Roosevelt who bravely went behind enemy lines to locate and recover mankind's greatest artifacts before their imminent destruction by the Nazis.
---
"Confronting Adversity: A Reflection on Leadership" Medal of Honor Recipient, Leroy Petry: October 22, 2013
Sergeant First Class Leroy Petry discussed his experience at the Principled Leaders public forum in fall 2013. Petry was decorated for his selfless actions in defense of his comrades in an engagement with Taliban forces in Paktia Province, Afghanistan on May 26, 2008.
He is the second living recipient of the Medal since the Vietnam Conflict. His actions under fire and subsequent work with his fellow wounded warriors have been profiled in numerous publications. The discussion was moderated by Colonel Joseph Trez, U.S. Army (Retired), a combat veteran of the Vietnam conflict who now serves as executive director of The Citadel's Krause Center for Leadership and Ethics.
---
"Issues in Intelligence Gathering & Analysis" Greater Issues Address: October 10, 2013
K. Stuart Shea, President and Chief Operating Officer (COO) for Leidos gave the Greater Issues address at The Citadel on "Issues in Intelligence Gathering & Analysis". Shea previously served as president of SAIC's Intelligence, Surveillance and Reconnaissance (ISR) Group. And prior to joining SAIC, Shea served as vice president, space and intelligence, in the TASC Business Unit of Northrop Grumman Corporation. Shea is also the founder, CEO, and board chairman for the United States Geospatial Intelligence Foundation, an internationally recognized educational service foundation that has received considerable attention through its annual GEOINT Symposium. The Greater Issues Series was founded in 1954 to engage cadets' interest and knowledge in important topics of the day.
---
"Ethereal Edges" Artist Mary Edna Fraser: September 26, 2013
Renowned textile artist Mary Edna Fraser created a site-specific installation "Ethereal Edges: Lowcountry Coastlines in Batik" that hung in the Daniel Library in the Fall of 2013. These large-scale batiks made for a beautiful backdrop to Fraser's talk in which she described the intensive process she goes through to create such beautiful pieces of art.
Fraser is know for creating the largest batiks in the world and has work in numerous public collections including the Smithsonian National Air & Space Museum, the Charleston International Airport, and NASA.
---
"Constitution Day Address" Professor Scott Segrest: September 17, 2013
Professor Scott Segrest of The Citadel's Political Science Department held a lecture on "The U.S. Constitution in the 21st Century," to examine the American people's historic low level of trust in its government. Scott discusses how the Constitution fits into events like Watergate and Vietnam to more recent concerns about NSA surveillance. Scott is also the author of America and the Political Philosophy of Common Sense.
---
9/11 Memorial Presentation: September 13, 2013
As a historical memorial to the events of September 11, 2001, a unique exhibit has been made possible by representatives of the Independence Fund and the Fire Department of New York with the financial support of The Citadel's School of Humanities and Social Sciences Advisory Board. This fragment of a floor beam came from the wreckage of the Twin Towers of the World Trade Center. The remaining piece of steel is displayed here in memory of those persons who lost their lives as a result of the attacks on the World Trade Center in New York City; the Pentagon in Arlington, Virginia; and United Airlines Flight 93 near Shanksville, Pennsylvania, on September 11, 2001.
---
"Nine Ways to Cross a River" Piccolo Spoleto: May 31, 2013
"Nine Ways to Cross a River" is a collaboration of music, words, and art centered on stories of how rivers simultaneously unite and divide. Accompanied by a seven-piece band from four Southern states, Akiko Busch will read from her celebrated book "Nine Ways to Cross a River," Dana Downs will perform songs inspired by the book and Mary Edna Fraser will present her batiks of America's waterways.
---
Amy Herman, The Art of Perception: April 9, 2013
Amy Herman (AB in International Affairs, JD, MA in Art History) visited The Citadel in April for the first time to share her knowledge of analyzing art to heighten the powers of perception for law enforcement. Herman has channeled her dual degrees in art and law to create this successful program and now travels the world training agents of the CIA, FBI, Scotland Yard, and Homeland Security. Attendees included cadets, grad students, faculty & staff, CofC students, officers from North Charleston and Charleston Police Departments and others who all went away pleased with the presentation. It was presented by the Fine Arts & Criminal Justice departments of The Citadel.
---
Frank Fahrenkopf, American Politics in the Age of Obama: January 17, 2013
Frank Fahrenkopf, former chairman of the Republican National Committee under President Reagan held a public discussion moderated by Don Fowler, former chairman of the Democratic National Committee under President Clinton discussing the critical issues facing the U.S. in 2013 and beyond. Fahrenkopf is a U.S. lawyer and was chairman of the RNC from 1983 –1989. He is currently president and CEO of the American Gaming Association, the national trade association for the commercial casino industry. Fowler is a professor and businessman and served as National Chairman of the DNC from 1995-1997. He currently is a Citadel Fellow.
---
Dr. Joshua Muravchik, Institute for World Politics: Humanitarian Intervention: November 13, 2012
Muravchik is an adjunct professor at the Institute of World Politics in Washington, D.C., and a fellow at the School of Advanced International Studies at Johns Hopkins University. The lecture features his research on the "Protection Racket: Responsibility to Protect Becomes a Racket." Muravchik was formerly a Resident Scholar at the American Enterprise Institute, a Fellow-in-Residence at the Washington Institute for Near East Policy and executive director of the Coalition for a Democratic Majority. He served on the Maryland State Advisory Committee of the U.S. Commission on Civil Rights from 1985 to 1997 and was a member of the Commission on Broadcasting to the People's Republic of China in 1992. He is also an editorial board member of the publications "World Affairs" and the "Journal of Democracy."
---
Randy Deitering, US Intelligence Analysis: Changes, Challenges & Transformations: November 8, 2012
Deitering will be here examining the ever-evolving forces–internal as well as external–that are recasting and re-forging the tradecraft of intelligence analysis. He has more than three decades of experience in U.S. national security and intelligence, including 15 consecutive years on the White House Staff. He served with the President's Foreign Intelligence Advisory Board during the Ronald Reagan, George H.W. Bush, Bill Clinton and George W. Bush administrations. Before his service at the White House, Deitering spent more than a decade at the Central Intelligence Agency (CIA) as an analyst and operations officer.
---
Patrick Duddy, Former U.S. Ambassador to Venezuela: October 25, 2012
Patrick Duddy is the U.S. Department of State Diplomat in Residence at the Duke University Center of International Studies. He is the former ambassador to Venezuela and deputy assistant secretary of state of the Western hemisphere. Duddy served as U.S. head of delegation to international conference on counter-narcotics, energy and assistance for Haiti. His lecture focuses on the recent Venezuelan elections in 2012.
---
Stacy Pearsall, Shooter: Combat from Behind the Camera: October 18, 2012
Pearsall is a former Air Force combat photographer, two-time winner of NPPA Military Photographer of the Year competition, and owner of the Charleston Center for Photography. An Iraq veteran, Pearsall has been published in various national and international media as well as documentaries and has now published her very own book, Shooter. She presents this visual portrait of war–the perseverance, heroism, and survival– through stunning photographs and powerful essays.
---
Joe Crespino, Strom Thurmond's America: September 27, 2012
Crespino discusses his book "Strom Thurmond's America," which examines the political career of South Carolina's longest serving senator and how Thurmond, a Democrat until switching parties in 1964, helped shape modern conservatism and sparked the realignment of Southern and national politics. Crespino is an associate professor of history at Emory University who specializes in U.S. 20th century history, the American South, post-World War II America, and the history and memory of the modern civil rights movement.
---
John Shelton Reed, Dixie Bohemia: A French Quarter Circle in the 1920's: September 6, 2012
Southern author, John Shelton Reed, discusses his new book, "Dixie Bohemia: A French Quarter Circle in 1920s". The book follows a young William Faulkner and his circle of friends in the New Orleans French Quarter in the years following World War I. Reed is able to bring to life the colorful and vibrant people and places of New Orleans in the Jazz Age.
---
Philip G. Grose, Looking for Utopia: November 29, 2011
Lecture featuring a biography written by Philip Grose, about former South Carolina Gov. John C. West. "Looking for Utopia," examines the life and political career of the 1942 graduate of The Citadel. West was governor of South Carolina from 1971 to 1975, having first represented his native Kershaw County in in the South Carolina Senate. West was elected lieutenant governor in 1966 and in 1970 ascended to the governor's office in 1970 and served until 1975. Grose, a former member of West's staff and research associate at the University of South Carolina. Drawing on West's personal journals and autobiographical sketches, as well as oral histories and his own relationship with West as a staffer and close friend, Grose has created a richly nuanced portrait of a statesman who stepped out of Depression-era South Carolina to champion causes of the underdog and underprivileged as governor and to represent often-unpopular diplomatic stances in the feverish politics of the Middle East as ambassador to Saudi Arabia. West died in 2001.
---
Medal of Honor Recipient's Sal Giunta & Bruce Crandall, Reflections on Leadership: November 15, 2011
Two soldiers. Two wars. Both men two generations apart but bound by a singular patriotism and, now, a common bond recipients of the Medal of Honor, the nation's highest award for valor in combat. Sal Giunta and Bruce Crandall discuss their experiences and reflect on the meaning of principled leadership. Moderated by Stacy Pearsall, twice recognized as military photographer of the year, Pearsall received the Bronze Star for her actions under fire in Iraq.
---
Bruce "Snake" Crandall, Medal of Honor Recipient: November 15, 2011
Crandall's actions 46 years ago while an Army major are featured in the book and movie "We Were Soldiers Once…And Young." A veteran Master Army Aviator in both fixed-wing aircraft and helicopters, he received his Medal of Honor in 2007. Crandall flew 22 missions in an unarmed helicopter into enemy fire to transport ammunition and rescue the wounded in the Battle of the Ia Drang Valley, South Vietnam.
---
Sal Giunta, Medal of Honor Recipient: November, 15, 2011
Giunta received the Medal of Honor for his actions in the Korengal Valley of Afghanistan on Oct. 25, 2007. His service has been profiled on television's 60 Minutes and in Sebastian Junger's bestselling book "War." He is the first living recipient of the Medal since the Vietnam Conflict. He received his Medal of Honor in November 2010.
---
Larry Seymour, Wildlife Watercolor Painting Demonstration: February 15, 2011
Public demonstration and lecture by SEWE artist and Citadel alumnus Larry Seymour. A 1969 graduate of The Citadel, Seymour earned a BS in biology. A member of Oscar Company, Seymour put his talents to work on the cadet newspaper, yearbook and magazine. Although he began as a portrait artist, Seymour turned to wildlife art and made two trips to Africa. He was voted South Carolina Wildlife Federation Artist of the Year in 1986, and has participated in SEWE for many years. Seymour works in both watercolor and graphite and has more than 50 limited edition prints.
---
Civil War Symposium, A House Divided: Secession and Its Legacy: December 3, 2010
Session 1 is the "Felt History": Remembrances of The American Civil War with introduction by Emory M. Thomas. Panel speakers, James I. (Bud) Robertson, Jr., The Centennial: An Insider's View and David Blight, A Formula for Enjoying the War: Bruce Catton's Civil War Centennial and Our Sesquicentennial.
---
Janet Napolitano, Secretary of Homeland Security: October 21, 2010
The third secretary of the Department of Homeland Security, addressed the South Carolina Corps of Cadets as part of the Greater Issues series. The former governor of Arizona as well as the first woman to chair the National Governors Association, Napolitano was named one of the top five governors in the country by Time magazine. Napolitano discusses how the evolving threats the nation faces are blurring the lines between national and homeland security and how the country is evolving to face those threats and anticipate new ones.
---
Stacy Pearsall, Shooting the Shadows: September 9, 2010
Decorated aerial combat photographer and two-time winner of the Military Photographer of the Year award, retired Air Force Staff Sgt. Stacy Pearsall shares her stunning images and the stories behind them in a lecture and exhibit displaying her combat photography. Including Air Force Veteran of the Year, Pearsall has received wide public exposure for her work, including an interview on "The Oprah Winfrey Show" and publication in "Newsweek," "The New York Times," and on CNN. During three tours in Iraq, she earned the Bronze Star Medal and Commendation with Valor for heroic actions under fire. Now medically retired due to combat wounds, Pearsall works worldwide as a freelance photographer and owns and directs the Charleston Center for Photography.
---
Jerry Raedeke, SEWE Watercolor Artist: February 10, 2010
Lecture and public demonstration by the SEWE watercolor artist. Raedeke, the 1989 SEWE featured artist, sold his first wildlife paintings when he was 11 and painted with oils from his childhood. After early experiences with fine arts, Raedeke later developed a fascination with watercolors while studying with the Chinese-American painter Jake Lee. He has been recognized as artist of the year by the National Wildlife Art Show at Kansas City and by the Wildlife Heritage Show at Minneapolis. The Easton Waterfowl Festival gave him a 20-year exhibition medallion.