Kyle Agee
Mr. Agee graduated from The Citadel in 1996 with a B.S. degree in Mathematics and a minor in Management Information Systems. After receiving his commission in the U.S. Navy, Mr. Agee graduated from the Naval Nuclear Power School in Orlando, FL and served eight years in the nuclear submarine service. During his naval service, Mr. Agee was assigned to the NROTC Unit, The Citadel where he also served as Tactical Officer for Kilo Company and conducted his graduate studies in Computer Science. Mr. Agee earned his J.D. from the University of South Carolina, his LL.M. in Taxation from the University of Florida and is a partner at the law firm of Johnston, Allison & Hord, P.A. in Charlotte, N.C. Mr. Agee practices primarily in the areas of taxation, estate planning and administration and business succession planning and serves clients in both North and South Carolina. A frequent lecturer and author in his areas of practice, Mr. Agee also currently serves as a legislative committee member for the North Carolina Bar Association Estate Planning and Fiduciary Law Section. A native of Richburg, S.C., Mr. Agee currently resides in Fort Mill, S.C. with wife, Kathryn, and two sons, Thomas and William.
---
Bruce Alexander
Bruce Alexander Joined Operation Homefront in January 2018 and leads all communications and external outreach efforts for Operation Homefront. His team captures, curates, and promotes the many stories that show just how Operation Homefront helps build strong, stable and secure military families. Bruce, a retired Air Force officer of 25 years and a graduate of The Citadel, Central Michigan University and the Harvard University Senior Fellows Program, is an accomplished, award-winning communications professional who most recently served as Director of Communications for the Food and Nutrition Service at the US Department of Agriculture. In this key capacity, he was a key member of the National Board of Directors for the Combined Federal Campaign. As the former Director of Public Affairs and Director of Staff at Andrews AFB, Deputy Commander for the Operations Group at Bolling AFB and Services Squadron Commander at Charleston AFB, Bruce shares Operation Homefront's passion to give military families the opportunity to thrive, not simply struggle to get by, in the communities they worked so hard to protect.
The former First Team All-Southern Conference Defensive Back is a dedicated alumnus of the Citadel. Bruce currently serves on the Citadel Alumni Board of Directors as co-chair of the Communications Committee and is the founding president of the Citadel African American Alumni Association.
---
David B. Bell
In over 35 years of law practice, David Bell has successfully handled thousands of cases, tried over 100 cases in front of juries and has won dozens of cases on appeal.
David is a 1971 Distinguished Military Graduate of the Citadel where he earned Dean's list honors. He graduated in 1977 from the University of Georgia School of Law where he was also on the Dean's List. Between College and Law School, he served in the United States Army as a Lieutenant.
As a lawyer, he has earned many honors. In 2003, he served as President of the Georgia Trial Lawyers Association. He was the 2010-2011 President of the University of Georgia Alumni Association. In 2012, he received the Traditions of Excellence award from the General Practices and Trial Section of the State Bar of Georgia. In 2007, he received the "Robert Benham Award for Community Services." He currently serves as chairman of the Bench and Bar Committee of the State Bar. David Bell is listed in Best Lawyers as well as Super Lawyers. He earned a Martindale Hubbel AV rating.
David and his family are active members of First Baptist Church of Augusta, Georgia, where he teaches Sunday School.
---
Chris Clark
A former officer in the United States Army, Chris graduated summa cum laude from The Citadel in 1985 where he was a Business Administration major and English minor, and a member of the Inn of Court and the Summerall Guards. He received his J.D. from Mercer School of Law in Macon, GA.
Chris has received the highest rating (AV) from Peer Rating service Martindale Hubbell, a ranking based primarily upon professional and ethical conduct. Chris has received ―Best Lawyers in America designation each year since 2009 and is listed as one of the ―Best Lawyers in America in the field of personal injury. He has been selected as a Georgia Super Lawyer each year since 2007. In September 2009, the Atlanta Business Chronicle selected Chris as one of ―The 100 Most Influential Individuals Who Help Shape & Guide Atlanta's Legal Industries.
Chris is a former Governor for the State Bar of Georgia and has served as president of the Georgia Trial Lawyers Association, Macon Bar Association and Macon Trial Lawyers Association. Chris has been an adjunct professor at Mercer Law School for seventeen years teaching Advanced Trial Advocacy to third year students. In 2018, Chris received the Traditions of Excellence and Service Award given annually by the State Bar of Georgia. Chris and his wife Lizzie have two sons, John (Class of 2018) and Robert.
---
Joseph K. Coffey
Mr. Coffey received a B. S. in Business Administration from The Citadel in 1992 and his J. D. from the University of South Carolina in 1999. He is a partner in the law firm of Coffey & McKenzie, P.A. of Manning where his practice is focused on real estate, business issues and estate matters. He was appointed Master in Equity for Clarendon County in 2016. Mr. Coffey serves on various civic and church related boards.
Mr. Coffey is married to Katherine S. Coffey, and they have two children, Merrix R. Coffey and Walker K. Coffey.
---
Neil Couch
Mr. Couch currently serves as the Deputy Director, Office of Strategic Stability and Deterrence. He served as the U.S. Chairman of the Conforming Group on the New START Treaty delegation. Additionally, he manages the interagency treaty implementation process for U.S. Government decisions and correspondence relating to the New START Treaty and the Intermediate-Range Nuclear Forces (INF) Treaty. He also served as the U.S. Head of Delegation to the International Partnership for Nuclear Disarmament Verification. Prior to his current position, Mr. Couch spent two years as a consultant with Booz Allen Hamilton. Mr. Couch retired from the United States Air Force in 2005. In his last assignment, he served as the Deputy Director of Arms Control Policy, Office of the Secretary of Defense, managing issues related to strategic, conventional and global/multilateral arms control treaties and agreements, including the START, INF, Moscow, CFE, and Open Skies Treaties. Mr. Couch graduated with a BA in English from The Citadel in 1982 and an MBA from Webster University in 1987. In addition, he has completed two Executive Education programs from Harvard University's Kennedy School of Government.
---
Dwight Davis
Dwight Davis is a retired senior partner in the Litigation Practice Group at King & Spalding. He served as the leader of the firm's Business Litigation Group from 1998 until 2001. In 2001, he was asked to relocate to the firm's New York office to develop its litigation practice. He was elected three times to the firm's management committee.
Mr. Davis is a Fellow in the American College of Trial Lawyers. He is an AV Prestige rated lawyer and was listed in The Best Lawyers in America, Georgia Super Lawyers and Georgia's Legal Elite. Mr. Davis served on the state's Board of Natural Resources from 2009 to 2011. From 2011 to 2012, he served on the Judicial Nomination Commission. In 2013, he was again appointed by Governor Nathan Deal to the Department of Natural Resources Board. He also serves on Senator David Perdue's three-person Judicial Review Committee for federal judicial appointments in Georgia. He serves on the Board of Trustees of Mercer University and Mercer University Press. From 2013 to 2017, Mr. Davis was the Practitioner in Residence at Mercer University School of Law. In this capacity he advised professors on practical issues in the practice of law, and taught classes on Advanced Civil Procedure and Trial Practice. In 2015 he reorganized the School's Trial Practice curriculum and his method is still used today.
He is co-owner and managing partner of King Springs Pecans, a 1,000 acre pecan farm in Hawkinsville, Georgia. In 2015, he and his business partner acted as legal counsel to the American Pecan Board and successfully led the industry effort to get a Federal Marketing Order for the pecan industry.
Mr. Davis graduated, magna cum laude, from The Citadel in 1975. He served in the United States Army Infantry from 1975 to 1979; he was an Airborne Ranger and served on the DMZ in Korea from 1975 to 1976. Mr. Davis graduated, magna cum laude, from Mercer University School of Law in 1982 where he attended on a full academic scholarship.
Mr. Davis and his bride of forty years, Brenda, have two children and four grandchildren, all of whom live in Atlanta.
---
Sandrine Ennis
Sandrine Ennis is Founder and CEO of Talentstream recruiting company and Sherpa recruiting software company. At Talentstream Sandrine founded and grew a leading boutique recruitment firm specializing in revenue-generating talent. They partner with the world's most innovative companies to build their technology, sales, marketing and management teams. She has lead Talentstream to successfully empower the top emerging technology companies with the talent necessary to realize their growth potential. At Sherpa Sandrine founded and developed an employee engagement, diversity driven, referral and retention software platform that delivers more qualified and diverse referral candidates than internal programs.
Sandrine is currently working to establish a family foundation focused on initiatives around education to narrow disparities amongst women and minority groups in science and emerging ideas in orphan disease treatment in biotech. She graduated from Brandeis University in 1991 with a BA in Economics. She has 4 grown children and currently splits her time between Washington DC and San Francisco.
---
Rear Admiral Stephen C. Evans
Stephen is a strategic and operational executive leader with a three-decade career of driving transformation and innovation in a complex, highly sensitive global organization. Throughout his 34-year career in the U.S. Navy, Stephen served in a diverse range of leadership positions across the globe, including combat roles as Ship, Task Force and Strike Group Commander, critical training/professional development positions to ensure quality Navy personnel, advisory role to the 75th Secretary of the Navy, and serving as U.S. representative in deliberations and actions of the North Atlantic Treaty Organization (NATO) to protect U.S. interests in Europe and around the world. Most recently, Stephen was appointed to the NATO Military Committee as Deputy U.S. Military Representative, where he was a key player in the NATO initiative to develop next level modeling and simulation capability for wargaming.
Following his retirement in May of 2020, Stephen founded Flag Bridge Logistics, LLC, a supply chain management and transportation execution agency providing last mile delivery solutions ─ and Flag Bridge Global Solutions, LLC, where he is Chairman and CEO of this global consultancy delivering solutions in the areas of corporate enterprise strategy, organizational structure, operational effectiveness, digital transformation and human capital/culture development. Additionally, he was invited to join the Boards at two Nasdaq-traded companies where he currently serves as a director working on several committees, including Audit, Compensation and Governance.
Stephen graduated from The Citadel with a Bachelor of Arts degree and received his Master of Arts from the U.S. Naval War College. He also has attended high profile continuing education programs at the University of Virginia Darden School of Business, MIT, UNC Kenan-Flagler Business School and Harvard University, John F. Kennedy School of Government.
---
Toshika Hudson-Cannon
Toshika Hudson-Cannon, better known as Peaches, is a South Carolina native. While at the Citadel, Peaches excelled in both academics and athletics while making history. She was the first female in the school's history to gain South Conference honors in athletics. She was also the first African-American female to command her own company. Hudson-Cannon earned a B.A. in Psychology, making her one of the first African-American females to graduate in the school's history. As a cadet, she was a member of the Track and Field and Cross Country teams, a member of the Gospel Choir, and a member of The African-American Society.
After graduation, she attended the University of North Carolina Charlotte, where she obtained her teaching certification, and began her teaching career with Charlotte Mecklenburg Schools. While working as a special education teacher, Hudson-Cannon also assumed coaching responsibilities as a track and cross country coach. During this time Toshika was very active in the community and served as an advocate for childrens' rights, early childhood education, and communities in school programs. After leaving Charlotte Mecklenburg Schools, she took her passion for teaching and coaching to the Cabarrus County Schools and was influential in the development of many students and athletes. After teaching and coaching in Cabarrus County for multiple years, Hudson-Cannon became the Athletic Director for a local charter school and was instrumental in creating athletic and academic programs for the school and community. She currently serves as an independent athletics liaison in the community in addition to being a coach for the Charlotte Panthers Track Club. Toshika currently resides in Charlotte, North Carolina with her husband, Dan, and their three children, Aydan, Kaylen, and Kyleigh.
---
Marlene Huss
Marlene Huss is a retired Special Agent (SA) with the FBI. In her 21-year career, she served as case agent on multiple complex investigations, including Mexican and Eurasian Organized Crime (OC) and Counterterrorism matters. She served on the OC Task Force in Budapest, Hungary, as an Assistant Legal Attaché in Moscow, Russia, and Tbilisi, Georgia, and was a member of the Counterterrorism (CT) Division's Fly Team, collaborating with CT professionals around the world. She was a certified undercover employee and assisted in OC and gang investigations. Her career with the FBI culminated in firearms as an instructor of New Agent Trainees. During the course of her work at the FBI, Huss served as an informal recruiter and mentor to dozens of New Agents.
Prior to joining the ranks of the FBI, Huss worked as a Voice Language Analyst with the National Security Agency, served in the U.S. Army Reserve's Military Intelligence Program, and taught Russian, Spanish, and English as a Second Language at the high school level. She earned a Bachelor of Arts in Russian and Spanish from Oakland University and a Master of Education from The George Washington University.
Since retiring, Huss is a devoted volunteer at St. Sabbas Orthodox Monastery in Michigan, volunteer yoga instructor at the Veterans Administration Medical Center, Character Does Matter Ambassador with The Travis Manion Foundation and member of the School of Humanities and Social Sciences Advisory Board at The Citadel.
---
Thomas Kays
Dr. Kays graduated from The Citadel in 1966 with a B.S. and he continued his academic career at the University of Iowa, achieving his D.D.S. and serving as president of his class. Following graduation from dental school, he joined the United States Air Force as a dental officer from 1970-1972 prior to opening a private practice where he is still active. Dr. Kays served on the dental school faculty of the Medical University of South Carolina from 1972-2008. He has played a dynamic role in the professional dental fraternity Psi Omega for the last 45 years and he is currently the executive director. Dr. Kays hold numerous professional honors and has endeavored in his career field by participating in state and professional associations. He is the former President of the South Carolina Dental Association and the South Carolina State Board of Dentistry. Dr. Kays has researched and published numerous articles and has held membership and leadership roles with the American College of Dentists as well as the International College of Dentists. In addition, Dr. Kays serves as a board member to the Bank of South Carolina West Ashley as well as the Trident Technical College Foundation. In addition to his dental career, he returned to the Citadel and graduated with a M.Ed. in clinical counseling in 1982. He is married to the former Claudia Johnson, of Aiken, South Carolina and they have three children and six grandchildren.
---
James Lariviere, Major General (USMC RET.)
Jim Lariviere is the Senior Vice President for Department of Defense Operations for GardaWorld Federal Services. He is responsible for maintaining and promoting excellence in mission operations.
Jim Lariviere has over 20 years of senior civilian and military experience in national security affairs. As a Major General in the Marine Corps Reserve his active and Reserve service as a combat arms officer includes command at every level from reconnaissance platoon through Marine division, serving in over 30 countries and participating in contingency operations in Lebanon and Afghanistan. His last active duty assignment was as Deputy Director Politico-Military Affairs (Africa), J5 Strategic Plans and Policy, The Joint Staff. In civilian life Jim has over a decade and a half of experience on Capitol Hill. He served as military legislative assistant to the Chairman of the House Subcommittee on Military Personnel, and later as a professional staff member on the Defense Policy Staff of the House Armed Services Committee. Finally, he served as the Staff Director and Minority Staff Director of the House Committee on Veterans' Affairs with responsibility for legislative and policy oversight for all aspects of the second largest department in the Federal Government. In the private sector, Jim was Vice President (Government Relations) for Health Net Federal Services, a wholly owned subsidiary of Centene Corporation, a Fortune 500 company. He previously worked as a senior public policy advisor/consultant assisting companies develop legislative and marketing strategies in the defense, homeland security and veteran's affairs sectors.
Jim holds a B.A. in History from The Citadel, an M.A. in Government from Georgetown University and is a graduate of the Air War College. He is the former President of the International Stability Operations Association.
---
General (Ret) Kenneth F. "Frank" McKenzie, Jr
General (Ret) Kenneth F. "Frank" McKenzie, Jr. became the Executive Director of the University of South Florida's Global and National Security Institute in May 2022. In July 2022, he also became the Executive Director of the Florida Center for Cybersecurity, also known as Cyber Florida.
He is the former Commander, United States Central Command. A native of Birmingham, Alabama, upon graduation from The Citadel in 1979, General McKenzie was commissioned into the Marine Corps and trained as an infantry officer.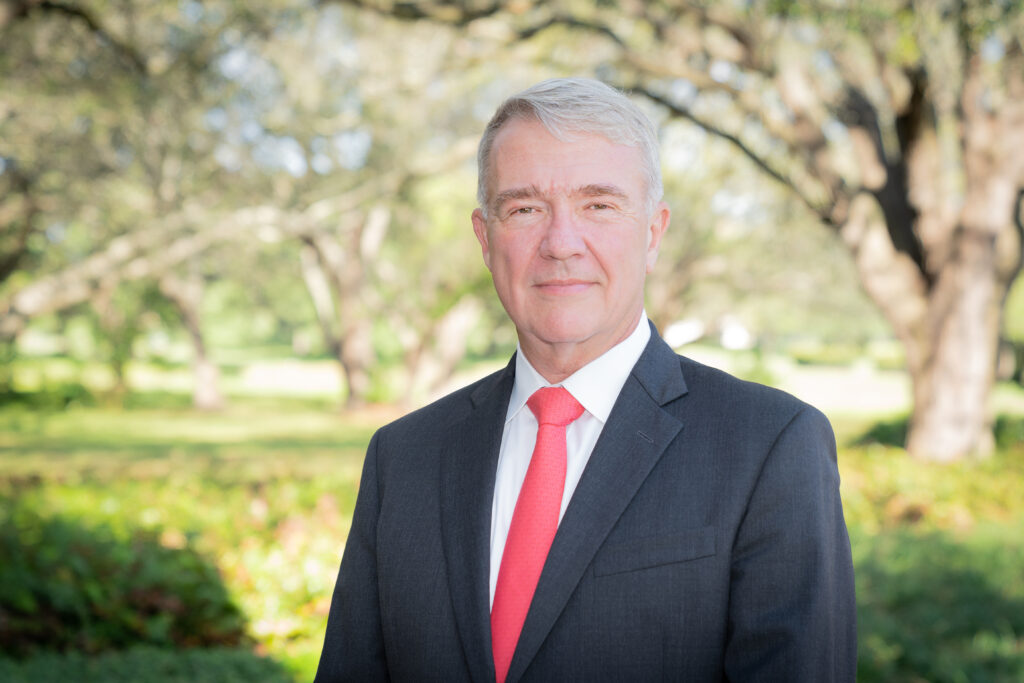 He has commanded at the platoon, company, battalion, Marine Expeditionary Unit (MEU), and component levels. As a lieutenant colonel, he commanded First Battalion, Sixth Marines. As the Commanding Officer of the 22d MEU (SOC), he led the MEU on combat deployments to Afghanistan in 2004 and Iraq in 2005-06. In 2006-07 he served as the Military Secretary to the 33rd and 34th Commandants of the Marine Corps.
Upon promotion to Brigadier General in July 2007, he served on the Joint Staff as a Deputy Director of Operations within the National Military Command Center. In June 2008, he was selected by the Chairman of the Joint Chiefs of Staff to be the Director of the Chairman's New Administration Transition Team (CNATT). In this capacity, he coordinated the efforts of the Joint Staff and the combatant commands in preparing for and executing a wartime transition of administrations.
In June 2009, he reported to the International Security Assistance Force (ISAF) in Kabul, Afghanistan, to serve as the Deputy to the Deputy Chief of Staff (DCOS) for Stability. Upon his return from Afghanistan, in July 2010, he was assigned as the Director, Strategy, Plans, and Policy (J-5) for the U.S. Central Command. In August 2012, he reported to Headquarters Marine Corps to serve as the Marine Corps Representative to the Quadrennial Defense Review. In June 2014, he was promoted to Lieutenant General and assumed command of U.S. Marine Corps Forces, Central Command.
In October 2015, he was assigned to the Joint Staff to serve as the Director, J-5, Strategic Plans and Policy, Joint Staff.
In July 2017, he was named the Director, Joint Staff. General McKenzie was promoted to the grade of General and assumed command of U.S. Central Command (CENTCOM) in March 2019. He relinquished command of CENTCOM and retired from the Marine Corps on 1 April 2022, completing over 42 years of service.
General McKenzie is an honors graduate of the Armor Officer Advanced Course, Marine Corps Command and Staff College, and the School of Advanced Warfighting. He was selected as a CMC Fellow in 1999, and served as a Senior Military Fellow within the Institute for National Strategic Studies at the National Defense University. He has a master's degree in teaching with a concentration in history. He is currently the President of the Board of Directors of the Institute of Applied Engineering at the University of South Florida, a Distinguished Senior Fellow on National Security at the Middle East Institute, a Member of the International Advisory Committee of the National Council on U.S. Arab relations, and a Member of the National Security Advisory Council, U.S. Global Leadership Coalition.
---
Ron Plunkett
A native of Atlanta, GA, Mr. Plunkett received his Bachelor of Arts degree (Political Science) from The Citadel in 1964 and a Master of Arts degree (English) in 1996. As a Citadel student, Mr. Plunkett was initiated into Phi Alpha Theta (History), Pi Sigma Alpha (Political Science), and Sigma Tau Delta (English), and is believed to be the only Citadel graduate to be elected to all three honor societies as a Citadel student. Mr. Plunkett began his military career upon graduation as a Second Lieutenant in the United States Army and served in both Korea and Vietnam, among other assignments, from 1964 to 1968, attaining the rank of Captain in 1967. He was also a member of the United States Army Reserve until 1972. Ron began his professional career as a Management Trainee with Sea-Land Service, Inc. in 1968. Sea-Land was purchased in 1999 by Maersk Line, the world's largest containerized steamship line, and Ron continued working in various capacities before retiring in 2009 as a Senior Account Executive. He is a member of numerous civic, professional, and fraternal organizations in the Charleston area. He is a recipient of The Citadel's Palmetto Medal, the Order of the Palmetto from the State of SC, the Silver Beaver Award from Scouting BSA, the Knight Commander's Accolade from the Kappa Alpha Order, and volunteers as Chief of Staff to Maj. Gen. James E. Livingston, MOH, USMC, ret. Ron is married to Dr. Linda Muckenfuss Plunkett, a graduate of Emory University (BBA) and Georgia State University (MPA and Ph.D,) who was a Professor of Accounting at the College of Charleston for many years. Linda is a past Board Chair of the Coastal Community Foundation and the Hollings Cancer Center (MUSC) Advisory Board.
---
Jonathan A. Pope
Mr. Pope is a partner of Georgia's Hasty Pope LLP, where he focuses his trial practice exclusively on personal injury cases, including wrongful death, automobile and truck accidents, and other catastrophic injuries. A Citadel graduate in 1992, he received his JD from Georgia State University in 1995. He has been recognized multiple times in Atlanta Magazine's list of Top 100 lawyers in the State of Georgia as well as Georgia Trend Magazine's "Legal Elite." Jon is an officer of the Georgia Trial Lawyers Association and a frequent speaker on handling jury trials in personal injury cases. He and his wife, Amy, live in Gainesville Georgia and have two children, Andrew and Caroline.
---
Harold Poston
Mr. Poston graduated from the Citadel in 1997 and served as the President of his class. Following graduation, he served as an Army Signal Officer for 9 years with assignments in Korea, Georgia, Germany, Iraq, and D.C. Mr. Poston has worked for Booz Allen Hamilton for over 11 years and currently leads Booz Allen's work across the Defense Health Agency and provides senior leadership to teams working across the Department of Defense (e.g. DHA CIO, DoD CIO, etc.) supporting programs with IT impacts to the broader DoD and Defense Healthcare. Harold is married to LTC Laura Poston (nee Gensmer). They live in Northern Virginia with their two daughters, Carolyn and Katherine.
---
Frank B. Robards, III
Mr. Robards earned a B.A. in Political Science from The Citadel in 1981, an M.B.A. from The Citadel in 1988 and a J.D. from The University of South Carolina in 1984. He practiced law with a firm in Columbia, SC for 7 years before moving into the trust and wealth management business in 1996. He is currently a Senior Vice President in the trust department at BB&T in Charlotte, NC. Mr. Robards also spent 33 years as a reserve officer in the US Navy before retiring as a Captain in 2015. His service included 4 tours of active duty and numerous reserve assignments where he specialized in international and operational law. He is also a graduate of the US Naval War College in Newport, RI. Mr. Robards has been involved with a number of church, community, professional and civic organizations over the years.
---
Judge Tilman E. "Tripp" Self, III
On March 7, 2018, President Donald J. Trump appointed Macon native Tilman E. "Tripp" Self, III to serve as a United States District Court Judge for the Middle District of Georgia. The District of Georgia was one of the original 13 federal district courts created by the Judicial Act of 1789. Congress divided the district into the Northern and Southern districts in 1848 and created the Middle District from those districts in 1926. Judge Self is the 15th judge to serve in the Middle District of Georgia.
Judge Self attended The Citadel, The Military College of South Carolina, on Army ROTC and Citadel Scholar scholarships. In 1990, he received his B.S. in Business Administration, graduating summa cum laude as The Citadel's top business graduate and 9th overall from a class of 516.
Upon his graduation from The Citadel, he received his commission as a Field Artillery Officer in the United States Army. After graduating on the Commandant's List from the Field Artillery Officer's Basic Course at Fort Sill, OK, he served with the 2nd Infantry Division in the Republic of Korea, including a rotation on the Demilitarized Zone. After returning to the continental United States, Judge Self was stationed at Fort Stewart in Hinesville, Georgia, earning his spurs with the 2nd Squadron, 4th Cavalry Regiment. He was also nominated for the Douglas MacArthur Leadership Award, recognizing the outstanding company grade officer in the United States Army while serving with the 3rd Battalion, 41st Field Artillery Regiment, 24th Infantry Division.
In 1994, Judge Self left the Army and began his legal studies at the University of Georgia School of Law. In 1997, he received his J.D. from UGA, graduating cum laude. While at UGA, his classmates elected him as Vice President of the Student Bar Association and he participated as a member of the Mock Trial Team. He also published an article in the University of Texas Intellectual Property Law Journal. After graduation, he returned to Macon and began work at Sell & Melton, LLP. Judge Self primarily worked as a litigator in the firm's general civil practice, handling a wide variety of matters such as condemnation, federal civil rights, probate, real estate and all manners of civil suits.
In 2006, Judge Self ran for an open seat on the Superior Court for the Macon Judicial Circuit, which covers Bibb, Crawford and Peach counties. Judge Self began his first term on the Superior Court bench on January 1, 2007, making him the third successive generation of his family elected to serve as a judge in Bibb County. In 2010 and 2014, the voters of the Macon Judicial Circuit returned him to office without opposition. In 2014, Judge Self became the Chief Judge of the circuit, assuming responsibility for the Circuit's administrative functions in addition to his normal caseload. Later that year, with the help of the Circuit Public Defender and District Attorney, Judge Self created the Macon Judicial Circuit Veteran's Treatment Court. This special court was created to serve the unique needs of veterans who battle substance abuse and mental health issues who find themselves in the criminal justice system. During his tenure on the Superior Court, Judge Self presided over 101 jury trials.
On November 9, 2016, Governor Nathan Deal appointed Judge Self to serve as the 83rd Judge on the Georgia Court of Appeals. Judge Self began his term on January 1, 2017, and served on that court until his appointment to the federal bench on March 7, 2018.
Judge Self is married to his wife, Amy, and together they have four children. They are members of Piedmont Church and are very active in the Macon community. Judge Self is a longtime member of the Downtown Macon Rotary Club, and has served on the Executive Committee of the Central Georgia Boy Scouts Council and on the Board of Directors of the Museum of Aviation Foundation. He is a 1998 graduate of Leadership Macon and was in the 2006 class of Leadership Georgia. He has served as President of the Macon Bar Association, a member of the Executive Committee of the Young Lawyers Division of the State Bar of Georgia and the Co-Vice Chair of the Bench and Bar Committee of the State Bar. Judge Self was also elected to serve as Secretary/Treasurer and President-Elect of the Council of Superior Court Judges during his tenure on the Superior Court bench. He also previously served as a gubernatorial appointee to the Georgia Sports Hall of Fame Authority and the Georgia Family Violence Commission.
In 2005, Judge Self was named as one of Macon Magazine's Outstanding Young Leaders and in 2007, The Fulton Daily Report named him as one of its "40 under 40" Young Lawyers On the Rise. In 2008, the American Council on Germany named him one of 25 Young Leaders selected to represent the USA at a transatlantic conference in Munich and Berlin. In September 2016, the Georgia Supreme Court named him as one of its two appointees to the Judicial Qualifications Commission, the state agency that regulates and disciplines Georgia's 1800+ judges from all classes of court.
Off the bench, Judge Self officiates NCAA football in the Southern Conference and has for the last 20 years. He officiated the 2017 NCAA FCS National Championship game between James Madison University and Youngstown State University. He also umpired the Championship game of the 2003 Junior League World Series.
He enjoys hunting and fishing with his wife and kids. An avid turkey hunter, he holds two Grand, Royal, Mexican and World Slams as recognized by the National Wild Turkey Federation.
---
Holcombe Thomas
Mr. Thomas earned a B.A. in history from The Citadel and a J.D. from the University of South Carolina. He taught and practiced law in Columbia, S.C. before being commissioned as a Foreign Service office. He served as a consular officer for 23 years with overseas postings in Korea, New Zealand, Japan and Hong Kong, as well as several tours in Washington. His decorations include the State Department's Superior and Meritorious Honor Awards. After working as Managing Director and VP of an export firm in Fairfax, VA, he is now a Senior Consultant with BCMC, LLC, a information technology engineering and consulting firm in Falls Church, VA.
---
Marcella F. Thompson
Ms. Thompson entered the United States Air Force in 1985 after graduating from North Texas State University, Denton, Texas and was commissioned as a Second Lieutenant through the Reserve Officer Training Corps program. She retired from the Pentagon as a Colonel in 2013.
Her military career spanned 27 years as a communications advisor to senior Air Force leadership, developing strategies and plans garnering Congressional, public and media support for the United States Air Force. She has served in NATO, and the Pacific as well as military operations in Iraq, Turkey, Hungary, Singapore, Italy and France.
Her last position was as a civilian at the Pentagon, Washington, D.C. as communication advisor to the Assistant Secretary of the Air Force for Acquisition.
In 2010, her media relations team and the Air Force was awarded the distinguished national Public Relations Society of America's "Best of the Best Silver Anvil Award" from 800 entries. Her PR campaign supported a Presidential order lifting a ban on media coverage of "dignified transfers" of slain service members remains from combat zones to the military mortuary at Dover Air Force Base, Delaware.
Under the President Obama Administration, she was a military program liaison to the White House and its "Joining Forces" initiative, planning events for Mrs. Michelle Obama and Dr. Jill Biden at U.S. military bases nationwide, raising public awareness of challenges faced by military families.
Her efforts also included building a nationwide program collaborating with the NFL, Best Buy, the U.S. Chamber of Commerce "Hiring Heroes" Program and other major corporations to provide support to the military.
She is a two-time recipient of the U.S. Ambassador to the United Kingdom's Award for Community Relations and has won numerous professional awards for her PR programs.
She has been a volunteer staff member supporting Presidential election campaigns, Habitat for Humanity, and has volunteered at local food pantries and shelters.
She is a graduate of the Air Force's Air War College, and holds an undergraduate degree in Public Relations and a Master's Degree in Business Administration.
Marcella is married to Michael Caldwell, Colonel (USAF, retired). Both are very active with the National Congressional Medal of Honor Foundation and supporting the National Congressional Medal of Honor Museum, Arlington, Texas; scheduled to open to the public in 2024. They have four grown children together, one granddaughter and reside in Rockwall, Texas.
---
Pete Trainer
Pete Trainer is a noted defense executive and career Air Force officer currently serving as the Vice President and General Manager of the Air Force Solutions business area within the Intelligence & Security (I&S) sector of BAE Systems, Inc.
At BAE Systems, he leads a unit that provides the U.S. Air Force and combatant commands with innovative solutions to help modernize, maintain, test, and cyber-harden aircraft, radars, missile and space systems. His group also creates mission applications that detect and deter threats to national security.
Pete joined BAE Systems in May 2018, after overseeing business development, management, and strategy for SAIC's $220 million Air Force Operations business. Prior to that role, he served as Vice President and Sector Director of the Defense Services Sector at Scitor Corporation.
A Space Operator, Pete served 30 years in the Air Force on active duty and in the reserves. Career highlights include an assignment to the Air Force's Legislative Liaison staff, advocating for space, intelligence, and missile programs to Congress. Mr. Trainer served on the Space Exploitation team that stood up the nation's Blue Force Tracking capabilities in response to the attack on 9/11. His military career culminated at the rank of Colonel, in the role of the Senior Individual Mobilization Augmentee to the Director of the National Reconnaissance Office.
Pete's commitment to serving the military and supporting aerospace technologies extends far beyond the workplace. He is honored to serve as Chair of the Board of Directors for The Citadel's School of Humanities and Social Sciences. He is also the Secretary of the Board of Directors (EXCOM) of The Space Foundation, the past President of National Space Club Foundation, and the past First Vice President of the Commonwealth of Virginia's Veteran Services Foundation.
Pete holds a Bachelor of Science in biology from The Citadel, and is a graduate of the U.S. Air Force's Air War College.
---
David Walters, Jr.
Mr. Walters, Jr., a native of Charleston, SC, earned a Bachelor of Arts degree (English) from The Citadel in 1995, following in the long gray line of his father (1967) and both grandfathers (1942). He is General Manager of Jones Ford of North Charleston, a business his grandfather began in 1967; his great-grandfather began the first Ford dealership in Charleston, Paul Motor Company, in 1918. Mr. Walters, Jr. currently serves on the Board of Directors for the South Carolina Automobile Dealers Association as well as the Board of Directors for the Carolina Ford Dealers Advertising Agency for North and South Carolina. He is active in his church, Church Creek Presbyterian where he serves as an elder; he also serves in both his local presbytery (in which he has twice held the seat of moderator) and in the General Assembly. He and his wife, Amy, have three teenage children, and they reside in Charleston.
---