MBA Student Testimonials
Interested in knowing what our Citadel MBA students are saying? Below are some testimonials from Chris Mack, Dave Pawlowski, Barbara Wiggins, Justin Gaeta and Ryan Burton.
Chris Mack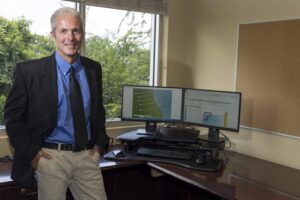 Graduation year: 2018
Profession: Coastal Services Program Manager, AECOM Water
The Citadel MBA program attracts a diverse network of people with broad professional experience and backgrounds, which contributes to a unique learning experience that parallels modern business practices and business-to-business relationships today.  Through the myriad of group assignments, exercises, and projects, The Citadel MBA program mimics real world business collaboration, networking, and professional good will.    
Although I haven't completed the program yet, I've already benefitted substantially as a program manager by regularly applying key business skills and business acumen I've learned via The Citadel MBA program including: accounting, business law, leadership, effective communication, management, marketing, and finance.  With a near-term goal of securing an executive leadership position or mid-term goal of starting a consulting business in Engineering / Software Technologies, I am confident The Citadel MBA program has prepared me fully to achieve these goals.
---
Dave Pawlowski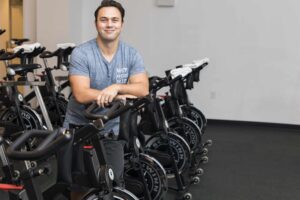 Graduation year: 2018
Profession: Owner/Principal at Methodride
I chose to enroll in The Citadel's MBA program to expand my knowledge to try my hand at running a business with my family. My father is a successful entrepreneur, and having always looked up to his business and how he handles himself was inspiring.
However, I found it difficult to mimic his success. I had no idea how to begin to do the ins and outs of running a business on our own. I am happy to say The Citadel Graduate College has provided the technical knowledge I did not have, and now we have started a family business of our own.
My wife and myself are now the proud owners of Methodride, an indoor cycle studio in Mt. Pleasant, SC. She has provided the creative vision, the look, feel and atmosphere, whereas I provide the technical knowledge, such as monitoring sales, cash flows, accounting, etc. – all skills I learned through The Citadel's MBA program.
With all the time we have invested in having a family business, it was essential that the MBA program be flexible. We have busy lives already – one daughter, and another on the way – and while adding school onto trying to grow a business seemed like a daunting task, The Citadel Graduate College has allowed me to take less or more classes as needed to adjust to that schedule. For instance, I can take time off after the birth of our second daughter, or even change classes to be online while we navigate busy family and professional days.
Being able to see my family every day as part of my professional life is not something I have taken for granted, and The Citadel Graduate College has been an essential part of fulfilling our dreams as family, both professionally and personally.
---
Barbara Wiggins, Pharm.D., BCPS, CLS, BCCCP, FACC, FAHA, FCCP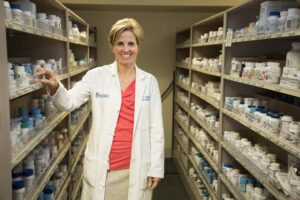 Graduation year: 2019
Profession: Clinical Pharmacy Specialist Cardiology, Department of Pharmacy Services (Medical University of South Carolina)
Adjunct Professor (South Carolina College of Pharmacy)
I chose to attend The Citadel because of its reputation, flexibility for those who work full time, and as veteran, I appreciate The Citadel's ongoing involvement in assisting those who have served our country.
The MBA program offers top notch instruction and coursework that has given me very broad and in depth knowledge, which I was able to apply in my current job from the very beginning.
This program offers an ideal opportunity for those who want to obtain a quality business degree on a flexible schedule.
---
Justin Gaeta, PMP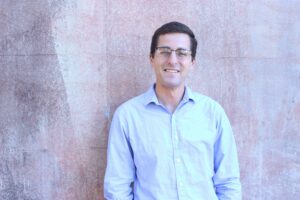 Graduation year: 2017
Profession: Director, Saxton Woods
President of the Board, Catholic Surfing Ministries
When faced with many different options for a master's program, The Citadel's MBA program stood out to me in three distinct ways: flexibility, cost, and tradition. The Citadel offers a flexible program with traditional brick-and-mortar courses as well as online courses; this flexibility allowed me to travel for work and spend time with my family, all while receiving a great education. The cost of The Citadel's program was very competitive with other programs, and the Finance Department was helpful with finding the right solution to fit my budgetary needs. Finally, The Citadel is a well-known school, deeply rooted in the Southeast. As a graduate of The Citadel, I am connected to successful alumni around the world, expanding my network.
The Citadel program challenged me to think critically, speak the language of various business departments, and become a strong leader. As a result of the program, I am able to take a holistic approach to business decisions, rather than just viewing through the lens of a single department. The program has already opened doors for career advancements and leadership positions in the company.
I highly recommend The Citadel's MBA program! Thanks to The Citadel, I am advancing my career and community. I was elected President of the Board of Directors for a nonprofit. By applying the skills and education I received from The Citadel's MBA program, I am better able to give back to my community through the nonprofit and my position on the Board.
---
Ryan Burton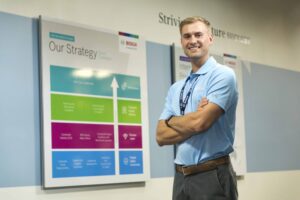 Graduation year: 2017
Profession: Senior Manufacturing Engineer, Robert Bosch LLC
As an engineer, The Citadel MBA program added tools to my tool box that would have taken years to develop organically in a working environment.  It exposed me to different types of academia and forced me to grow as a person.
This program has added so much value to my life – not just from a financial perspective in the work world or on my resume, but on a personal level.  It helped expand my knowledge base and round out my education.  I now have a strong background in engineering and my master's in business.  It places me in a talent pool that isn't one dimensional and sets me apart from peers in my industry.         
Earning my MBA from The Citadel was a clear choice – they offered flexibility by offering both onsite and online classes.  Beyond the flexibility, I was attracted to the program because of the core values baked into The Citadel.  The MBA program embodies The Citadel's values – Honor, Duty, Respect.  These are characteristics you see in every aspect of the program.  I wanted a degree that stood for something more than a piece of paper both in the community but also among other working professionals.  When I graduate I'll become a member of an elite network of people who share the same values.