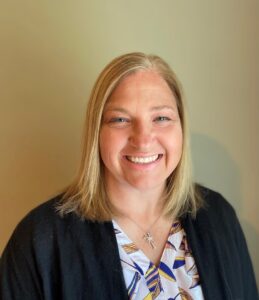 The Zucker Family School of Education at The Citadel recognizes Stacie Elwood, a P-12 educator teaching in the STEM disciplines whose work with students is exemplary. Ms. Elwood has demonstrated evidence of truly innovative teaching methods, extraordinary experiences and opportunities for students, sustained teaching excellence and motivation of students with exceptional learning outcomes for students.
Stacie Elwood is a Career and Technical Education (CTE) teacher and department chairperson at Ashley Ridge High School in Summerville, SC. For fifteen years, Stacie has taught various courses in the Sports Medicine and PLTW Biomedical Science pathways. She utilizes her experience as a Certified Athletic Trainer (ATC) to connect Sports Medicine and Biomedical Science standards to the real world for her students. Her passion for the student organization, HOSA: Future Health Professionals, has been a catalyst in providing life changing opportunities for students.
Stacie serves as a school-based mentor for new CTE teachers providing support and encouragement to those entering education from business and industry. Outside the classroom, she currently serves as a SC DIRECT Instructor, Chair on the National HOSA: Future Health Professionals Competitive Events team, current SC HOSA Board member, South Carolina Athletic Trainers' Association Professional Education committee assistant, and Veterinary Medicine Youth Outreach Advisory Panel member. Her goal is to lead by example, providing students with opportunities in and out of the classroom.