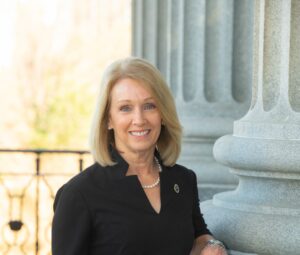 The Citadel Zucker Family School of Education recognizes Rep. Sylleste H. Davis for taking major actions to advance policy, legislation, or governmental rule making that have positively impacted the quality of education for students, the work of educators, and/or the involvement of the community in education for South Carolina.
Sylleste Davis was first elected to the South Carolina House of Representatives in November of 2016. She serves the citizens of SC House District 100 in Berkeley County as the first woman to hold this House seat.
A longtime resident of Berkeley County, Representative Davis first moved to South Carolina in her teens after spending her early years in Wingate, North Carolina. Following graduation from Conway High School, Sylleste moved to Charleston to attend the College of Charleston. She graduated with a Bachelor of Science degree in Mathematics, and later earned a Master's degree in Computer and Information Resources Management from Webster University.
Sylleste began her career at Santee Cooper, an electric and water utility, in the field of computer programming. Following 20 years holding various technical positions in Information Technology, she later held the positions of Manager, Wholesale Markets and Manager, Nuclear Contract Administration. She retired from Santee Cooper in 2014 after 31 years of employment, and ran for public office in 2016.
Sylleste's life experience of growing up in a family of small business owners, earning a STEM degree and enjoying a 31 year career in an electric utility, as well as being a wife and mother, have created the foundation of her approach to government – one of common-sense, conservative ideals.

Her areas of focus include:
Ensuring continued job and economic growth;
Improving the quality of public education;
Addressing transportation and infrastructure needs;
Providing support for active and retired military, law enforcement, and other first responders; and Protecting South Carolina's rich natural resources and historic sites.
She currently serves on the House Judiciary Committee, the Governor's Nuclear Advisory Council, and the House Rules Committee. She serves on several Boards, and serves as Honorary Chair for South Carolina Million Women Mentors.
A current resident in the Moncks Corner area, Sylleste is married to Michael Davis and together they have four sons and three grandchildren. She is a member of Moncks Corner United Methodist Church.