The Citadel's Internship Process
Internships are extensions of classroom learning with applied experience in a professional field related to a career path of interest. Participating in at least one internship is a necessary part of your educational experience. The Citadel's internship process, requirements, where to apply and all of the necessary documents can be found below. This includes information about The Citadel Internship Scholarship Fund.
---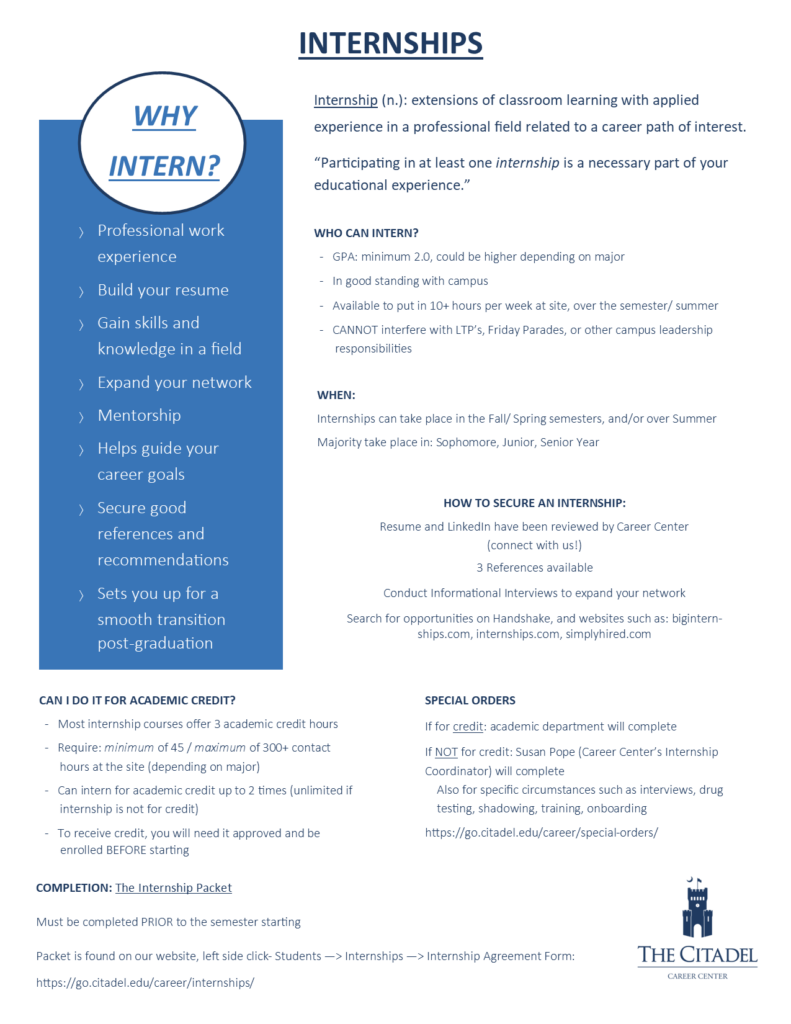 Getting started
The Citadel's Academic Internship Eligibility Checklist:
Review the Internship Agreement Form Document: The Citadel Internship Packet
Academic internships allow you to earn academic credit – juniors & seniors are eligible (see department advisor for exceptions)
GPA of 2.5 or greater, or approval from academic department
Cadet internships cannot interfere with academic classes, Leadership Training, or Friday Parade
Student can commit a minimum  10hrs weekly (2-3 days weekly during fall/spring semester) or hours agreed upon by academic advisor
"Contact hours" are typically 90hrs -120hrs /16 weeks or 10 week summer session
Student may secure internship independently, through The Career Center, from a referral, a department advisor, or outside source that meets department internship guidelines 
Student must register for internship course, complete Internship Agreement Forms (see below) signed by student, department, and internship site supervisor
Need help? Come to The Citadel Career Center – careercenter@citadel.edu.
Helpful steps to take when you first start your internship process at The Citadel:
Email careercenter@citadel.edu for help, schedule an appointment for a search strategy, or drop-ins daily 1-4pm Mon.-Thurs.
Access your Citadel Handshake account regularly for leads, events, and active internship postings
Polish your LinkedIn account and connect with and seek advice from alumni
Talk to your network: family, friends, mentors, academic advisors, and other students
Parker Dewey – Short-term, paid, virtual projects
The Citadel Career Center Internship Scholarship Fund, sponsored by Boeing
Are you eligible to apply?
Currently enrolled as an Undergraduate, Graduate, and/or Veteran Student
STEM fields, Business Major(s)/ Supply Chain, and Research
Have not received the Boeing Award prior
What are the internship requirements?
Students must be in good standing and have a GPA of a 2.5 or higher
Has to be an internship in SC or contribute to the SC workforce
The Citadel Career Center Internship Scholarship Fund (sponsored by Boeing), strives to remove financial barriers and increase and support the number of minority and first-generation college students participating in internship opportunities. This is open to business and STEM majors/ minors who are minority or first-generation college students, including veteran and graduate students.
Once you have completed the above form, email careercenter@citadel.edu for more information or to set up an appointment (in Handshake) so we can support your internship search.
Other resources
Campus Opportunities and Federal Work Study Information
Cadets approved for federal campus work-study positions are allowed to work 10 hrs/week for paid positions. 5th year, veterans, evening undergraduates, may work up to 15 hrs/week, graduate students are allowed to work up to 20 hrs/week. While these may not qualify as formal internships, it is a good way to get work experience on campus. Depending on department, if can also qualify as an internship.  
Determine eligibility: Office of Financial – financial_aid@citadel.edu / Bond Hall 138
Once approved: Office of Human Resources  / hr@citadel.edu / 97 Hagood Avenue
Complete HR Forms and secure signatures of supervisors