---
Citadel Alumni Supporting Internships
The Citadel network is one of the strongest in the country, and Citadel Alumni continuously support the ongoing professional development of current Citadel students. One ongoing way to contribute to this effort is through the The Career Center Fund with The Citadel Foundation , choose "View All Giving Opportunities" and then search "Career Center." This fund supports the Citadel Career Center Internship Scholarship Fund. We sincerely thank you for your support!
Citadel Alumni Job Searching – CareerShift and Oplign
Citadel Alumni now have access to a very powerful job searching and networking tool called CareerShift. Once you visit this resource, simply make your profile and start exploring. We recommend to click on the "advanced" option in your search to unlock all the ways you can filter your job search to find the right fit for your career needs.
Citadel Alumni now also have access to using Oplign. It was originally designed to support transitioning Veterans and is now also open to all Alumni to use. It uses your skillset and experience to connect you with positions you qualify for:
Do alumni have access to career counseling?
All alumni have access to our Citadel Career Center online resources. Graduates up to 3 years may schedule an appointment with a Career Center team member using Handshake, under the "Appointments" tab, or by simply emailing careercenter@citadel.edu. Please note that if you use Handshake for your job search, the positions listed are from employers specifically recruiting for Citadel students and graduates and the majority of positions on the Handshake job board will be for entry-level to 3-years of experience positions.
*Note: For advanced career professionals returning to Charleston, please scroll to the section titled, " I Am Moving to Charleston. Which companies hire Citadel graduates?" The resources in that section will help navigate our leading sectors: Aerospace, Automotive, Information Technology, Life Sciences and Logistics.
Do you provide resume support for advanced job seekers?
The Citadel Career Center provides service for all current students and alumni up to 3 years after graduation. For alumni who graduated more than 3 years prior, we recommend to utilize RezRev, a local Charleston company, for more advanced career counseling or resume reviews. They offer multiple affordable career services options. Contact The RezRev at team@therezrev.com.
Below is an alumnus resume sample that encompasses a standard format:
Further Advanced Job Seeker Resources
How do I find Citadel alumni?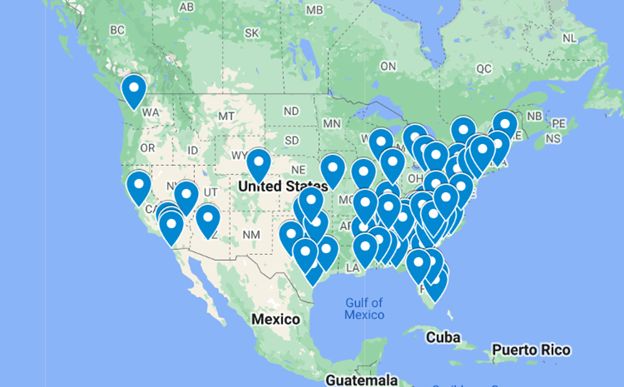 Looking for contacts, leads or directory information?
A strategic way to build your professional network is by connecting with fellow Citadel Alumni.
I Am Moving to Charleston. Which companies hire Citadel graduates?
Major Employer Resources in SC, NC, GA, FL and the D.C. Area
I would like to support students. What are my options?
The Citadel has an array of ways for alumni to engage. If you have an interest in mentoring, there are several programs including The Baker Coaching Program, Pre Health Society, Inn of Court (Pre-Law) and others. Also, connect with our Career Center Staff who meet with cadets daily to help them make professional connections. If you or your organization have an interest in supporting students with career advice or recruiting, please contact careercenter@citadel.edu. Your organization may already be recruiting on campus (alumni have access to all campus recruiting events using Handshake).