Clear Bag Policy
The Citadel's Campus Event Security Screening Policy, also known as the Clear Bag Policy, will be in effect for all events that take place indoors.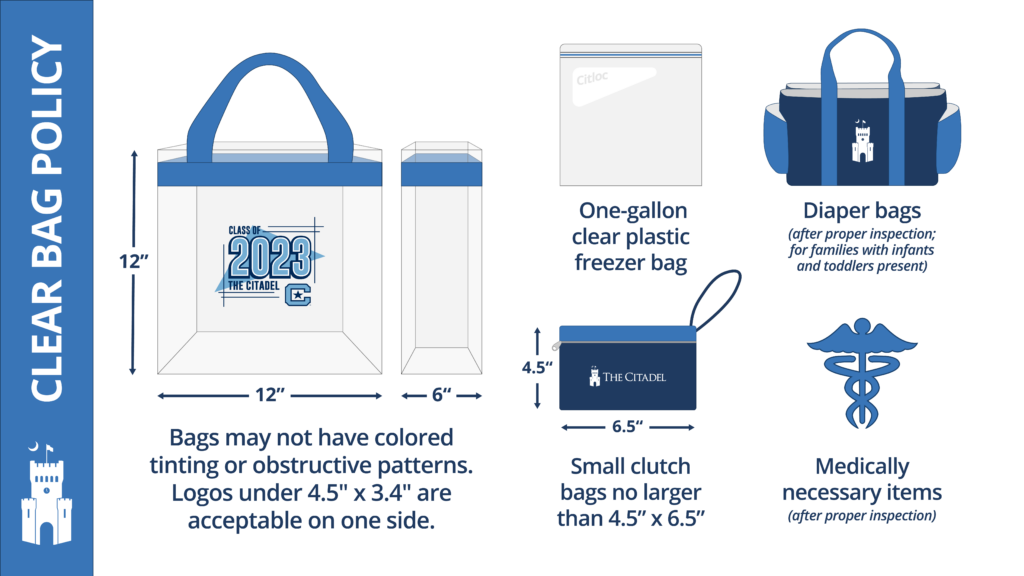 The following arrangements are announced for commencement activities for graduate students, evening undergraduate students and veteran students.
Thursday, May 4
Nursing Graduation Candidates – Pinning Ceremony
Select group only
Time: 3:30 p.m.
Place: Summerall Chapel
Suggested Dress: Business Casual
Approximate Run Time: 1.5 hours
Special Information: This event is for graduates from the Swain Department of Nursing and their family members.
Commencement Awards Ceremony hosted by The Citadel Graduate College
All graduate college, undergraduate transfer and veteran students are invited to celebrate their graduation and their fellow students' academic accomplishments. Award recipients will receive their awards and have their photographs taken with Gen. Glenn Walters, USMC (Ret.), '79.
Time: 5:30 p.m. ceremony, 6:15 p.m. drop-in reception
Place: Holliday Alumni Center
Suggested Dress: Business Casual
Approximate Run Time: 1.5 hours
Suggested Arrival: All guests are asked to be seated 15 minutes prior to the ceremony
Suggested Parking: TBA
Friday, May 5
Senior Fine Arts Minor Art Exhibition Reception
Time: 11 a.m.
Place: Daniel Library
Approximate Run Time: 2 hours
Special Information: An exhibition of artwork by graduating Fine Arts minors will be on display throughout graduation weekend. This drop-in reception is open to all graduates and their guests to honor the graduating artists. Light refreshments will be served.
Alumni Presenters Briefing
Select group only
This briefing is for Citadel alumni presenting diplomas at The Citadel Graduate College commencement who received an invitation to participate from the associate provost for academic affairs.
Legacy Diploma Presentation Request: Diploma presentation by an approved Citadel alumni presenter must be requested by the graduation candidate and approved prior to the ceremony. The deadline to make a request is March 1. If you have questions, please email: commencement@citadel.edu
Time: 1:45 p.m.
Place: McAlister Field House
Suggested Dress: Business attire (be prepared for photos immediately following the briefing)
Approximate Run Time: 30 minutes
Suggested Arrival: Alumni presenters are asked to arrive no later than 1:35 p.m. in McAlister Field House.
Special Information: Alumni who will be presenting diplomas to their sons or daughters will meet with the associate provost for special instructions. Information will include a walk-through of the pre­sentations on the stage and details on where to meet, park and when to arrive Saturday afternoon.
Graduate College Legacy Photos
Select group only
Immediately after the briefing for approved Citadel alumni presenters and their graduates, our photographer will take individual diploma presentation photos for the Alumni News magazine and family photos.
Time: 2:15 p.m.
Place: McAlister Field House
Suggested Dress: Coat and tie for gentlemen; dress or business suit for women; cap and gown for graduates.
Approximate Run Time: 45 minutes
Special Information: Guests are asked to wait in the lobby of McAlister Field House until the conclusion of the presenters briefing. Legacy photos can be purchased here.
Saturday, May 6
Citadel Graduate College Commencement Exercises
Time: 3:30 p.m.
Place: McAlister Field House
Speaker: Allison Dean Love, CGC '93, member of The Citadel Board of Visitors
Suggested Dress: Business attire; cap and gown for graduates.
Approximate Run Time: 1.5 hours
Suggested Arrival
Doors to McAlister Field House will open for guests at 2:30 p.m. All guests are asked to be seated by 3:15 p.m. Doors will close at 3:20 p.m. for the processional. Doors will not reopen until after the national anthem and invocation.
Graduates and Participants
Graduates will gather in Deas Hall no later than 2:30 p.m. for lineup.
Restrictions Regarding Photography
Unauthorized non-Citadel photography is prohibited. The Citadel's photographer will take photos of each graduate during the diploma presentation. Families are asked not to come forward to take family snapshots or video. Only authorized media photographers are permitted on the field house floor during commencement. Information on purchasing photos will be updated on this site closer to commencement.
What to Expect
The ceremony will begin promptly at 3:30 p.m. with the processional of the graduating class, the faculty and the platform party. After the invocation, national anthem and introductions of the special guests, Gen. Walters will deliver remarks. The presentation of candidates and conferring of degrees will precede the actual presentation of diplomas.
Graduates will receive a souvenir diploma tube at the commencement ceremony. Providing the graduate does not have a financial hold, diplomas will be mailed to the address provided in the graduation application following commencement. Students completing degree requirements in the summer will receive their diploma by mail at the beginning of the fall semester.
Tickets
Tickets are not required for The Citadel Graduate College Commencement.
Accessible Seating
Guests unable to use steps may use the accessible seating behind the graduates. Guests that are able to use steps should use the appropriately marked bleacher seating. One family member may sit with the person or persons needing accessible seating in either location. Accessible seating may not be reserved and is available on a first-come, first-served basis. For information, please call The Citadel Office of Services for Students with Disabilities at 843-953-6877.
Commencement Ceremony Security Restrictions
No boxes, alcohol, weapons, firecrackers, noise makers, camera bags, video cameras, umbrellas, backpacks, large handbags, coolers, thermoses or similar items will be allowed in the field house. Food is prohibited. Please see the Campus Event Security Screening Policy for more information.
Leaving McAlister Field during the ceremony is highly discouraged. Those who must leave will be required to go back through security screening prior to re-entry.
Ordering Announcements
Announcements should be ordered directly through Herff-Jones. The last day to order announcements is April 16, 2023.
Ordering Regalia
Regalia may be ordered through https://collegegrad.herffjones.com/. Last day to order regalia is March 18, 2023.
Graduate degree recipients will wear cap, gown and hood. Undergraduate degree recipients will wear cap and gown. Degree recipients may wear the service dress uniform of their respective branch of service if authorized by the service.
Graduating veterans will receive their red, white and blue cord during the check in process. These cords have been approved to wear with the graduation regalia. Members of honor societies may wear the cords associated with that honor society. Purchase of these items is the responsibility of the student. Questions can be directed to the advisor of that honor society.
Ordering Photographs
A professional photographer has been contracted by the college to take pictures of each individual receiving a diploma at commencement. Families are asked not to attempt to come down to the field house floor during graduation. Unauthorized professional photography is prohibited.
The company GradImages will contact graduates and their families following the ceremonies. Questions may be emailed after May 9 to service@gradimages.com. Following commencement, photographs can be ordered online at www.gradimages.com or by calling 1-800-261-2576.