The Corps of Cadets Present the Christmas Candlelight Service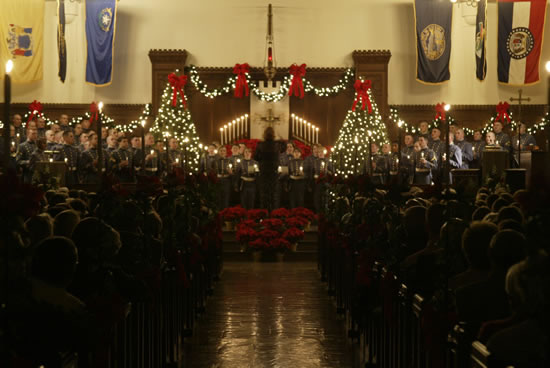 The South Carolina Corps of Cadets presents its Christmas Candlelight Service annually to the Lowcountry in Summerall Chapel on The Citadel campus.
Cadets from the Protestant, Catholic, Gospel Choirs, Chorale and members of The Citadel Regimental Band take part in the annual celebration of the birth of Christ, observing the events of the Advent, the Annunciation, the Birth of the King and Epiphany through Scripture lessons and carols. Traditional and international favorites are sung and special highlights include the Procession of Lights. Cadets coordinate the production with Michael Varnadore, Chapel Organist and LTC Tim Smith, Band Director.
The hour-long program is free and open to the public. Donations are accepted. Flash cameras and video lights are not permitted. This event is one of the most popular Christmas activities in Charleston. Visitors are encouraged to arrive early to secure parking on campus and seating in the chapel. For more information, call (843) 953-5049.
For more information about this year's event, see the Chapel's events page.