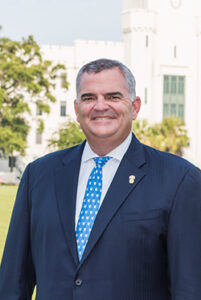 John P. Dowd, III
Vice President for Institutional Advancement
Chief Executive Office, The Citadel Foundation
Phone: (843) 953-7550
jdowd1@citadel.edu
John P. "Jay" Dowd, III, has served as Chief Executive Officer of The Citadel Foundation and Vice President of Institutional Advancement at The Citadel since February 2013.
Dowd is a graduate of Winthrop University in Rock Hill, S.C., where he earned a BA in history, and he received his master's in education (student personnel services) from the University of South Carolina and earned his Ph.D. in educational administration from USC in December 2015. He has more than 20 years of experience in higher education fundraising, institutional advancement and executive leadership.
As CEO of The Citadel Foundation and the college's chief advancement officer, Dowd works in coordination with the president, Board of Visitors, and the TCF Board of Directors to develop and implement a wide-reaching fundraising program for current and future funding needs of the college. In conjunction with the 38-member Foundation staff, Dowd ensures a coordinated approach to institutional advancement, supporting the college's strategic priorities.
Previously, he served as vice president for development and executive director at the Francis Marion University Education Foundation in Florence, South Carolina, where he was a member of the senior staff and the college's chief fundraiser. In this role, he was the university's principal development officer; oversaw the operations of the development office, alumni office, and the university's foundation; and led the creation of the Rural Leadership Institute, which fosters community leadership development in rural areas of the Pee Dee region of South Carolina.
Prior to his position at Francis Marion, Dowd worked in advancement and university fundraising at Columbia (S.C.) College, Methodist College in Fayetteville, N.C., the University of North Carolina at Wilmington (N.C.), and Limestone College in Gaffney, S.C. Active in the community, he served in various leadership roles with the Council for the Advancement and Support of Education, the Boys and Girls Club of the Pee Dee Area and the Florence Family YMCA. Dowd was also active in the Florence Kiwanis, Central United Methodist Church, as a youth little league baseball coach and with the United Way of Florence County. In 2010, he received the Winthrop University Alumni Professional Development Award from Winthrop University. He currently serves on the endowment committee of Hibben United Methodist Church.
Dowd lives in Mount Pleasant with his wife, Kim, and their children, Gibson and Brauer.