Message from the Provost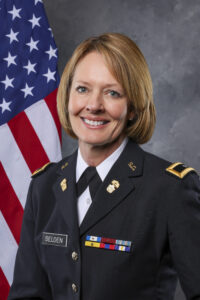 "I am privileged to be part of The Citadel community. The impact of The Citadel on the Lowcountry, the state of South Carolina, and the nation cannot be understated. Since 1842, our graduates have served the nation, their state and their communities as principled leaders. We are a community that lives our core values—honor, duty and respect. I am inspired by the teaching, scholarship and creativity of our faculty, the academic work of our students and the tremendous commitment from our staff for our academic mission. I am fully committed to supporting academic excellence and to developing principled leaders."
Bio
Brigadier General Sally Selden, Ph.D, SPHR
Provost and Dean of the College
Brig. Gen. Sally Selden, Ph.D., is the provost and dean of the college. As the college's chief academic officer and second ranking official, she leads strategic planning for the college's academic mission and ensures academic programs are world-class and aligned with the college's core values. Selden's responsibilities include leading academic programs and initiatives across the college's five schools, which serve more than 3,500 students and support more than 200 faculty. In addition, Selden oversees the Daniel Library, the Krause Center for Leadership and Ethics, research centers, information technology and academic support units.
Prior to serving as provost at The Citadel, Selden spent 18 years at the University of Lynchburg where she served as provost, associate provost, director of the MBA program, department chair of management, director of the Masters in Nonprofit Leadership, faculty chair (elected) and professor of management. Prior to joining the University of Lynchburg, she was an assistant professor at the Maxwell School of Citizenship at Syracuse University.
Selden is a distinguished scholar and teacher of nonprofit management, human resource management and leadership studies. She has published extensively and her work has appeared in Personnel Review, Human Resource Development Quarterly, American Journal of Political Science, Administration and Society, Human Service Organizations, Review of Public Personnel Administration, Public Administration Review and Journal of Public Administration Research and Theory.
Selden is a fellow in the National Academy of Public Administration and author of Human Capital: Tools and Strategies for the Public Sector, with Congressional Quarterly Press (2009), which was named the 2010 best book by the Personnel and Labor Relations section of the American Society of Public Administration. Her dissertation, Representative Bureaucracy: Examining the Potential for Administrative Responsiveness in the Bureaucratic State, won the American Political Science Association's Leonard D. White Award for the best doctoral dissertation in the field of public administration. In 2015, Selden was awarded the Outstanding Scholarship in Public Sector Human
Resources Award by the American Society for Public Administration for her ongoing research contributions.
Outside of work, Selden is actively engaged in her community. She has served as president of two parent teacher organizations and served on numerous nonprofit boards. In 2019, she was awarded the Humanitarian Award from the Virginia Center for Inclusive Communities