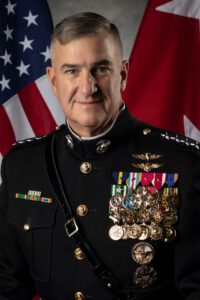 Glenn M. Walters, '79
Gen, USMC
President, The Citadel
General Glenn M. Walters, USMC (Retired), Class of 1979, returned to his alma mater after serving 39 years as an officer in the Marines to become the 20th President of The Citadel in 2018. Prior to his arrival, he served as the 34th Assistant Commandant of the Marine Corps, the Corps' second-highest ranking officer.
Gen Walters' leadership remains focused on The Citadel's mission to educate and develop principled leaders for the military, private enterprise, and public institutions. Gen Walters' administration will oversee the largest capital improvement era of the college in decades and implement the next six-year strategic plan to continue the institution's focus on academic excellence and leadership development.
As Assistant Commandant of the Marines, Gen Walters oversaw approximately 184,000 active duty and 38,000 reserve Marines and a $42 billion budget. His duties included representing the Marine Corps at the Department of Defense and leading decisions about defense policy and resourcing in alignment with the National Defense Strategy. Among his other positions, Gen Walters served as Deputy Commandant for Programs and Resources; Commanding General of the 2nd Marine Aircraft Wing; Commander of the 2nd Marine Aircraft Wing (Forward) in Helmand Province, Afghanistan; and Deputy Director of the Joint Staff J-8.
In 1979, upon graduating from The Citadel with a Bachelor of Science in Electrical Engineering, Gen Walters was commissioned as a second lieutenant in the Marine Corps. He attended flight training in Pensacola, Florida, and was designated a naval aviator in 1981. Gen Walters later trained and served as a test pilot and was instrumental in testing systems for the AH-1W Super Cobra Attack Helicopter. He also served as the first Commander of VMX-22, the initial squadron to field the MV-22 Osprey tiltrotor aircraft for operational testing. He deployed overseas on numerous occasions in the Pacific and Central Command theaters and was Commanding General of the 2nd Marine Aircraft Wing in Afghanistan.
Gen Walters' military awards include the Distinguished Service Medal, the Defense Superior Service Medal with Oak Leaf Cluster, the Legion of Merit with Oak Leaf Cluster, the Meritorious Service Medal with Star, the Air Medal, and numerous campaign and unit awards.
Gen Walters is joined by his wife of 24 years, Gail, a marketing and communications professional, who is delighted to serve in her role as First Lady of The Citadel.