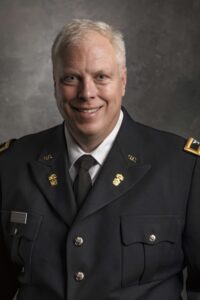 COL Charles L. Cansler III
VP for Finance and Business
Phone: 843.953.6982
Fax: 843.953.0440
Email: ccansler@citadel.edu
Start date: December 12, 2017
Mr. Cansler has 30 years of executive leadership, accounting and consulting experience including serving as vice chancellor for finance and administration at the University of Arkansas Little Rock. Additionally, he worked as university controller for North Carolina State University, where he managed a team of 37 people overseeing the university's net assets of $1.92 billion.
Prior to joining senior staff at The Citadel, he worked as the higher education expert and sales consultant/manager for Oracle, Inc., one of the world's largest and most successful computer technology corporations.
Mr. Cansler holds a Master of Business Administration from Baylor University, a Bachelor of Science in Management from Georgia Institute of Technology, and a post-baccalaureate of Accounting and Graduate Taxation from Georgia State University.