A Message from the Dean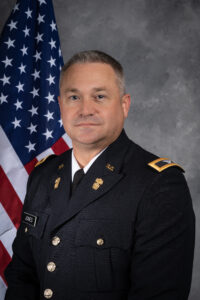 Welcome to the School of Humanities & Social Sciences at The Citadel.  We believe that the path to principled leadership goes through the humanities and social sciences.  Through study in our disciplines, you can develop an appreciation for and understanding of the richness and diversity of the human experience.  Through such knowledge can you engage people from a variety of cultures, think critically and creatively about the world around you, solve the tough problems facing humanity, and act nobly on behalf of something bigger than yourself.  Majoring in one of our disciplines will support a transformation of mind and viewpoint so you can become the person and leader you wish to be and follow a path toward success and fulfillment. 
Seven academic departments make up our School, and we are the largest of The Citadel's five academic schools—accounting for about forty percent of all the faculty members, undergraduate and graduate majors, and credit hours produced at the college. Those departments include Criminal Justice, English, Fine Arts, & Communications, History, Intelligence & Security Studies, Modern Languages, Political Science, and Psychology.
We offer undergraduate majors in each of the above disciplines and course work in a variety of others, including Anthropology, Art, Geography, Music, Philosophy, and Sociology. In addition, we offer master's degrees in English, History, Psychology, and Social Science along with graduate certificates in Homeland Security and Leadership and more. Our talented and dedicated faculty distinguish this School from so many others. The School employs more than 70 full-time professors and a dedicated reserve of part-time instructors, all of whom are experts and/or practitioners in their fields. Moreover, the rigorous curriculum they have designed will help you find your path, train for your career, grow into a life-long learner, and fulfill your personal and professional goals. There are so many opportunities available in our disciplines, no single list here would capture the wide variety of career paths available to our students. Email or ask any one of our faculty and they'll open a world of possibilities as you prepare for the next stage of your life.
Know also that the School of Humanities and Social Sciences continues to innovate and excel. We are on schedule to open a brand-new facility as our academic home in 2023, a massive new structure complete with state-of-the-art classrooms, collaborative spaces, active learning classrooms, a mock courtroom, a cyber warfare lab and range, as well dedicated spaces for Digital Humanities and Oral History. The building will have an art gallery, an open-air courtyard with a fountain, an atrium with a huge American flag donning the front of the building, a student lounge area with two televisions, and plenty of spaces to talk, collaborate, and learn. The replacement for Capers Hall will be the most impressive and impactful building on campus and it will be your home in the School of Humanities & Social Sciences.
Please take some time to follow the links above to explore our undergraduate and graduate degree offerings, including our growing major in Intelligence and Cyber Studies and our Online Master's Degree in Military History. Also, reach out to any of our faculty and staff about opportunities in the School.
Thank you for visiting!
COL Brian Madison Jones, Ph.D.
Dean and Professor
The Citadel