Intramural Game Rules
Competition
Darts is a Tier 4 event. The number of players advancing to the Regimental Tournament will be between four (4) and sixteen (16), depending on the quality of play during early rounds.
Roster
Desired roster size is two (2) players per company. No more than six (6) players per company may participate. Players will be seeded after an initial round of Cricket.
Cricket
Players take turns throwing three (3) darts each. The object is to cover the numbers 20, 19, 18, 17, 16, 15, and Bullseye in any order before your opponent.
Tournament Rules
The game of 301 will be played for tournament games. Each player starts with a score of 301 and takes turns throwing three (3) darts. The score for each turn is calculated and deducted from the player's total. The score must be exactly zero to win the game.
It is not required for a player to throw all three darts on every turn.
If a player reduces the score to below zero, the score is bust. A bust ends the player's turn immediately and returns their score to what it was at the start of that turn.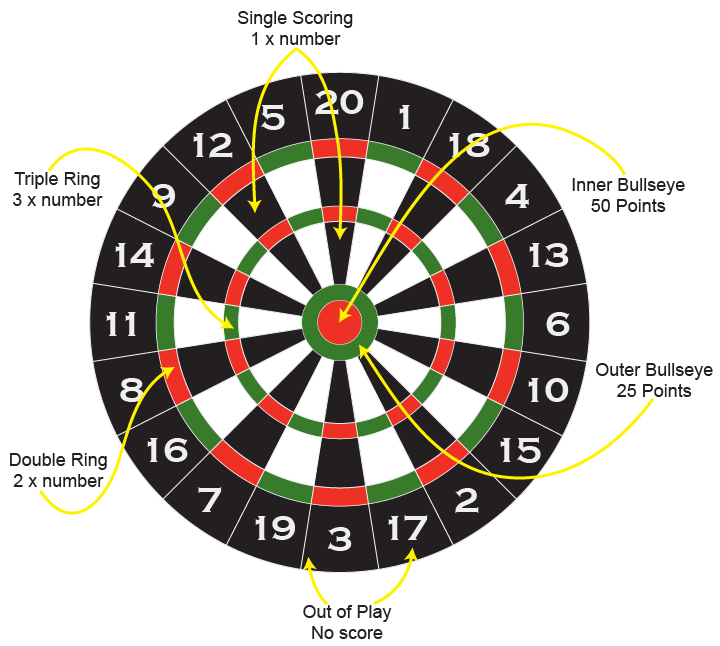 | Location | Points |
| --- | --- |
| Inner Bullseye | 50 |
| Outer Bullseye | 25 |
| Triple Ring | 3 x number |
| Double Ring | 2 x number |
| Single Scoring | 1 x number |
| Out of Play | 0 |
The dart is scored where the point enters the board. Wires that divide the board determine where the dart entered the board, not the colors.
If a dart bounces out of the board or is knocked out, it does not count, nor may it be thrown again. Likewise, if a dart falls out of the board before it is scored or pulled out by the player, it does not count.
The penalty for fouls is loss of turn and any points earned so far in that turn. The following infractions are considered a foul:
any part of the foot extending over the throw line.
Behavior intended to distract the opponent during their throw.
The National Dart Association governs all other rules.