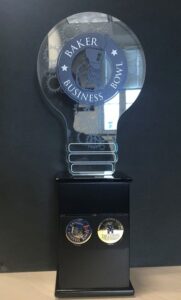 The Baker Business Bowl IX – on behalf of The Class of 1989, Dr. Dan D. Nale, PE, Ph.D. (Class of 1982), Mr. Jeff Cobb, and the Baker School of Business – wishes to congratulate the following five finalist teams (in alphabetical order):
braeKINGchains / Worthy Living Co.
FarmHand
Landsformer
Patriot Goalie
Sideways Performance
Round #3 – Schedule of Events
March 8
This final round consists of a 30-minute business plan presentation to the judging committee. The 5 finalist teams will present their business plans and answer questions from the judges.
Thank You to the Round #3 Judges
Fran Beaudette (Class of 89)
Joe Conti
Herbert Drayton III
Gene King
Cathey Petkash
Richard Waring
---
This event is made possible through the generosity of our sponsors.
Platinum Sponsor
The Citadel Class of 1989

Gold Sponsor
Dan D. Nale, PE, Ph.D., Class of 1982

Silver Sponsor
Mr. Jeff Cobb