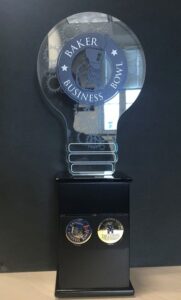 The Baker Business Bowl IX – on behalf of The Class of 1989, Dr. Dan D. Nale, PE, Ph.D. (Class of 1982), Mr. Jeff Cobb, and the Baker School of Business – wishes to congratulate the following finalist teams (in alphabetical order): 
Oasis Verde
Passive Dredging Solutions
Record-Fit
Trailer Moving Robot
Tsuboi Agriculture
Round #3 – Schedule of Events
Round #3, the presentation round, will occur in March 2024. In this round, the five teams will each have 30 minutes to present their business plan and take questions from a panel of judges. Observers are welcome to come and watch the event.
Thank You to the Round #2 Judges
Faye Gooding
Debby Marindin
Ned Williams
Gene King
Christopher J Williams
Peter Wild
Jim O'Connor (Class of 1989)
Charlie O'Brien
Jimmy Crook
---
This event is made possible through the generosity of our sponsors.
Platinum Sponsor
The Citadel Class of 1989

Gold Sponsor
Dan D. Nale, PE, Ph.D., Class of 1982

Silver Sponsor
Mr. Jeff Cobb