The sounds of bagpipes were first heard at The Citadel in 1955 and have been resounding ever since.
One of the most easily recognized attractions at the college, the Regimental Pipe Band is composed of a drum major and approximately 30 to 35 pipers and drummers. The Regimental Pipes was formed and joined the college's band in 1955. The colorful unit, led by the kilted drum major in a Highland feather bonnet, is the leading element of the Regimental Band and Pipes.
While the Regimental Pipe Band on occasion performs as a single unit, it is an integral part of the Regimental Band and functions as a single cadet company at The Citadel.
The Pipe Band is popular at dress parades and other events in South Carolina and across the nation. It is a very active organization that competes at two levels – Grade IV and V – at Highland Games all over the United States.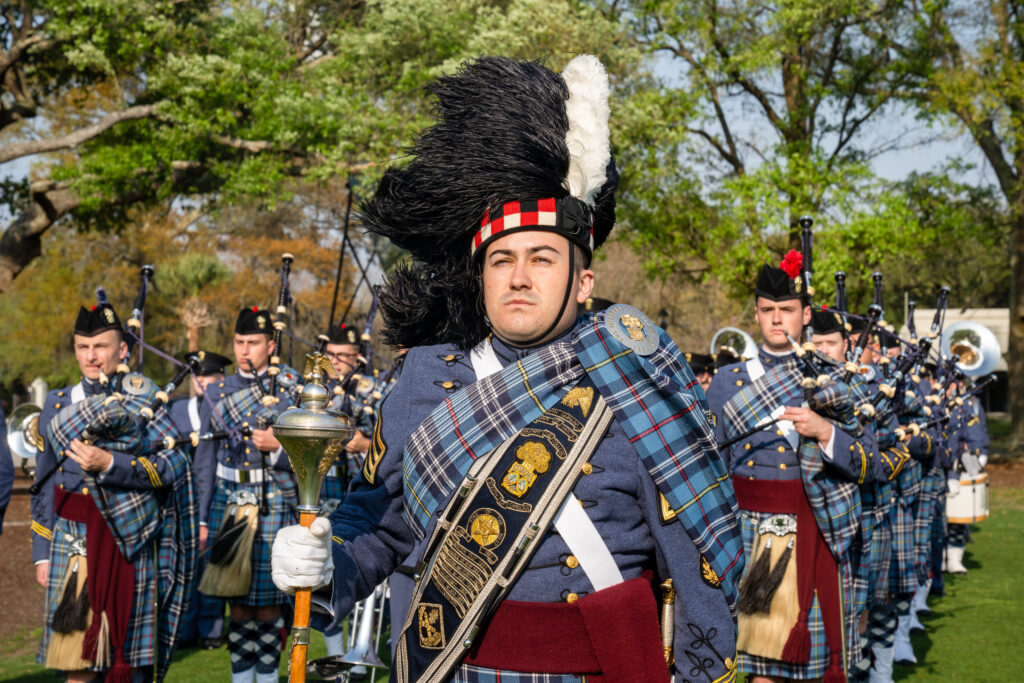 At its inception the Pipe Band wore the red Royal Stewart tartan. In 1981, the band began wearing The Citadel's own tartan, which has been duly registered in Edinburgh, Scotland.
The color of the tartan was intentional: blue and white as the college colors figure prominently. Gold is reminiscent of the brass on the cadet uniforms and red to represent the cadet officer's sash.