If you are considering joining us here in "America's Band," this is where you will find what you need know!
From the World Stage at Edinburgh Castle in Scotland, to the streets of our Nation's Capital and beyond, The Citadel Regimental Band and Pipes is the face of the College, the State and sometimes even the Nation. Our Cadet musicians are among the institution's top tier in Academics and Leadership opportunities.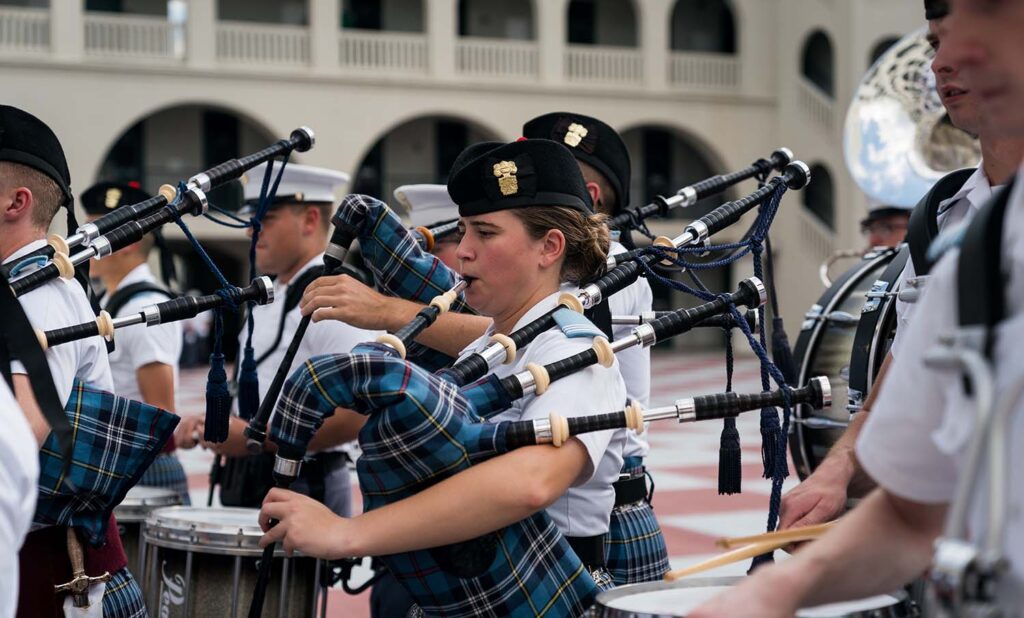 The Citadel Regimental Band
The Regimental Band is the normal marching band component of the Band and Pipes. Preference is given to those with High School marching band experience.
All members of The Citadel Regimental Band are required to audition for the Director by performing a prepared piece (such as an All District etude, or standard instrumental solo), 4 Chromatically adjacent Major scales (Bb, A, Ab, G for example, you choose the starting pitch.), the Chromatic scale through the range of the instrument, and sight reading.
Percussionists prepare a standard rudimental snare solo for presentation.
With the permission of the Director, you may also request to do the audition by videoing two contrasting pieces start to finish, in one take. The first being a technical piece and the second being lyrical. Contact the Director for more details if permission is requested.
The Citadel Pipes
Since 1955, the unique sound of the Highland Bagpipes have been a staple of The Citadel environment.
The Citadel Pipes has experience levels from beginner to advanced. Experienced pipers should video themselves performing and forward videos to the Director of Piping. The Director of piping accepts a number of beginners each year. Orchestral players and Pianists with solid knowledge of notes and rhythm have been very successful in becoming performing members of the Pipe Band. Contact the Director of Piping for details.