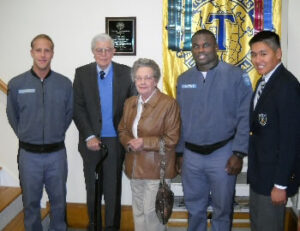 The Public Speaking Lab was established through a gift from Henry Dale and Betty Smith of Springfield, Illinois, to help cadets and graduate students learn to communicate more effectively. Mr. Smith, a member of the Class of 1947, also wanted the faculty to have a resource to use in developing presentations.
A pharmacist by trade, Henry Dale Smith was chairman emeritus of H.D. Smith, a company he founded in 1954. Under his leadership, the company has grown into one of the nation's largest suppliers of pharmaceuticals, health and beauty products and home health care equipment.
During his career, Smith has been recognized by several national groups for his service and leadership in the industry.
Smith decided to give back to his alma mater by establishing a service that could help all cadets, CGC students, faculty and staff. Because he believed that everyone can benefit from becoming a better speaker, he gave the money to establish the Public Speaking Lab.
The lab opened in 1999. In 2003, the lab became a sponsor of El Cid Toastdawgs and in 2011 inaugurated an annual speaking competition.