Academic Advising
What is academic advising?

The National Academic Advising Association (NACADA) defines academic advising as "situations in which an institutional representative (e.g. a faculty or staff member) gives insight or direction to a college student about an academic, social, or personal matter." General advising may entail informing, suggesting, counseling, disciplining, coaching mentoring or teaching.
Why does MSS provide academic advising?

MSS' goal in offering academic advising is to help The Citadel do its best to retain students currently at-risk of not meeting The Citadel's minimum GPA of 1.5 for continuance.
What is MSS' approach to academic advising?

MSS uses a holistic approach to academic advising.
Which students visit MSS for advising?

In particular MSS' focus is on providing advising assistance to underrepresented (URM) students who have not taken advantage of the Freshmen Success Program.
How can I prepare for an advising meeting?

You can prepare for your meeting by reviewing Degree Works, updating your Map Plan and completing MSS' Belonging Questionnaire.
Am I able to meet with MSS outside of my regular advising timeframe?

Of course! Just send us an email to make an appointment.
African American Alumni Mentoring Program
What is the purpose of the African American Alumni Mentoring Program (AAAMP)?

The purpose of the mentoring program is to foster a culture that connects cadets and alumni mentors through a framework of encouraging productive conversations around academic, professional, and life goals; empowers alumni mentors to engage students in critical thinking that is reflective and strategic; and rejuvenates communication, leadership, and interpersonal skills for alumni mentors.
When did the African American Alumni Mentoring Program start?

AAAMP officially launched in 2017.
Who can I contact if I am interested in joining the mentoring program?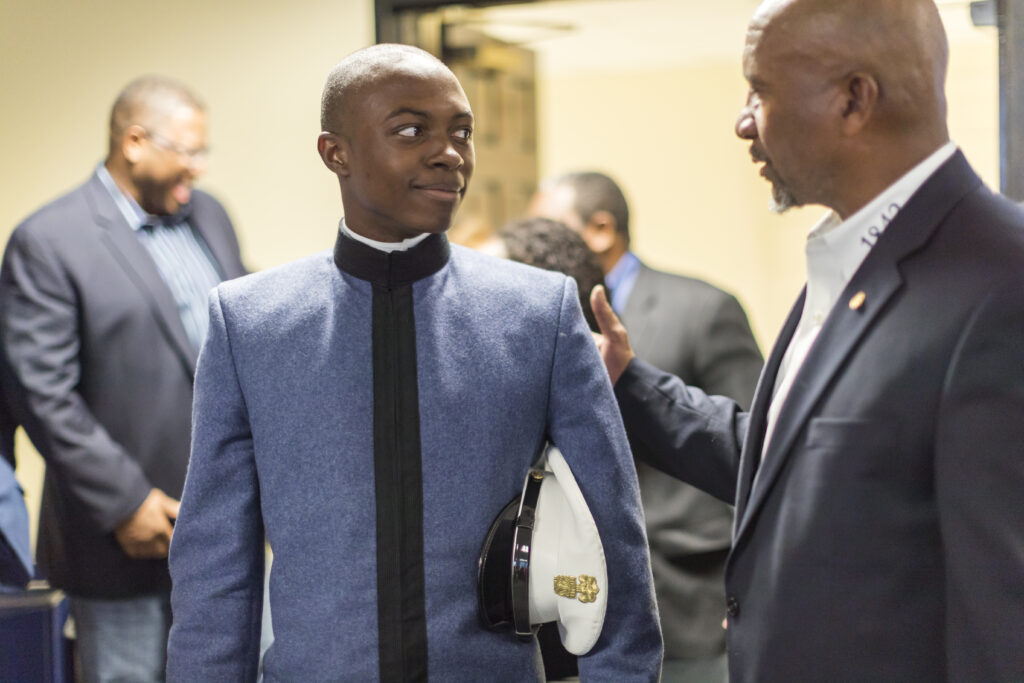 Latino Student Services
Purpose

The purpose of the Latino Student Services is to provide resources to our Latino and Hispanic Students enrolled at The Citadel. We also want to be sure and connect our Spanish speaking students and parents with faculty and staff to better serve you. Please feel free to come by our offices here in Thompson Hall. We look forward to meeting you and will be happy to serve you in any way we can.
En Español

El propósito de la oficina de Servicios para Estudiantes Latinos es ofrecerrecursos a nuestrosestudiantes Latinos e Hispanos que seannuevosen el Citadel y en Charleston. Tambiénqueremos que los estudiantes que hablanespañol, y también sus familias, el personal y el profesorado que hablensuidiomapuedanestarencontacto para asípoderayudarlesmás y mejor. Favor de sentirse con la confianza de pasarse por nuestraoficina, ubicadaen Thompson Hall. Esperamosconocerle. Serátodo un placer ayudarleen lo que podamos.
A Message to Parents

As one of your cadet's primary advisors, you play a key role in the success your cadet will have as a member of The South Carolina Corps of Cadets. We respect this responsibility and want to assist you providing effective guidance that your cadet can use to help make good decisions. Providing informed guidance requires an understanding of the institution and information on the cadet experience at The Citadel.

Studies show that a college student's level of performance is significantly higher when their parents and family members engage in an informed way. This means listening to their concerns, reminding them that you have confidence that they can navigate their challenges and then providing them with encouragement to use the system The Citadel has designed to support their education and experience. It is important at this point in their lives that they process the information and advice, then make a decision and deal with the consequences themselves – good or bad.

All our efforts are aimed at serving you and your student. We want to make your student feel welcome and a valued part of the diverse Citadel family. We are working hard to increase diversity, encourage acceptance and awareness, and generate excitement among our Latino and Hispanic student body. We want to provide a place for them that, not only acknowledges their heritage and culture, but also celebrates it.

The Office of Multicultural Student Services encourages an attitude that celebrates multi-ethnic perspectives of various cultures and backgrounds. It is our goal to enhance your four-year relationship with The Citadel by providing information that is relevant and timely to enhance your own four-year relationships with The Citadel. Our goal is information that is relevant, timely and fresh. If you have a question or need information that is not currently on-line, please do not hesitate to call me at (843) 953-2519 or email me at kgaillia@citadel.edu. [RP1]
En Español

Ustedes son algunas de las personas que más influyen a nuestros cadetes y, como tal, juegan un papel esencial en su éxito como parte del Cuerpo de Cadetes de Carolina del Sur. Respetamos ese rol y queremos ayudarles a que nuestros cadetes tengan a su disposición toda la ayuda necesaria para tomar buenas decisiones. Para poder guiarles bien, es importante que conozcan la institucion y que sepan en qué consiste la vida de un cadete en The Citadel.

Diferentes estudios han demostrado que las probabilidades de éxito de un estudiante universitario aumenta notablemente cuando sus padres y sus familiares están activamente involucrados y bien informados. Esto requiere que ustedes les escuchen y les recuerden que creen en ellos, que no les cabe duda que puedan vencer todos los obstáculos que se les presenten, y que les ofrezcan consejos que puedan llevar a cabo en The Citadel. En este momento de sus vidas, es importante que los cadetes aprendan a procesar los consejos y la información recibida para tomar una decisión y afrontar sus consecuencias, bien sean buenas o malas.

Estamos aquí para apoyarles tanto a ustedes como a los cadetes. Queremos que su cadete se sienta acogido y valorado como una parte integral de la familia diversa que conforma The Citadel. Estamos trabajando mucho para aumentar la diversidad, promover la aceptación y el reconocimiento y para generar más entusiasmo entre nuestros estudiantes latinos e hispanos. Queremos poner a su disposición una institución que no solamente reconozca su herencia y su cultura, sino que también las celebre.

Nuestro deseo es poner a su servicio la oficina de Servicios para Estudiantes Latinos como extensión de la oficina de Estudiantes Multiculturales e Internacionales para mejorar el paso de nuestros cadetes por la universidad.

La oficina de Servicios a Estudiantes Multicultural e Internacional practica una actitud que celebra perspectivas de diferentes etnias y una variedad de culturas y origines. Nuestro objetivo es ofrecerles información que sea pertinente, oportuna y reciente. Si tienen cualquier pregunta o necesitan información de cualquier tipo que no esté disponible en nuestro sitio web— www.citadel.edu – favor de llamarnos al número 843-953-2519 o de enviarnos un correo electrónico a la siguiente dirección: kgaillia@citadel.edu.