Dr. Joelle Neulander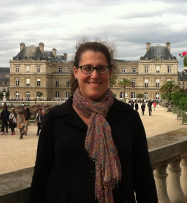 Dr. Joelle Neulander attended Tufts University for her B.A. She received her M.A. and Ph.D. from the University of Iowa. Joelle writes on modern French cultural history and women's history. Her first book, Programming National Identity: The Culture of Radio in 1930s France, was published by Louisiana State University Press. Her current project focuses on French working-class women and popular culture in the period between the two World Wars.
Dr. Neulander teaches twentieth-century Europe, French history, gender history, and the history of Africa. She also teaches western civilization for the core curriculum. At the graduate level she offers readings and seminars in modern European, French, gender and cultural history.
Degrees
Ph.D. (University of Iowa)
M.A. (University of Iowa)
B.A. (Tufts University, magna cum laude)
Research Interests: Twentieth-Century Europe, Gender, Popular Culture