Management Career Plans & Pay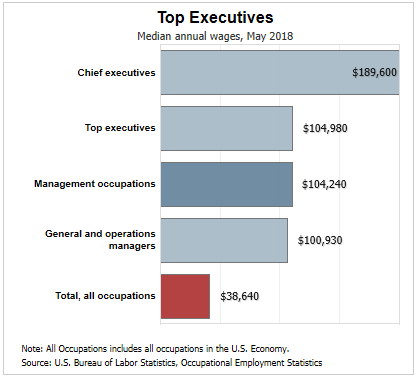 Employment of management occupations is projected to grow 8 percent from 2016 to 2026, about as fast as the average for all occupations according to the Bureau of Labor Statistics. Employment growth will be driven by the formation of new organizations and the expansion of existing ones, which will require more workers to manage these operations.
Quick Facts: Top Executives
2018 Median Pay
$104,980 per year
$50.47 per hour
Typical Entry-Level Education
Bachelor's degree
Work Experience in a Related Occupation
5 years or more
On-the-Job Training
None
Number of Jobs, 2016
2,572,000
Job Outlook, 2016-26
8% (As fast as average)
Employment Change, 2016-26
193,100
The median annual wage for chief executives was $189,600 in May 2018. The median annual wage for general and operations managers was $100,930 in May 2018.
Because of the many possible careers as a manager, there is also a broad spectrum of possible salaries. Students should review the U.S. Department of Labor's Occupational Outlook Handbook for detailed information regarding the management field or a specific career title. While salary is certainly not the only reason to choose a career, it is a very important part of planning your career path. In addition, the matrix above shows the most recent statistics of median management salaries for the listed occupation titles.
Because the responsibilities of general and operations managers vary significantly among industries, earnings also tend to vary considerably.