Welcome to The Citadel DOD Cyber Institute!
CDCI is established to address the critical national security needed for a skilled cybersecurity workforce. There is a critical shortage of qualified cyber professionals, both military and civilian within DOD. More than 500,000 cyber jobs are open nationally. The Citadel and the nation's other five senior military colleges have each received approximately $1.5 million of federal money to establish cybersecurity institutes as pilot programs on their campuses.
The objective of CDCI is to ensure principled leaders for DOD who are experts in cybersecurity, have the skillset and experience to join the cyber workforce on "day one" after graduation.
News and Events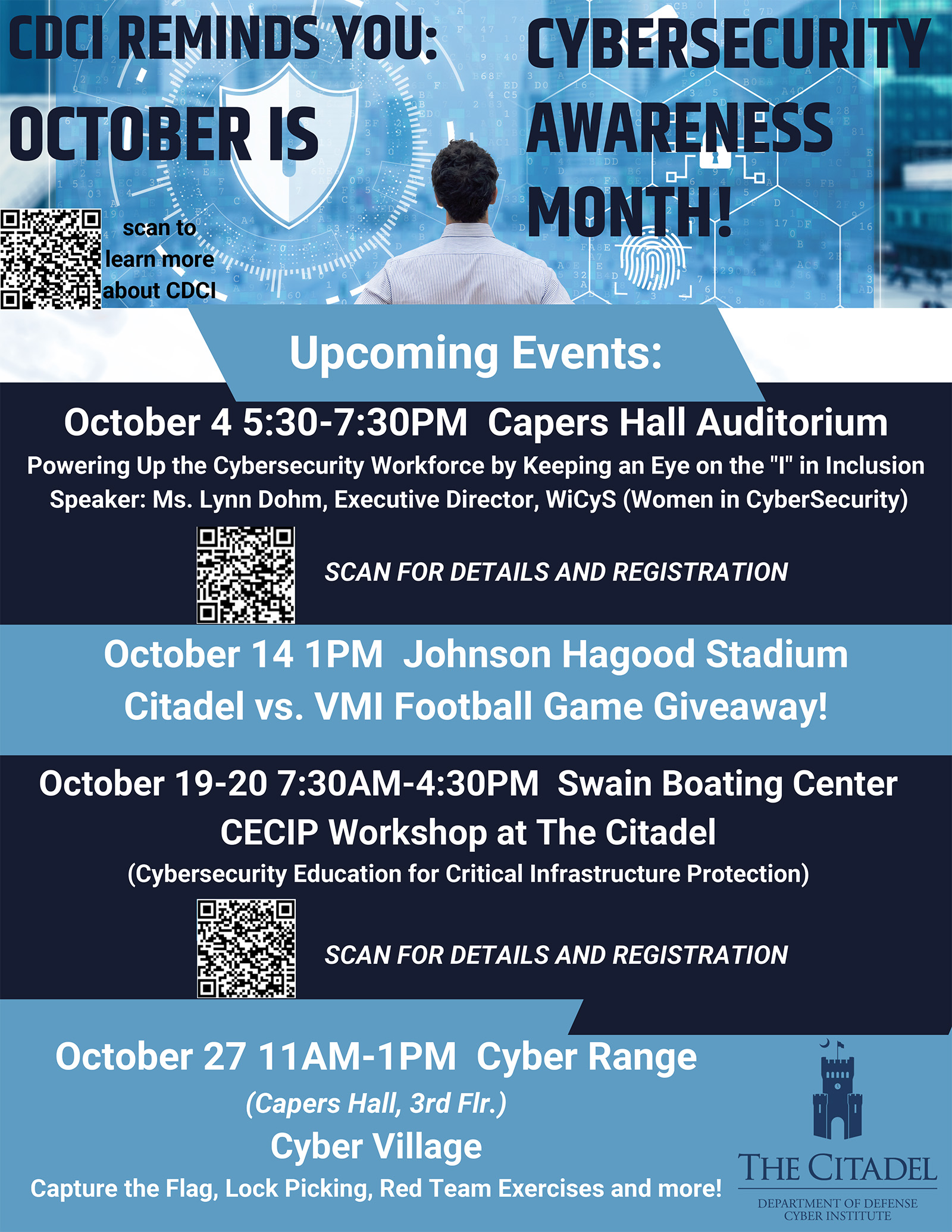 Cyber Leaders Development Program (CLDP)
Citadel cadets selected for the CLDP will pursue a major in Cyber Operations or a major in Computer Science with a minor in Cybersecurity, or a major in Computer Science with a minor in Data Science. Each year, 20 cadets will be selected for CLDP. Selected students will receive a stipend, participate in experiential learning, outreach activities and cyber defense competitions and pursue training on Network+/ Security+ Certifications.
Cyber Lab
A Cyber Lab with the NetLab+ framework and VMware vCloud Director will be implemented where students, through hands-on projects, will develop cyber-competency skills with Network+, and Security+. Cyber Lab will be used for outreach activities for K-12 programs and SC National Guard / State Guard. The CDCI will complement and leverage college-wide resources and expertise from the Department of Cyber and Computer Sciences, Center for Cyber, Intelligence and Secure Studies, STEM Center of Excellence, Academic Support Center and The Citadel Career Center.
Required Qualifications
U.S. Citizen
Citadel Student
Capable of being granted a Top-Secret security clearance
Enrolled in a cybersecurity-related field of study (any of the three tracks- a major in Cyber Operations or a major in Computer Science with a minor in Cybersecurity, or a major in Computer Science with a minor in Data Science)
Evaluation Criteria
Major
GPA
Actively engaged with Citadel Cyber Club / Cyber Competitions
Interest in DoD employment
Leadership experience
Contact
Shankar M. Banik, PhD
Director
Citadel DoD Cyber Institute (CDCI)
p: (843) 953-5039 f: (843) 953-7391
baniks1@citadel.edu
Linda J. Riedel, COL SCARNG
Deputy Director of Operations and Outreach
Citadel DoD Cyber Institute (CDCI)
p: (843) 953-5302 f: (843) 953-7391
riedell1@citadel.edu
William A. Johnson, PhD
Deputy Director of Academic Programs
Citadel DoD Cyber Institute (CDCI)
p: (843) 953-7883 f: (843) 953-7391
wjohns12@citadel.edu
Malory H. Saunders-Gooding
Project Coordinator
Citadel DoD Cyber Institute (CDCI)
p: (843) 953-2885 f: (843) 953-7391
msaunde4@citadel.edu