Meet Gen. Mike D. Groshon… AKA "G3"- The Citadel's live mascot. Weighing in at 70 pounds, G3 bringing alot of pride and spirit to the campus . Beginning in 2020, the Department of Cadet Activities has overseen the "Live Mascot Program" at The Citadel. The Citadel mascot is a living symbol of the college – representing its traditions, history, pride and excellence to the Citadel family. G3 was named in honor of Coach Mike D , of The Citadel class of 1976, who passed away in 2016 who also cared for many generations of mascots. G3 is cared for 24/7 by a dedicated mascot handler team comprised of 6 members of the Corps of Cadets. The regimental level positions called Mascot Handlers; 2 Seniors, 2 Juniors, and 2 Sophmores live with, care for and escort The Citadel's mascot to a large number of campus events. He and his staff live in "The Dog House" near quarters one.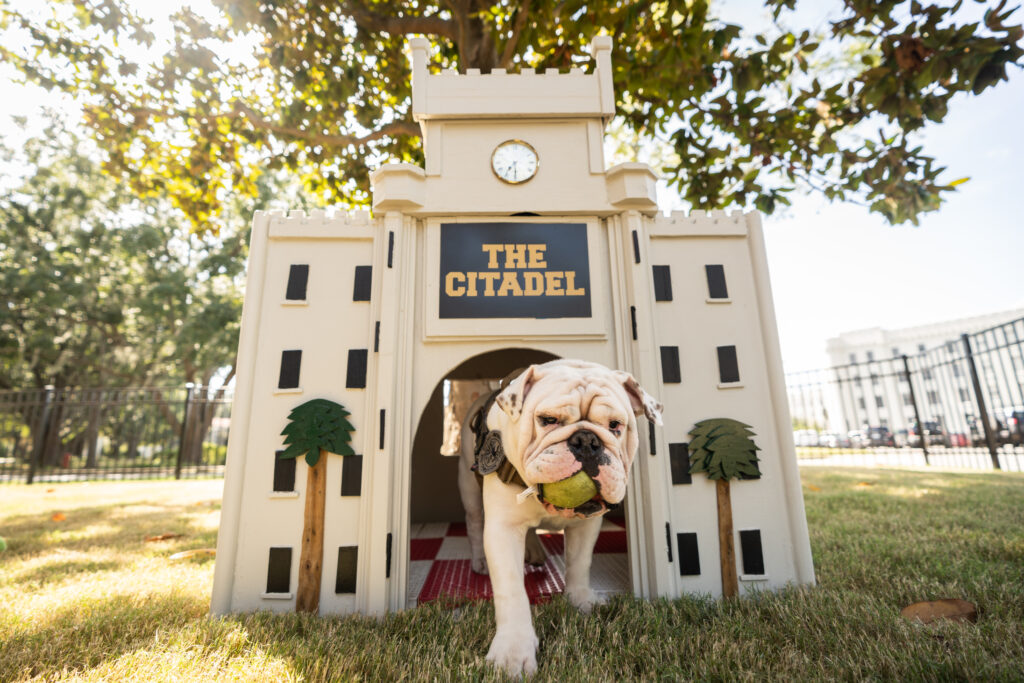 Mascot Handler Team Leader and Assistant Team Leader: The mission of the Mascot Hander Team Leader is to lead the Mascot Handling Team in the execution of the team's mission to build esprit de corps, morale, and school spirit among the South Carolina Corps of Cadets and to generate positive traditions and community relations on behalf of The Citadel. The Mascot Handler Team Leader is assisted by an Assistant Team Leader. These cadets are responsible for the overall execution of the program and the health, welfare, and development of the cadets assigned to the team. They are responsible for facili­tating communications with all departments on campus for the effec­tive and efficient operation of the program for long term stability and consistency. Specific responsibilities of the Team Leader include:
Coordinating with Director of Cadet Activities for the se­lection and training of new members.
Ensuring that a positive and professional environment is established among the team, especially within G3's "Dog House"… and at all times paying special attention to all things involved in caring and providing a loving homestead for a happy and healthy dog…and (by all means) making sure his favorite toys are easily accessible and ready for paly time.
Working with the Regimental Cadet Activities Officer for the coordination of mascot appearances.
Completing required reports to Cadet Activities Staff and Cadet Leadership regarding the health, demeanor, and routine regarding G3's wellness.
Assisting and supervising the mascot Master Sergeants in their duties.
The assistant team leader will assist the team leader in the performance of his or her assigned duties. The assistant team leader will also be responsible for supervising, mentoring, and coaching the juniors.