History and symbolism of The Ring
The ring has symbolized outstanding accomplishments both by the Corps of Cadets and South Carolina. Perhaps the most popular feature of the ring is the "Star of the West," which commemorates the firing on a Union supply steamer by a detachment of Citadel cadets in January, 1861. This action was the powder keg which set off the War Between the States.
Every aspect of the ring is symbolic of the history and tradition of the Cadet Corps from the Mexican War through both World Wars, to the present day, for The Citadel is a military college and the leadership, courage, and integrity found in good officers is embodied by the sword, found on the left shank of the ring. Crossing the sword is the rifle, the symbol of the infantry. Of equal importance in this world of political aggrandizement and perpetual military conflict are the concepts of freedom acquired and maintained only through a willingness to fight for it represented by the rifle surmounted by the oak leaves of toughness and victory blessed by peace, represented by the laurel wreath.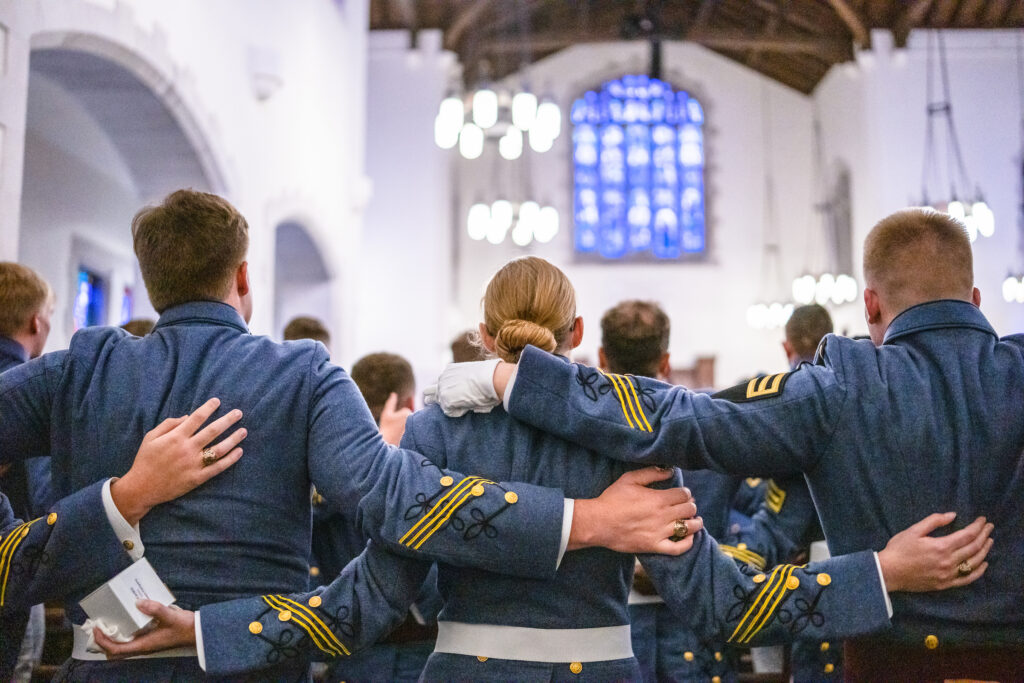 On the right shank of the ring are found the United States and South Carolina colors, which depict the unity of the state and federal government. The cannon balls at the bottom of this shank indicate the continuing link between the Old Citadel on Marion Square and the Greater Citadel. When the college moved to its present location, the Civil War cannon balls piled before the Old Citadel were left behind. The oval crest has a reproduction of the palmetto tree in its background. Aside from representing the state tree of South Carolina, the Palmetto symbolizes a cadet-trained regiment of infantry that fought in the Mexican War and it represents a fort, built of Palmetto logs, that repelled a large British invasion fleet during the Revolutionary War. The two oval shields at the base of the tree are replicas of the state seals.
How to order your Citadel ring
Your eligibility for a Citadel ring is determined by the Office of the Registrar. Prices and ordering information are available on The Citadel Class Ring page at the Citadel Alumni Association (CAA) web site.