Welcome to the Department of Engineering Leadership and Program Management!
We're glad you are interested in our program which is designed to provide you with the Leadership and Program Management skills that will help you advance and meet your personal and professional goals. Program managers work to make ideas happen, working in nearly any industry, at companies ranging from Fortune 500 firms to startups. Our program is accredited by Global Accreditation Center for Project Management Education Programs (GAC), the world's leading specialized accrediting body for project management programs worldwide.
The Citadel offers: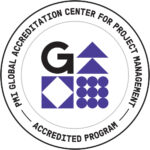 Our project management programs can be completed in the classroom or entirely online.
I invite you to learn more about us through the program website and see in greater detail the exciting activities associated with Project Management. If you are interested in learning more about our programs I invite you to contact me, or go to the program website and/or visit the Graduate College Admissions link to gather more information.
Contact Us
David S. Greenburg, PhD, CPL, PMP
Lieutenant Colonel, United States Marine Corps (Ret)
Department Head & Professor of Engineering Leadership & Program Management
dgreenbu@citadel.edu