Introductory Remarks by South Carolina Governor Henry D. McMaster
Featured Keynote Speakers: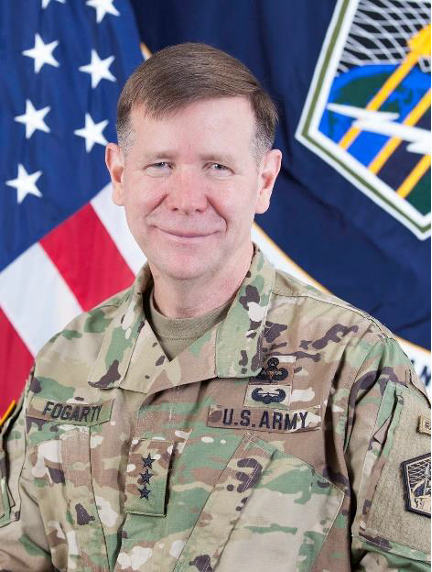 Lt. Gen. Stephen G. Fogarty
U.S. Army Cyber Command
Commanding General
Lt. Gen. Stephen G. Fogarty assumed command of U.S. Army Cyber Command (ARCYBER) on May 11, 2018.
A native of Savannah, Ga., he was commissioned as a second lieutenant in Military Intelligence (MI) in May 1983 after earning his bachelor's degree in History at North Georgia College.
Fogarty's command tours include the Long Range Surveillance Detachment, 125th MI Battalion, 25th Infantry Division (Light); the 732nd MI Battalion; the 116th MI Brigade and National Security Agency-Georgia; the U.S. Army Intelligence and Security Command; and the U.S. Army Cyber Center of Excellence and Fort Gordon.
His joint and combined assignments include Chief, Integrated Survey Program, United States Special Operations Command; Director, Joint Intelligence Operations Center—Afghanistan; Director of Intelligence, J-2, United States Central Command; Deputy Chief of Staff, Intelligence, CJ-2, NATO International Security Assistance Force, Afghanistan; and Chief of Staff, U.S. Cyber Command, the position he held prior to commanding ARCYBER. During his joint and combined assignments he deployed to Afghanistan three times in support of OPERATION ENDURING FREEDOM.
His other Army assignments include S2 (intelligence officer), 2nd Battalion, 327th Infantry Regiment; S-3 (operations officer), 311th MI Battalion, Chief of Plans and Exercises, Chief of Analysis and Control Element, and G2 (intelligence officer), 101st Airborne Division (Air Assault); S2, 2nd Battalion, 2nd 75th Ranger Regiment, including OPERATION JUST CAUSE; S2, 2nd Brigade and G2 (operations officer), 25th Infantry Division (Light); and S2, 75th Ranger Regiment.
Fogarty also holds master's degrees in Administration from Central Michigan University and in Strategic Studies from the U.S. Army War College. His military education includes Airborne School, the Military Intelligence Officer Basic and Advanced Courses, Ranger School, Jumpmaster Course, Combined Arms & Services Staff School, Long Range Surveillance Leaders Course, U.S. Army Command and General Staff College, and the U.S. Army War College.
His awards and decorations include the Distinguished Service Medal (one bronze oak leaf cluster); Defense Superior Service Medal (two bronze oak leaf clusters); Legion of Merit; Bronze Star Medal (one bronze oak leaf cluster); Defense Meritorious Service Medal; Meritorious Service Medal (four bronze oak leaf clusters); Joint Service Commendation Medal; Army Commendation Medal (one bronze oak leaf cluster); Army Achievement Medal (three bronze oak leaf clusters); Master Parachutist Badge (with bronze star); Air Assault Badge; and the Ranger Tab.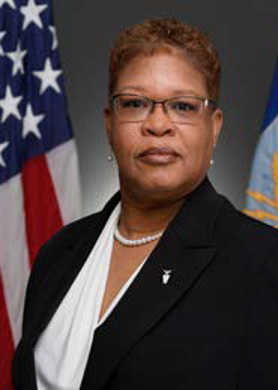 Wanda Jones-Heath
Department of the Air Force
Acting Cyber Advisor and Chief Information Security Officer
Wanda Jones-Heath is the Principal Cyber Advisor (Acting) and the Chief Information Security Officer for the Department of the Air Force, comprised of the U.S. Air Force and U.S. Space Force.
As the Principal Cyber Advisor (Acting) for the Department of the Air Force, Ms. Jones-Heath's duties include synchronizing, coordinating and overseeing the implementation of the DAF Cyber Strategy and advising the Secretary of the Air Force on all cyber programs. She is responsible for overseeing cyberspace recruitment; resourcing and training of cyber mission forces, as well as assessing their readiness; overseeing acquisition; advocate for cyber investments; cybersecurity supply chain risk management; security of information systems and weapon systems.
As the Chief Information Security Officer, Ms. Jones-Heath advises the Chief Information Officer on cybersecurity policy, cybersecurity programs, and cyber force development. She leads a Directorate comprised of military, civilian, and contractor personnel responsible for developing cybersecurity policy and strategy for over 5,000 Air Force Information Technology systems. She oversees risk management and cybersecurity accountability for information systems, weapon systems, and operational technology supporting military cyberspace operations. Her portfolio includes policy governing the defense industrial base, supply chain risk management, and cybersecurity capabilities. She has oversight for the freedom of information act, privacy act laws, and cryptographic modernization supporting cyber operations.
Since entering civil service, Ms. Jones-Heath has held technical and leadership positions performing cyber operations and cybersecurity duties in Air Force operational communications units from the squadron to the wing level and she has served in headquarters units at the MAJCOM, Agency, and Air Staff level. Her experience includes extensive joint and interagency work along with cross functional assignments with duties such as testing, assessments, lessons learned management, strategy development and other functions in organizations both within and outside of the communications field.
Ms. Jones-Heath graduated from the University of South Carolina in 1990 with a degree in Computer Science. She began her Civil Service career as a Palace Acquire Intern as an Information Systems Specialist in various functional areas. She moved to Headquarters Air Combat Command, Langley Air Force Base, Virginia, in 1993. There she held positions responsible for policy and guidance for security and network systems. Prior to arriving at the Headquarters Air Force staff, Ms. Jones-Heath was the Program Manager for Mobility with the Defense Information Systems Agency. Ms. Jones-Heath led the effort to establish a DoD Mobile capability to include infrastructure.
EDUCATION:
1990 Bachelor of Science in Computer Science, University of SC, Columbia, SC
1994 Master of Science in Management, Troy University
2001 Executive Leadership and Development Program
2004 Master of Science in National Resource Strategy, Industrial College of the Armed Forces
2006 Defense Leadership and Management Program
2007 Center for Creative Leadership 2008 Chief of Staff Air Force Fellows
2008 Acquisition Leadership Challenge Program-II, OPM
2008 Enterprise Leadership Seminar, Kenan-Flagler, UNC, Chapel Hill, NC2008 Air Force Civilian Strategic Leadership Program
2009 Harvard Senior Executive Fellows, Kennedy School of Government
2009 Program for Executives in Logistics & Technology, Kenan-Flagler, UNC, Chapel Hill, NC
2010 AFSO21 Senior Leadership Course
2011 Capitol Hill Workshop
2014 Critical Infrastructure Protection
2015 Cyberspace Strategy and Policy
2016 Cyber Intelligence
2017 International Perspectives in Cyberspace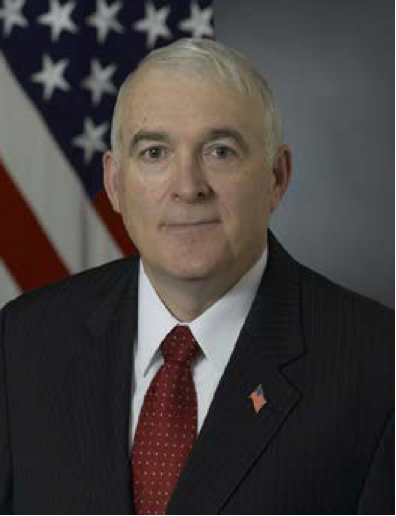 Terry L. Mitchell
Department of the Army Washington, D.C.
Principal Cyber Advisor
to the Secretary of the Army and CSA Headquarters
Mr. Terry Mitchell assumed the position as the Principal Cyber Advisor to the Secretary of the Army and the Army Chief of Staff on September 15, 2020. Mr. Mitchell is responsible for advising both the SA and CSA on all cyber matters and implementing the Department of Defense Cyber Strategy within the Army. As the PCA, he represents the Secretary at cyber-related senior DoD level forums to include the Cyber and Digital Modernization Monthly Meetings, the Deputy Management Action Group, etc. to inform and advocate for cyberspace activities. He is also responsible for implementing the Department of Defense Cyber Strategy within the Army by coordinating and overseeing the execution of the Army's policies and programs relevant to Cyber, including certification of the Army's Budget for Cyber activities.
Prior to his appointment as the Principal Cyber Advisor, Mr. Mitchell was assigned as the Director of the Army G-2 Plans and Integration Directorate since January 1, 2015. He lead the development of policy and plans and set conditions to meet or exceed anticipated Army Intelligence manning, equipping, training, resourcing, and readiness requirements. He oversaw the functional management of the signals intelligence, geospatial intelligence, open source intelligence, and measurement and signatures intelligence disciplines. He led Army Intelligence initiatives to identify, exploit, and field new intelligence capabilities from across the military, agencies, academia, and industry, to enable their assessment, acquisition, and integration into the Force. The directorate integrates Army Intelligence, Surveillance and Reconnaissance technology across the Army and DoD. He directed the activities of an intelligence-focused science and technology community of interest that brings together members of the Intelligence Community, Military Services, academia, and industry to develop initiatives to assess the military utility and integration of emerging/leading-edge technologies. He oversaw the collaboration and synchronization between the G-2 staff and Army Futures Command. .
Before this time with the G-2, Mr. Mitchell served as the Assistant Deputy Under Secretary of Defense for Command and Control in the Office of the Deputy Under Secretary of Defense (Advanced Systems & Concepts), where he formulated and executed policy, programs and initiatives to promote rapid transition of technologies and enabling operational concepts from applied engineering to field and sustained military capabilities to support joint missions. Programs directed by this office include Advanced Concept Technology Demonstrations, Joint Capability Technology Demonstrations, Technology Transition Initiative, Joint Warfare (Experimentation) Program and programs to enhance the Defense industrial base.
Mr. Mitchell retired from the Army in 2001 after an active duty career spanning twenty- seven years. His operational military assignments included duties in multiple Army Military Intelligence Battalions and intelligence centers in the European and Central Command theaters. He also served at the US Army Intelligence Center and School, designing programs of instruction for multidiscipline/multi-echelon intelligence systems. He also completed an assignment in the Office of the Secretary of Defense, Operational Test and Evaluation Office, where he was awarded the DoD Military Tester of the Year award for his test strategy and conduct of the Year 2000 (Y2K) Operational Evaluations.
CAREER CHRONOLOGY:
Sep 2020 – Present: Principal Cyber Advisor to the Secretary of the Army and CSA
Jan 2015 – Aug 2020: Director, Plans & Integration, Office of the Deputy Chief of Staff G- 2, HQDA
Nov 2010 – Dec 2014: Director, Intelligence Futures, ODCS, G-2, HQDA
Mar 2008 – Nov 2010: Senior Advisor, Intelligence Technology Integration & Intelligence, Surveillance and Reconnaissance (ISR), ODCS, G-2, HQDA
Jan 2005 – Mar 2008: Assistant Deputy Under Secretary of Defense (Command & Control), Office of the Deputy Under Secretary of Defense (Advanced Systems and Concepts)
Apr 2002 – Oct 2004: Vice President, Science Applications International Corporation
Mar 2001 – Apr 2002: Chief, Information Assurance Division, SNVC
Jun 1996 – Mar 2001: Military Staff Assistant to the Assistant Secretary of Defense for Operational Test and Evaluation, Office of the Secretary of Defense
Aug 1993 – Jun 1995: Chief, Individual and Collective Training/New Systems Division, US Army Intelligence Center and School
Oct 1991 – Aug 1993: Commander, US Army, 297th Military Intelligence Battalion
EDUCATION:
National War College, MS, National Security Strategy: Year 1996
Command and Staff College, Year 1986
Boston University, Degree MS, Management Information Systems, Year 1985
Montana State University, BS, Agriculture Business, Year 1974
AWARD AND HONORS
Legion of Merit (2nd Award)
Defense Meritorious Service Medal
Meritorious Service Medal (5th Award))
Army Commendation Medal (4th Award)
Army Achievement Medal (4th Award)
National Defense Service Medal (2nd Award)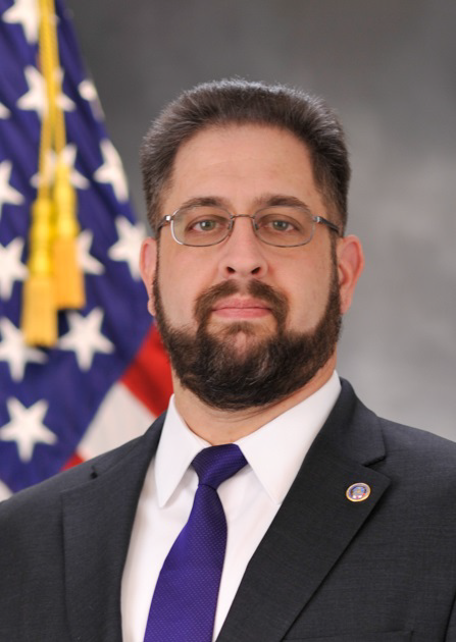 Joshua Reiter
Department of the Navy
Deputy Principal Cyber Advisor (PCA)
Mr. Joshua Reiter is the Department of the Navy Deputy Principal Cyber Advisor (PCA). In this role, he is responsible for supporting the PCA in advising the Secretary of the Navy, Chief of Naval Operations, and Commandant of the Marine Corps, and implementing the Department of Defense Cyber Strategy within the Department of the Navy.
Mr. Reiter also serves in the additional capacity as the Department of the Navy Chief Information Officer's (DON CIO) Chief Workforce Officer. He was originally appointed to Defense Intelligence Senior Level (DISL) in December 2018 as the Director of Cyber Workforce Policy and Planning under the Cybersecurity Directorate of OPNAV N2N6.
A former U.S. Coast Guard licensed merchant mariner, for the first several years of his career, Mr. Reiter served as a DoD civilian mariner with the U.S. Navy's Military Sealift Command as Third Officer aboard USNS Saturn (T-AFS-10), USNS John McDonnell (T-AGS 51), USNS Apache (T-ATF 172), USNS Hayes (T-AG-195) and as Second Officer/Navigator aboard USNS Sirius (T-AFS-8).
Mr. Reiter spent three years as the Manager of Maritime Information Systems for the Massachusetts Port Authority, overseeing the information technology infrastructure for the Port of Boston. He spent one year working in private sector information technology, prior to 9/11. After 9/11, Mr. Reiter spent over 17 years serving in a variety of roles at the Office of Naval Intelligence (ONI) in Washington, DC, including Executive Director of the Nimitz Operational Intelligence Center, the U.S. Navy's pre-eminent center of excellence for operational and strategic analysis of events associated with the maritime domain.
Mr. Reiter is also a retired Navy Reserve Information Warfare officer whose assignments included the Office of Naval Intelligence, the Naval Criminal Investigative Service (NCIS), and the Defense Intelligence Agency (DIA).
Mr. Reiter earned a Bachelor of Science degree in Computer Science/Mathematics from the State University of New York Maritime College at Fort Schuyler, and a Master of Arts in National Security and Strategic Studies from the U.S. Naval War College. He is a certified Project Management Professional (PMP), Society for Human Resources Management Senior Certified Professional (SHRM-SCP), Certified Information Systems Security Professional (CISSP), Certified Ethical Hacker (CEH) and a graduate of the Federal Executive Institute.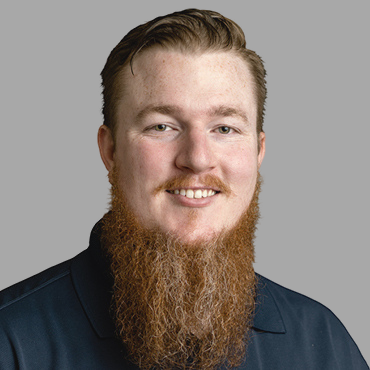 Robert M. Lee
Dragos
Ceo and Founder
Robert M. Lee is a recognized pioneer in the industrial security incident response and threat intelligence community.
He gained his start in security as a U.S. Air Force Cyber Warfare Operations Officer tasked to the National Security Agency where he built a first-of-its-kind mission identifying and analyzing national threats to industrial infrastructure. He went on to build the industrial community's first dedicated monitoring and incident response class at the SANS Institute (ICS515) and the industry recognized cyber threat intelligence course (FOR578).
Forbes named Robert to its 30 under 30 (2016) list as one of the "brightest entrepreneurs, breakout talents, and change agents" in Enterprise Technology. He is a business leader but also technical practitioner. Robert helped lead the investigation into the 2015 cyber attack on Ukraine's power grid, he and his team at Dragos helped identify and analyze the CRASHOVERRIDE malware that attacked Ukraine's grid in 2016 and the TRISIS malware deployed against an industrial safety system in the Middle East in 2017.
Robert is routinely sought after for his advice and input into industrial threat detection and response. He has presented at major security conferences such as SANS, BlackHat, DefCon, and RSA and has testified to the Senate's Energy and National Resources Committee. As a non-resident national security fellow at New America, Robert works to inform policy related to critical infrastructure cyber security and is regularly asked by various governments to brief to national level leaders.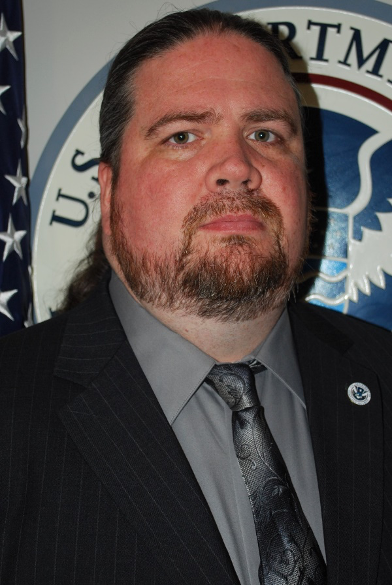 Klint Walker
Region IV
CSA
Klint Walker is the Cyber Security Advisor for Region IV which covers Alabama, Florida, Georgia, Kentucky, Mississippi, North Carolina, South Carolina, and Tennessee.
As the CSA, Klint is the liaison between Federal services and State, Local, territorial and Tribal Governments, Critical Infrastructure and Private Industry. He serves as the focal point for communications to promote Cyber Preparedness, incident response, risk mitigation and situational awareness. He provides direct coordination, outreach, and regional support in order to protect cyber components essential to the sustainability, preparedness, and protection of the Nation's Critical Infrastructure and Key Resources (CIKR) and State, Local, Territorial, and Tribal (SLTT) governments
Mr. Walker has previously held positions as an Information Systems Security Officer for the Department of Health and Human Services where he assisted in establishing the Computer Security Incident Response Center (CSIRC).
Mr. Walker also held the position of Chief Information Security Officer for the National Air and Space Intelligence Center (NASIC). In this role he was responsible for the operational resiliency of classified networks and facilities in adherence with DoD Standards and guidelines.
Special Guest Speaker: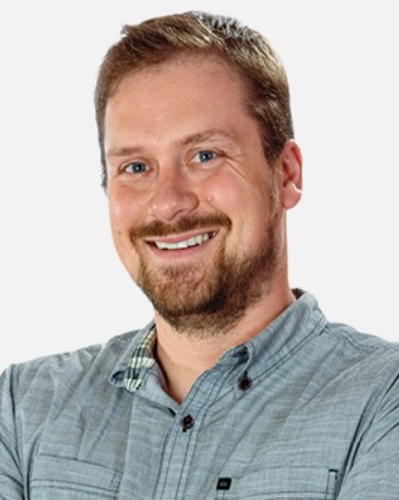 John Strand
Black Hills Information Security
Owner and Security Analyst
John Strand is the owner of Black Hills Information Security, a firm specializing in penetration testing, Active Defense and Hunt Teaming services.
He is the also the CTO of Active Countermeasures, a firm dedicated to tracking advanced attackers inside and outside your network. John is an experienced speaker, having done presentations to the FBI, NASA, the NSA and at various industry conferences. He also co-hosts Security Weekly, the world's largest information security podcast; co-authored Offensive Countermeasures: The Art of Active Defense; and writes loud rock music and makes various futile attempts at fly-fishing.
Panelists and Session Speakers to Include: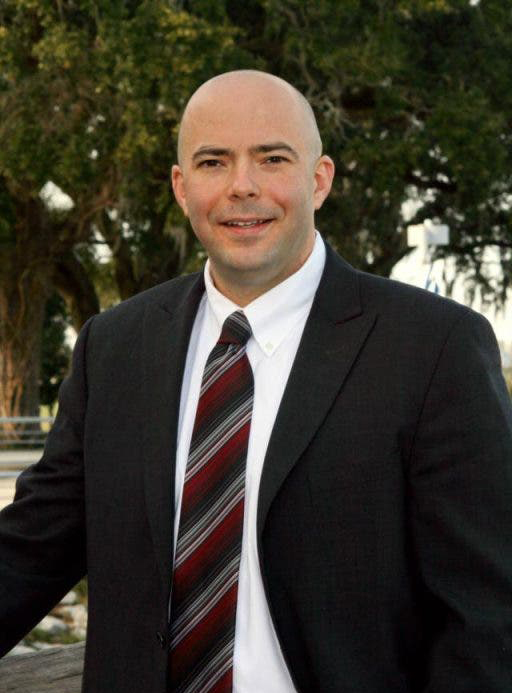 Tim Larkin
Booz Allen Hamilton / Command
Cyber Security Business Lead
Tim Larkin is the Cyber Security Business Lead for Booz Allen Hamilton in Charleston, SC supporting the Naval Information Warfare Center, the Department of Defense, and the defense industrial base in all things information security related.
Tim is also the Command Sergeant Major of the 125th Cyber Protection Battalion in the South Carolina Army National Guard where he is responsible for the training, morale, welfare, and discipline of the finest Cyber Security and Cyber Warfare units in the Army.
In 2013, as the US Army was working to create its Cyber Workforce, Tim attended the pilot course of Fort Gordon's 25D – Cyber Network Defender program. He served as the class leader and graduated first in his class becoming the first National Guard Cyber Network Defender in the world.
He holds a Bachelor's Degree in Business Administration from Strayer University, a Master's degree in Business Administration, (Information Technology Management concentration) from Webster University, and he is projected to graduate with a masters from the SANS Technology Institute's MS in Information Security Engineering program in March of 2022.
Tim holds the following industry certifications: GIAC Security Expert (GSE #216), Offensive Security Certified Professional (OSCP), Certified Information Systems Security Professional Information Systems Security Engineering Professional (CISSP-ISSEP), and more than 15 other SANS/GIAC, CompTIA, and ISACA certifications.
He lives in Charleston with his wife, Janet; his step-son, Justin; and their dog, Rey.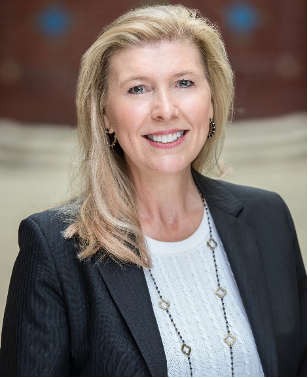 Sue-Ann "Susie" Gerald Shannon
South Carolina Council on Competitiveness
President / CEO
Sue-Ann ("Susie") Gerald Shannon serves as the President & CEO of the South Carolina Council on Competitiveness, a nonpartisan, business-led, nonprofit organization that drives South Carolina's long-term economic growth through managing select industry clusters and providing the research, network, and resources that clusters require to thrive.
Industry clusters are concentrations of interdependent firms related through their industrial activities and includes both competitors and collaborators. The resulting inter-cluster business environment fosters innovation. Innovation, in turn, spurs new business ventures.
Signature initiatives and industry clusters directly managed by the Council include SC Aerospace, SC Logistics, SC Tech, CyberSecureSC, TransformSC, and SC Fraunhofer USA Alliance. The Council also provides resources and support to other clusters and initiatives across the state. The formation of the Council in 2004 marked the first time South Carolina's business, government, and academic leadership came together to address long-term competitiveness factors.
Since taking on the role of President & CEO of the Council, Susie has been consecutively recognized as being one of Columbia Business Monthly's 50 Most Influential People in Business (2017-2020). She was also the subject of a feature CEO article in SC Manufacturing Journal.
Susie has an extensive history leading innovative, forward-looking organizations and initiatives throughout South Carolina. For 13 years, she served on a senior strategic team overseeing the work of a network of organizations seeking to transform local areas into economically-vibrant communities. She also worked as Director of Research for Palmetto Institute, an independent research foundation whose issues included Teach For America, The Benefit Bank® of South Carolina, tax reform, commercialization, agribusiness, entrepreneurship training, and workforce quality. Susie practiced for many years in the Columbia office of McNair Law Firm, P.A. (now Burr Forman), in its Admin.-Reg. section. She also served in the US Army Reserves and is a Veteran of the Gulf War.
In 2015, she was appointed by then-Governor Haley to serve on the Board of Commissioners for the South Carolina State Housing Finance and Development Authority, where she also served Vice-Chair. Susie now serves on the South Carolina Broadband Advisory Council, EPSCOR State Advisory Committee, i4Series Advisory Board, SC Automotive Council, South Carolina Research Authority Board of Trustees (Chair, Program Committee), SC Business Incubator Association, NIST/NICE Working Group (cybersecurity), and the Strategic Partners Group for SC Dep't of Commerce. She has also served on the SC Apprenticeship Taskforce and Workforce Innovation Network Team, a US Chamber of Commerce-led initiative of select states to foster cutting-edge workforce development.
Susie's community service activities have included TogetherSC (fka SCANPO), Jefferson Awards Fnd-Midlands (chair), Lake City Housing Foundation, SC Housing Trust Fund, United Way of Midlands' Public Policy Cmtee and Young Leaders Soc'y, Darla Moore & Richard Rainwater Foundation, Prevent Child Abuse-SC, SC Thrive (Chair Emeritus), and Central Carolina Community Foundation.
Susie is a graduate of Riley Institute Diversity Leaders Initiative and the Nonprofit Leadership Institute of Francis Marion University and is a member of Liberty Fellowship (Aspen Global Leadership Network).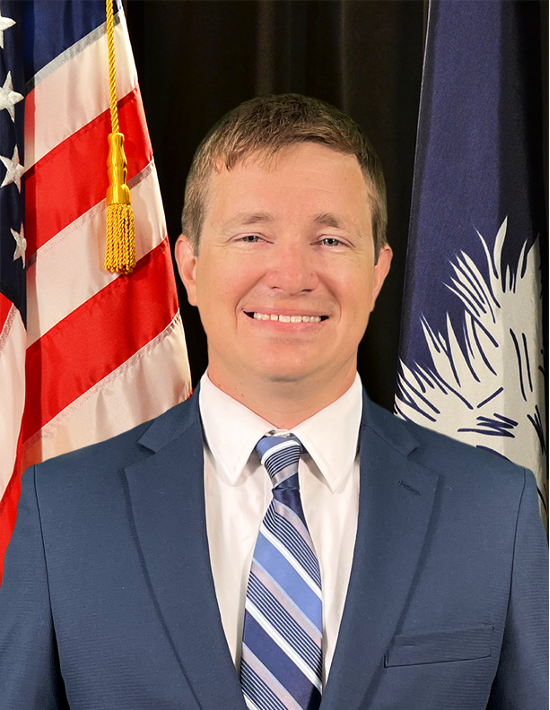 Shane Simmons
South Carolina Department of Employment and Workforce
Chief Information Officer
Shane Simmons is the Chief Information Officer for South Carolina Department of Employment and Workforce and current serves in the South Carolina National Guard's Cyber Protection Battalion.
Having worked in Information Technology and Cybersecurity since 2013, Shane has held various roles supporting software companies as well securing critical infrastructure and State government.
Having successfully built information security programs, Shane now seeks to bridge the gap between IT operations and IT security, balancing operational efficiency with security. Shane has a bachelor's degree in Cybersecurity and Information Assurance and possesses 16 IT and IT Security certifications.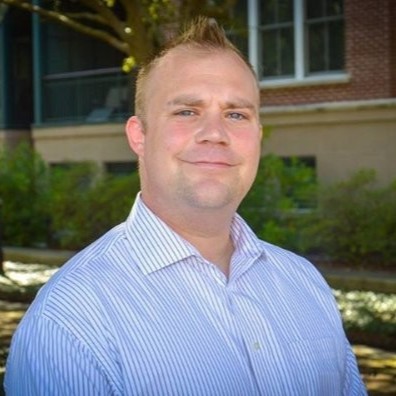 Major Dan Byrnside
125th Cyber Protection BN South Carolina Army National Guard
Commander
MAJ Daniel Byrnside is a Cyber Operations Officer (17A) with the South Carolina Army National Guard, currently serving as the Commander of the 125th Cyber Protection Battalion (CPB).
As the commander of the 125th CPB he leads a team of cyber security and warfare experts trained to respond to emerging threats abroad and at home, answering the call for cyber support from USCYBERCOM, ARCYBER, and cyber incident response efforts for the state of South Carolina. In his military career he has served a variety of roles, to include: 125th CPB Operations Officer, Kodiak Cyber Operations Team Officer-In-Charge, 135th Cyber Security Company Commander, Defensive Cyber Operations Element Team Chief, 156th Information Operations Battalion Information Management Officer, and a variety of leadership roles in the Field Artillery.
In the private sector Mr. Daniel Byrnside has served at a variety of defense contractors and private tech companies to include: Booz Allen Hamilton, Spinvi Consulting, BenefitFocus, Equifax, and his current employer Capella Space. At those organizations he has filled a variety of roles ranging from vulnerability assessments and incident response to SecDevOps/Platform Management and web application penetration testing. In his current role as Security Operations Manager at Capella Space, Mr. Byrnside is responsible for managing security for image acquisition and delivery for a constellation of Capella Synthetic Aperture Radar (SAR) satellites and the underlying cloud infrastructure that supports it.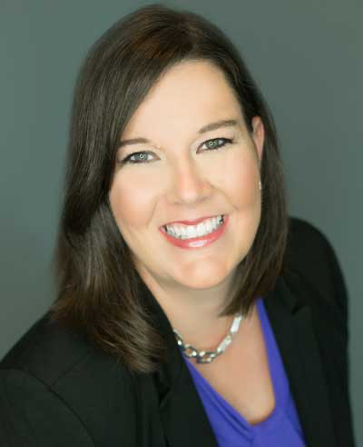 Jamie DeMent
Charleston Regional Development Alliance
Talent and Strategic Initiatives
Leveraging her strengths in communications and strategic partnerships, Jamie facilitates connections and dialogue with Charleston's business, academic, and community leaders to strengthen the region's startup ecosystem, support the fast-growing IT sector, and attract talent for high-demand occupations.
She also leads two long-standing collaborative initiatives supported by dozens of local business partners: the region's Global Fluency initiative and the Charleston Open Source talent attraction campaign.
She is a 2019 Forty Under 40 Award winner, recognized for her success and community involvement in the Charleston region. Jamie is a member of the Zucker Family School of Education Development Advisory Board with the Citadel School of Education (2019 – 2021).
A native of Wheeling, West Virginia, she earned a B.A. in Communication Studies from Clemson University where she began to fall in love with South Carolina. She lives in Mount Pleasant with her husband and son. Jamie loves all things Clemson Tigers, Steelers, and the history and beauty of the Charleston region.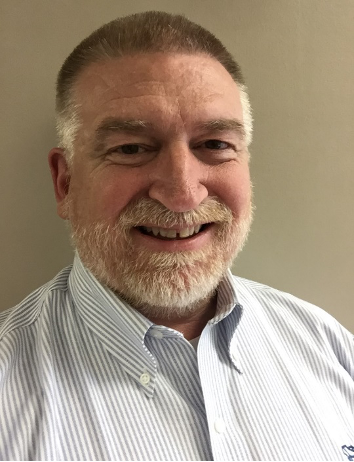 Mark Lester
South Carolina Ports Authority
Information Security Manager
Mark Lester, SC Ports Authority Information Security Manager, a 1982 graduate of The Citadel and former Air Force Officer with 20 years of DoD contracting experience on Cybersecurity projects.
A longtime friend of the SC National Guard's Cybersecurity Battalion. Serves on The Citadel's Cyber and Computer Sciences Advisory Board, Trident Regional Education Career Advisory Board, FBI Critical Infrastructure Working Group, USCG Area Maritime Security Committee – Cybersecurity Subcommittee, USC School of Law Cyber Task Force member, SC Council on Competitiveness' CyberSecureSC initiative member, Cyber Liaison Officer with SLED's SC-CIC (Critical Infrastructure Cybersecurity), member of the MS-ISAC Metrics and Business Resiliency workgroups.
Participated in a number of exercises to include US Army Cyber Institute's Jack Voltaic 2.5 and 3.0.
Degrees, certifications, certificates. MBA, MCSE, Certified Information Systems Security Professional (CISSP), DHS Cyberterrorism Defender, and DHS Cyberterrorism First Responder.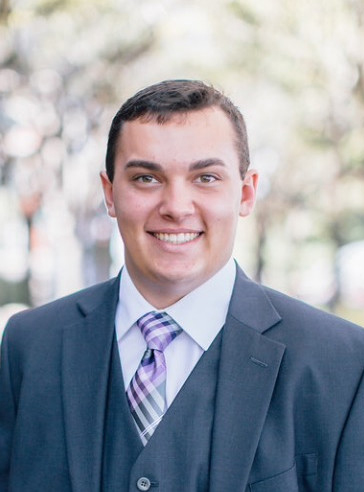 Nathan Farmer
South Carolina Ports Authority
Cyber Risk Engineer
Nathan Farmer starting as an intern in 2016, is now a Cyber Risk Engineer at the South Carolina State Ports Authority. Since starting as a sophomore high school student in 2016, During his internship, Nathan went on to receive his associate's degree in 2018, and his bachelor's degree in Cyber Security in 2019.
Just after receiving his bachelor's degree, Nathan became full-time at the Port, and continued his education, eventually receiving his master's degree in Cyber Security in 2020.
As a Cyber Risk Engineer, Nathan researches, investigates, and develops plan for remediation of new and emerging threats and vulnerabilities. Nathan also assists in testing and developing of tools and techniques surrounding risk analytics and metrics. He contributes to in-depth, out-of-box analyses of potential avenues of compromise to help secure the Port's infrastructure and cargo.
Nathan volunteers with a local homeschooled high school Cyber club, that regularly competes in the Air Force's Cyber Patriot competition and the South Carolina Palmetto Cyber Defense Competition. While also competing in numerous capture-the-flag events, and even developing and running a capture-the-flag at the Port for his colleague.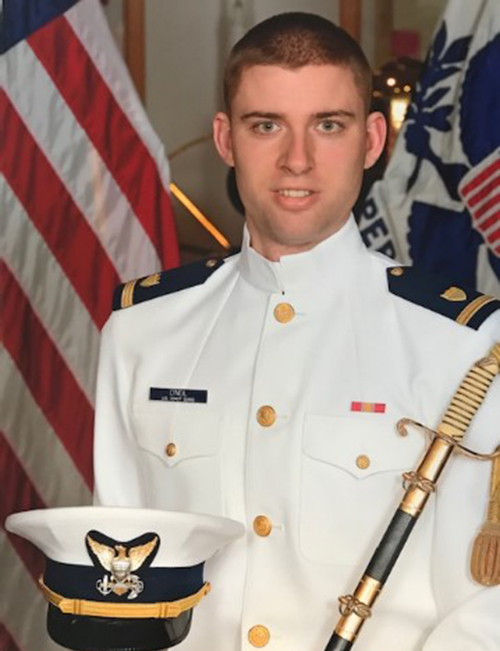 LTJG Scott O'Neil
CG Cyber Command
Cyber Operations Planner
Lieutenant Junior Grade Scott O'Neil is Cyber Operations Planner for the US Coast Guard Cyber Protection Teams (CPTs). In this role, he coordinates the deployment of mission elements on cyber assessments and incident response in the Maritime Transportation System (MTS) and other critical infrastructure.
LTJG O'Neil collaborates with government, military, and private sector partners to develop missions throughout the United States and abroad. He also supports the development of emerging cyber policy between the USCG and port partners.
Prior to his current assignment, LTJG O'Neil served as Acting Chief of Operations Planning for USCG Sector New York, where he developed security plans for Presidential visits, the United Nations General Assembly, and other special events around New York City.
Before the USCG, he worked as a Country Director for US Air Force International Affairs (SAF-IA) supporting foreign security cooperation programs in the Pacific Theater.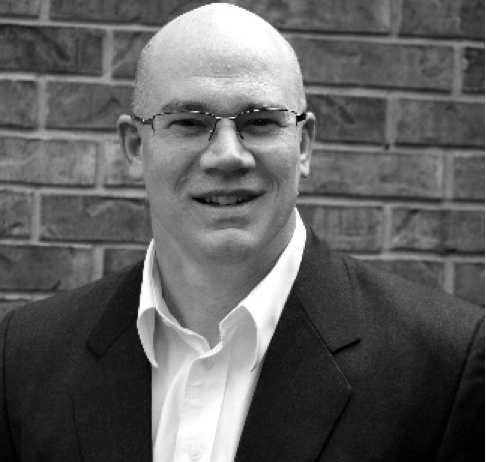 Scott Dickerson MTS-ISAC/ CMA CGM Global Cybersecurity Ambassador
Executive Director
Mr. Scott Dickerson serves as the Executive Director for the Maritime Transportation System Information Sharing and Analysis Center (MTS-ISAC) and as the Global Cybersecurity Ambassador for CMA CGM
He brings over 20 years of combined government, private sector, and consulting experience to the cybersecurity, intelligence and information sharing disciplines. He has served in cybersecurity leadership positions in the public and private sectors, including with the U.S. Coast Guard, and has developed cybersecurity strategies and risk management programs focused on safe and secure maritime critical infrastructure operations. This includes developing and implementing cybersecurity controls both onboard vessels and for shoreside facilities related to IT, OT and IIoT systems. He also helps organize the annual Maritime Cybersecurity Summit to help further build the maritime cybersecurity community.
Mr. Dickerson holds Master's degrees in Cybersecurity, Business Administration, and International Policy and Practice and holds the following certifications: C|CISO, CISSP, PMP, Network Forensics Analysis, PCI Professional, C|EH, TOGAF 9.1 Certified. His multi-disciplinary approach blends people, process, and technology cybersecurity controls with threat analysis, business administration, program management, and information sharing best practices to help organizations add value to business operations through effective risk management practices.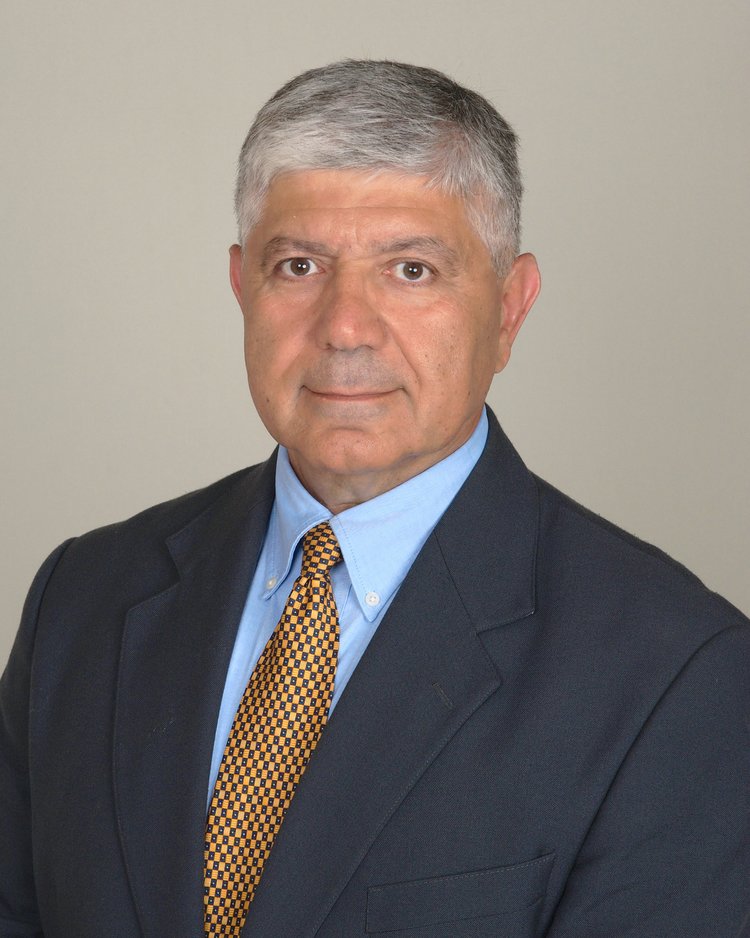 Dr. Reza Ghaffari, CAPT, USN (Ret) CG Cyber Command
CEO and Founder
Dept. of Cyber and Computer Sciences The Citadel
Adjunct Professor
Dr. Reza Ghaffari is the CEO and founder of Cyber Vet Solutions, LLC
Prior to founding Cyber Vet Solutions, he worked at various Aerospace, High Tech, and Steel Industries which were in the Fortune 100/500 companies' rankings such as Northrup Grumman Corporation, General Electric, U.S. Steel, and Intergraph Federal System for over 35 years supporting various aviation aircraft/missions, Industrial Control Systems/Robotics, Commercial and Military Communication Systems, Automatic Test Equipment design, and implementation.
Dr. Ghaffari is an Adjunct Professor at the University of Maryland Global Campus (UMGC) Cybersecurity graduate program and also an Adjunct Professor at the joint graduate program for the Citadel (Military College of South Carolina) and College of Charleston as a cyber and computer sciences instructor.
Dr. Ghaffari led the JITC-East Information Assurance activities and supported DITSCAP and DIACAP activities tasked to JITC, including Red/Blue team vulnerability assessments for JFCOM/COCOM. He was also engaged in supporting Joint Command and Control (JC2) as Cybersecurity Technical Lead and Architect. Dr. Ghaffari worked on various DoD JC2 systems, including Joint-STARS, GCCS-J, GCSS-J, GCSS-A, Rapid O-Planning, Defense Security Service Facility C&A Automation, and weapon systems such as Patriot, Hawk, and MLRS. Also, he retired as a Captain from the United States Navy after serving for 30 years in active and reserve status duties.
Throughout Dr. Ghaffari's career, including his services as Naval Officer(Reserve and Active), he was a part of several tours in the Pentagon, where he supported the OPNAV with strategy and planning, Continuous Process Improvement (CPI) / Lean Six Sigma (LSS) as Lead Black Belt, and presently supporting Naval Aviation N-98 cyber requirement. He completed two years of active duty with PEO Joint Strike Fighter in Washington DC, engaged as Navy Reserve supporting unit commanding officer and Cybersecurity Certifying Authoring and for CONUS and OCONUS partner countries facility certification and Cybersecurity training for the program and CIO.
Dr. Ghaffari deployed to Afghanistan for one year as the Officer in Charge of NAVAIR FWD UAV and Aerostat programs (PGSS, Copperhead, PSUAS, ANA Exportable PGSS). He is presently supporting NAVAIR PMA-266 as Cybersecurity SME in support of Cyber requirements and planning and implementation of Cybersecurity efforts to improve programs cyber resilience (Cyber issues, Roadmap, Cyber Survivability Risk Assessment, Threat Analysis, technology recommendation from architectural view, and applying cybersecurity controls/objectives to MBSE) on their ongoing UAS (MQ-8, MQ-9, MQ-25, and future UAS programs). He helped the program transition from DIACAP C&A to new Risk Management Framework (RMF) A&A, Navy Validation/assessment support activities. Presently, working toward cybersecurity maturity model certification (CMMC) proficiency. He also supports Navy OPNAV-N98 with their cyber-related requirement activities across the Naval Aviation and weapon systems on the improvement of the Navy warfighting capabilities, programming, and budgeting.
Dr. Ghaffari received numerous certifications, but his academic accomplishments are a Doctoral of Engineering (D. Eng.) degree and dissertation research area in Cybersecurity Risk Assessment, UAS mission-related Cyber Threats, and their relationship with applying NIST SP 800-53 Security Controls applicable to Mission Essential Functions (MEFs) in support of the Unmanned Air Systems at the George Washington University in 2017, a Master of Science degree in Electrical Engineering (Digital Controls) from the University of Alabama in Birmingham in 1986. He also received a Master of Arts Degree in National Security and Strategic Studies and a JPME certification from the Naval War College in 2007, and a Bachelor of Science degree in Electrical Engineering from The Citadel in 1980.
Additionally, he received his certification in Advanced JPME from Joint Forces Staff College in 2008. He recently completed three certifications from MIT Sloan Executive Education on Artificial Intelligence: Implications for Business Strategy Program, Machine Learning in Business, and Blockchain Technologies certification.
Dr. Ghaffari was selected as one of the DoD Acquisition Corps (AC) members in January 2007, being DIAWIA certified for Level 2 on T&E, ACQ, PMT & Level 1 on LOG, SYS.
Dr. Ghaffari is fluent and communicates as or near a native speaker in multiple foreign languages such as Afghan-Dari, Azeri, Persian-Farsi, and Tajik. He is up to date with their regional cultures, religions, and history. Moreover, Dr. Ghaffari is familiar with Turkish, Pashto, and Arabic languages. He has provided various Socio-cultural, political, and geographical briefs on Middle Eastern and Central Asian countries to members of DoN, DoD, and NATO.
Finally, Dr. Ghaffari has received many distinctions. Following are some noteworthy honors: The Legion of Merit, Defense Meritorious Service Medal, Meritorious Service Medal, Joint Service Commendation Medal, Navy and Marine Corps Commendation Medal (two awards), and Navy and Marine Corps Achievement Medal (four awards).
Richard Grabenstein
Director, NAWCAD Cyber Warfare Department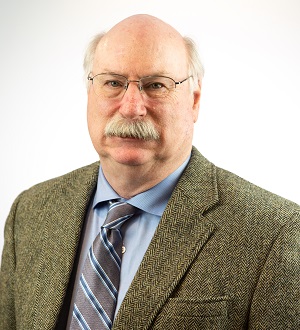 George Fallon
Federal IT Audit, RMA Associates
IT Director
George Fallon is an IT Director at RMA Associates (RMA), where he oversees the IT Cybersecurity practice, bringing over 30 years of experience auditing in federal IT and Cybersecurity.
Before RMA, Mr. Fallon worked in a Big Ten Accounting firm. He has managed highly knowledgeable, federal-specific cybersecurity teams with extensive experience in technical testing of networks, servers, databases, cloud providers, and web applications for vulnerabilities.
Mr. Fallon has managed skilled penetration testing specialists performing tests in some of the largest and most complex federal organizations. He has issued clear and focused reports for technical management and laymen executives, describing complex IT issues in plain language. At several forums, he authored articles and presented cybersecurity topics to technical and non-technical audiences. His latest favorite topic is Zero Trust Architecture.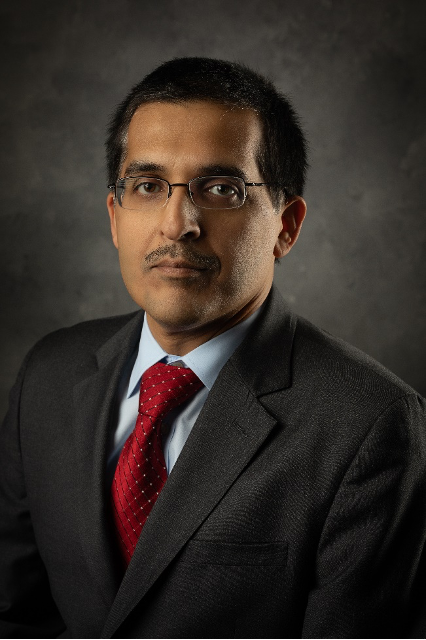 Dr. Shankar Banik
The Citadel
Professor and Head of Department, Cyber and Computer Sciences
Shankar Banik is a Professor and Head of Department of Cyber and Computer Sciences, and Co-director for Center for Cyber, Intelligence and Security Studies at The Citadel.
He received B.Tech. (Hons.) degree in Computer science and Engineering from Indian Institute of Technology (IIT), Kharagpur, in 1997 and M.S. and Ph.D. degrees in Computer Science from University of Oklahoma in 2001 and 2006, respectively.
Dr. Banik has been leading cybersecurity education and research programs at The Citadel since 2010. He was instrumental in designing the minor in Cybersecurity and major in Cyber Operations for undergraduate program at The Citadel and Cybersecurity specialization for M.S. in Computer Science, and graduate certificate program in Cybersecurity for the joint graduate program offered by The Citadel and College of Charleston. He has designed and taught cybersecurity courses for introductory and advanced levels both for undergraduate and graduate programs. Under Dr. Banik's leadership, The Citadel received the designation of National Center of Academic Excellence in Cyber Defense Education (CAE-CDE) from National Security Agency (NSA) and Department of Homeland Security (DHS). He is the Program Director for NSA/DHS CAE-CDE program at The Citadel. He is the Principal Investigator for Department of Defense Cybersecurity Scholarship Program at The Citadel and National Science Foundation CyberCorps® Scholarship for Service Program at The Citadel. He is also the Director of Citadel Department of Defense Cyber Insitute.
Dr. Banik's research interests include network security, privacy ranking, multicast protocols, overlay networks, and cybersecurity education. He has published numerous research papers on computer networks and security in journals and conference proceedings. He has served as a research mentor for undergraduate and graduate students in several research projects in computer science and cybersecurity which has resulted in numerous peer-reviewed publications. He is the student advisor for The Citadel ACM Club and The Citadel Cybersecurity Club. He was the Principal Investigator for the GenCyber Grants 2016, 2018, 2019, 2020 awarded by National Security Agency and National Science Foundation for organizing summer workshops on cybersecurity at The Citadel for Middle/High School Teachers and Students.
Dr. Banik received The Citadel Graduate College Faculty Award for Outstanding Contributions in 2014, Award of Recognition from The Citadel Board of Visitors in 2016, Early Career Award from Citadel Academy of Science and Mathematics in 2017, Citadel Faculty Excellence Award in Service in 2017, and Award of Recognition from The Citadel Board of Visitors in 2020.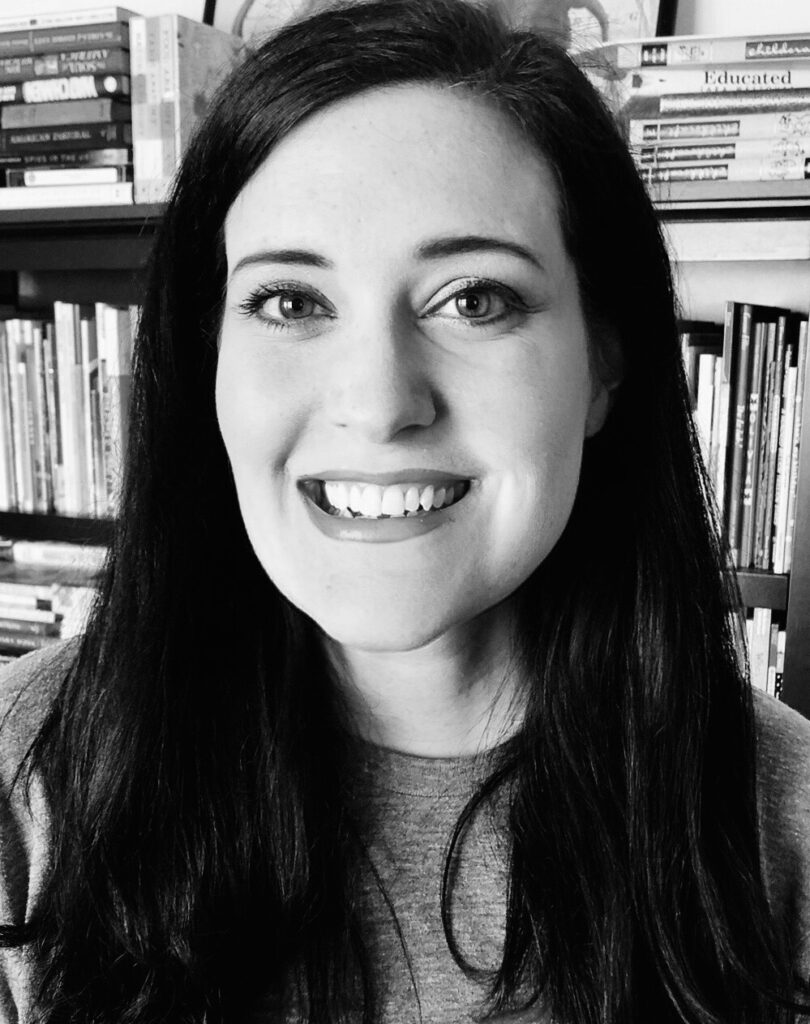 Dr. Melissa Graves
The Citadel
Assistant Professor, Department of Intelligence and Security Studies
Melissa Graves is Assistant Professor in the Department of Intelligence and Security Studies at The Citadel.
Her research areas include national security legal issues, the US presidency's relationship to the intelligence community, critical infrastructure protection, and intelligence analysis.Intelligence and Security Studies at The Citadel.
She teaches a variety of courses on intelligence and legal issues. Her book, Nixon's FBI: Hoover, Watergate, and a Bureau in Crisis, evaluates the historically complex and oftentimes fraught relationships between the President, Attorney General, and FBI Director. Over the past two years, Dr. Graves has worked closely with an external contractor to beta-test critical infrastructure protection software with students as well as engaged in research to identify best practices for teaching critical infrastructure protection to intelligence analysts.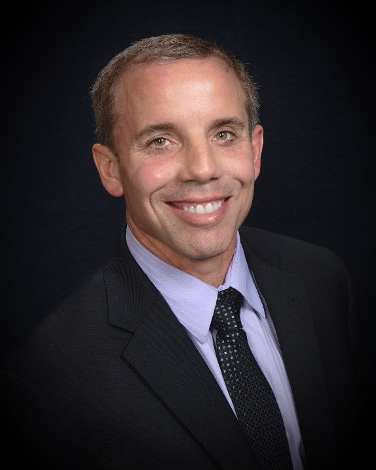 Dr. Dean Bushy Col(R) U.S. Air Force
Cyber Security Education at USC Beaufort
Director
Dr. Dean Bushey is the Director of Cyber Security education at the University of South Carolina, Beaufort. He also serves as the Vice President, Hitachi's Social Innovation Business (GSIB), Americas.
He has over 30 years of business, academic, and military leadership experience in energy, EVs, transportation, and mobility as a business leader, computer scientist, educator, commercial pilot, and autonomous and connected systems expert. At USCB Dean is developing the new Cyber Security program, developing curriculum that aligns with Center for Academic Excellence in Cyber Defense national standards. At Hitachi he leads and directs GSIB America's team in commercial development and business strategy across multiple verticals, emphasizing advanced digital solutions and data analytics. Within GSIB, we focus on co-creating the next-generation digital solutions, business models, and ecosystems with our customers and partners to drive economic, environmental, and societal value.
He is an internationally recognized expert in autonomous, connected, electric, and shared transportation systems across air, rail, freight, trucking, and shared system modalities. He has leadership experience in autonomous vehicles, served as a senior consultant to several large municipalities on their intelligent and connected transportation systems, and was instrumental in shaping the DoD's worldwide, autonomous, and connected advanced flight systems.
Before joining Hitachi America, Ltd., he was the General Manager of Voyage, a self-driving car startup with a mission to super-charge communities with self-driving cars. In addition, he helped lead the operational deployment of self-driving vehicle technology in The Villages, FL.
Before that, Dean served as a Professor of Computer Science and the Director of the Advanced Mobility Institute at Florida Polytechnic University, in Lakeland, Fla. Dean also served as a Senior Management Consultant to a Nuclear Engineering firm in Richmond, VA.
In 2013, he retired from the U.S. Air Force, after 25 years of service, as a full Colonel, where he had extensive unmanned systems, aviation, and leadership experience. During his years of decorated service, he led international collations in autonomous systems and project management. He is also a Command Pilot with over 4500 hours of aircraft command flight experience, including instructor pilot qualifications and experience in seven different aircraft. A 1988 graduate of the U.S. Air Force Academy, Dean also holds a Master's degree and a Ph.D. in Computer Science from Clemson University.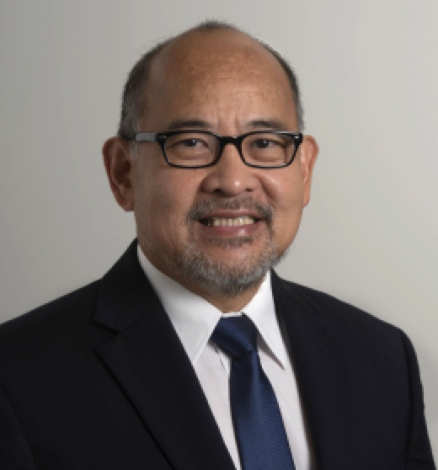 Dr. Guillermo Francia III
University of West Florida
Faculty Scholar and Professor
Dr. Guillermo A. Francia, III received his Ph.D. in Computer Science from New Mexico Tech. Prior to joining Jacksonville State University (JSU), he was the chairman of the Computer Science department at Kansas Wesleyan University.
In 1996, Dr. Francia received one of the five national awards for Innovators in Higher Education from Microsoft. His research interests include industrial control systems security, vehicular security, and machine learning. He is a two-time recipient of a Fulbright award (UK, 2017 and Malta, 2007) and is the 2018 winner of a Cyber Security Education innovation award.
He has successfully managed research projects funded by federal, state, and private institutions and has widely published in several areas of cybersecurity. He held Distinguished Professor and Center Director positions at JSU prior to joining the University of West Florida. Currently, Dr. Francia is serving as Faculty Scholar and Professor at the UWF Center for Cybersecurity.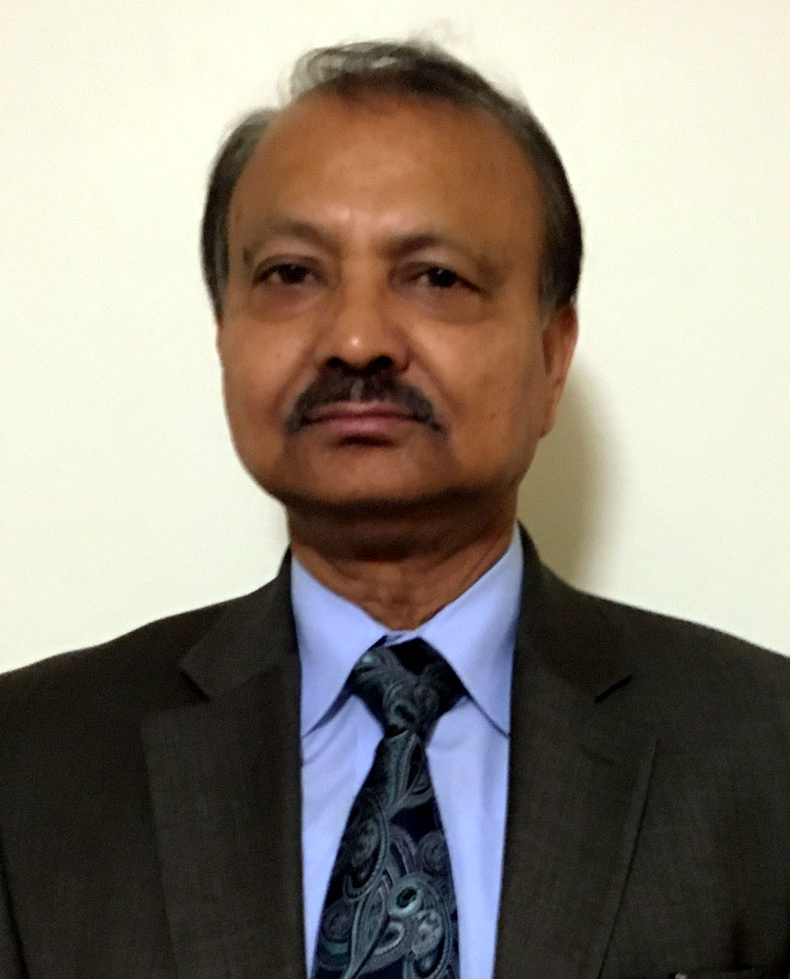 Dr. Dipankar Dasgupta
University of Memphis
Professor of Computer Science
Dr. Dipankar Dasgupta is a Professor of Computer Science at the University of Memphis; his research is primarily in applying bio-inspired approaches to cyber defense.
He is the founding Director of the Center for Information Assurance (CfIA) which is a National Center for Academic Excellence in Information Assurance Education (CAE-IAE) and in Research (CAE-R) and spearheads the University of Memphis's research, education, training and outreach activities on cybersecurity. He has been involved in forming the National Cybersecurity Preparedness Consortium (NCPC) and other professional activities. Because of the center's wide range of activities, the University of Memphis is in the forefront of information security education, and outreach in the state as well as in the region.
COL Jeffrey Erickson
Army Cyber Institute (ACI)
LTC Chris Wilkinson
Army Cyber Institute (ACI)
MAJ Steve Whitham
Army Cyber Institute (ACI)
Ryan Truskey
S.C. Law Enforcement Division (SLED), S.C. Critical Infrastructure Cybersecurity (SC CIC)
Director of Security Operations
Ryan Truskey is the Director of Security Operations for the South Carolina Critical Infrastructure Cybersecurity (SC CIC) program as well as the Deputy CISO for South Carolina Law Enforcement Division (SLED). His previous experience includes intrusion detection, incident response, and SOC management. Through his work with SC CIC, he has directly interacted with organizations in the state spanning most of the critical infrastructure sectors. This gives him and his team unique insight into the challenges and risks facing our state. When Ryan is not working, he enjoys… never mind, he's always working (and happy about it).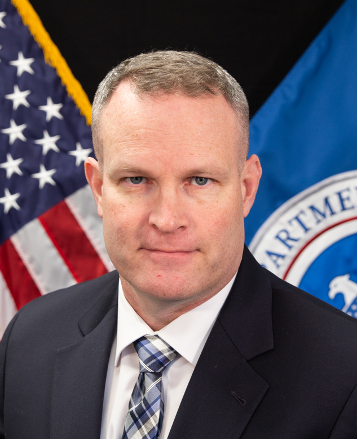 Sean McCloskey
Cybersecurity and Infrastructure Security Agency
Chief of Cybersecurity, Region IV
Sean McCloskey is the Chief of Cybersecurity, Region 4, within the Department of Homeland Security's (DHS) Cyber and Infrastructure Security Agency (CISA).
As the Chief of Cybersecurity, Sean leads the Cyber Security Advisors in Region 4 that assist critical infrastructure owners and operators in improving their cybersecurity capabilities and posture. Sean is based in Charlotte, North Carolina.
Prior to joining DHS, Mr. McCloskey served as an information security consultant with over 18 years of experience supporting government clients. Mr. McCloskey has also served for over 25 years in the United States Marine Corps Reserve (USMCR) and is an active drilling reservist.
Mr. McCloskey holds a B.S. in Computer Science and a M.S. in Information Security and Assurance.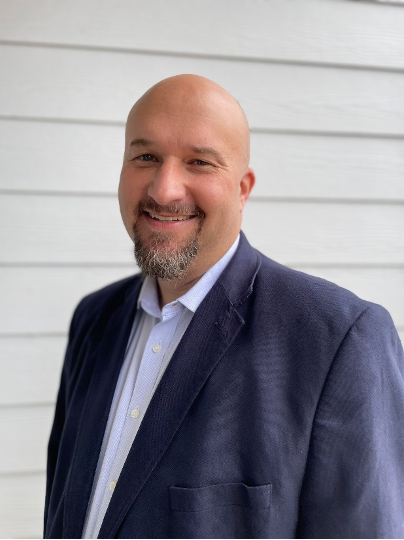 Kyle Kilroy
Amentum Technical Services
Marketing Director
Kyle Kilroy is a registered Professional Engineer (WA, SC, and TN), Chartered Engineer (UK), and a certified Six Sigma Master Black Belt with over 20 years of experience in engineering and operations on government projects.
Kyle has managed the engineering and operations at key Department of Energy (DOE) National Nuclear Security Agency Programs. Kyle has worked throughout the DOE complex including assignments at Los Alamos National Laboratory, Hanford, Savannah River Site, Idaho National Laboratory, Lawrence Livermore, and Y12. He has served as the senior subject matter expert in process operation, fire protection, nuclear operations, cybersecurity, SCADA systems, CIKR, material handling, and logistics. Kyle served as the operation's functional manager for Amentum (formerly AECOM) for DOE, Department of Defense, Intelligence Community, and local municipalities.
Kyle has a bachelor's degree in chemical engineering from the University of South Carolina, a master's degree in industrial engineering and materials from the University of Arkansas. He is a doctoral candidate in Homeland Security / Cybersecurity at Liberty University. He is a member of ASME NQA-1 Subcommittee on Engineering and Procurement Processes and an Exam Panel Member for the National Council of Examiners for Engineering and Surveying (NCEES). He is a member of SC CIC, and the Infragard.
Brandon Poole
Panoptcy Security
Founder and Principal Consultant
Brandon Poole is the founder/principal consultant at Panoptcy Security and a former associate instructor for the SANS Institute.
He has 14 years of experience in multiple domains such as incident response, digital forensics, disaster recovery, SOC operations, regulatory compliance efforts, security architecture design, and general security consulting. During his career, Brandon has helped build multiple security operation centers (SOC), helped design and implement security controls and monitoring in operational technology (OT) environments, and led numerous APT incident response engagements. In addition to this experience, Brandon holds multiple professional certifications such as CEH, CCNA, GSEC, GCIH, GCCC, GCWN, GCTI and is a member of Infragard, ISSA, and the SANS Advisory Board.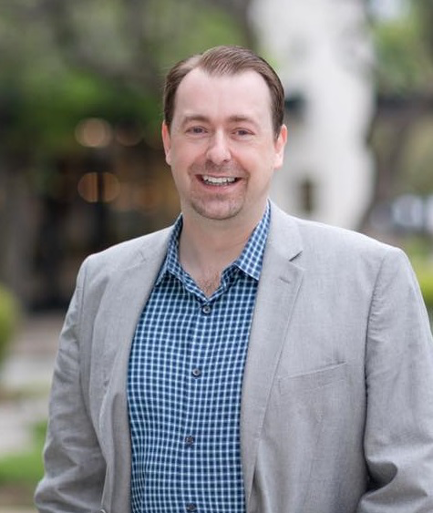 Torry Crass
N.C. State Board of Elections
Agency Chief Information Security Officer
Torry Crass currently serves as the Agency CISO (Chief Information Security Officer) at the North Carolina State Board of Elections and member of the CISO team at Woodstar Labs, a division of Associated Universities, Inc.
He has over 25 years of experience in the information technology field and over 10 years of cyber security experience. Prior to Woodstar Labs, Torry was a CISO at LEO Cyber Security based in Fort Worth, TX.
Torry also serves as the program director for the InfraGard National Cyber Camp Program, an advisory board member for the Cyber Crime Technology Program at SPCC and for the Charlotte SecureWorld conference, a co-chair of BSides Charlotte security conference, and a member of the South Carolina State Guard cyber unit to include serving as one of the OpFor Leads for the National Guard Cyber Shield Exercise. He was recently selected for the FBI Director's Community Leadership Award and regularly presents at industry conferences and contributes to industry publications such as InfoSec Magazine and PenTest Magazine.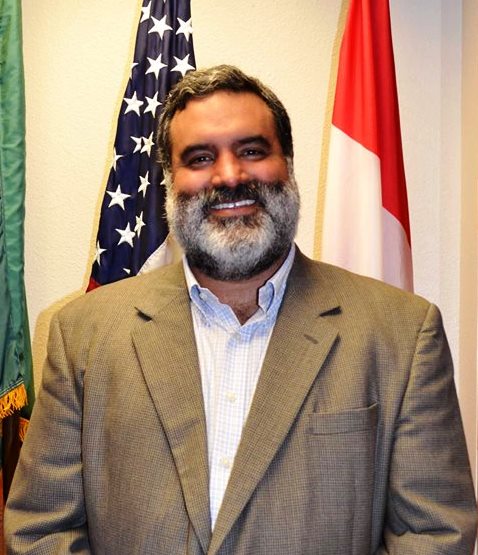 Dr. Larry Valero Ph.D.
The Citadel Intelligence and Security Studies
Department Head and Associate Professor
Dr. Larry Valero (Ph.D. Cambridge, M.A. King's College London, B.A. UCLA) is Department Head and Associate Professor of Intelligence and Security Studies at The Citadel – The Military College of South Carolina.
He served as the President of the International Association for Intelligence Education from 2014-2019. Dr. Valero's research and teaching interests focus upon U.S. intelligence and national security, strategy, and modern warfare. Dr. Valero has published articles in Cryptologic Quarterly, the International Journal of Intelligence and Counterintelligence, Intelligence and National Security, and Studies in Intelligence. He was previously Scholar in Residence at the National Security Agency, Ft. Meade, Maryland and served on the faculty of the Department of International Security and Military Studies at the U.S. Air Command and Staff College, Maxwell AFB, Alabama. He was honored with the 2011 Outstanding Instructor Award by the International Association for Intelligence Education. Dr. Valero serves currently as an American Council on Education faculty evaluator for military programs in the field of intelligence studies.
Dr. Mohd Hasan Ali
University of Memphis
Associate Professor of Electrical and Computer Engineering Department

Dr. Mohd Hasan Ali received his Ph.D. degree in electrical and electronic engineering from Kitami Institute of Technology, Kitami, Japan, in 2004. He is currently an Associate Professor with the Electrical and Computer Engineering Department at the University of Memphis, USA, where he leads the Electric Power and Energy Systems (EPES) Laboratory. His research interests include smart-grid and microgrid systems, renewable energy systems, energy storage systems, load forecasting in smart buildings, electric vehicle charging station, and cybersecurity issues in modern power grids. Dr. Ali has more than 200 publications including 3 books, 4 book chapters, 3 patents, 67 top ranked journal papers, 99 peer-reviewed international conference papers and 20 national conference papers. He serves as the Editors of the IEEE Transactions on Sustainable Energy, IEEE Transactions on Energy Conversion, IEEE Power Engineering Letters, Frontiers in Energy Research, and IET-Generation, Transmission and Distribution (GTD) journal. Dr. Ali is a Senior Member of the IEEE Power and Energy Society (PES). Also, he is the Chair of the PES of the IEEE Memphis Section.
Aleksandra Scalco, Ph.D. (c )
Naval Information Warfare Center (NIWC) Atlantic
Systems Engineer
Aleksandra Scalco received an M.ENG. degree in systems engineering from Iowa State University in 2012, an MBA (2009), and a BJ (1988).
She is a Ph.D. candidate in systems engineering at Colorado State University, Fort Collins, CO. She is an engineer with the DOD. From 2012 to 2016, she was an Information System Security Designer (ISSD) and Client Advocate with the National Security Agency/Central Security Service (NSA/CSS). Since 2016, she has been an Engineer with the Naval Information Warfare Center Atlantic (NIWC Atlantic), United States Department of the Navy. She is a technical manager for intelligence-informed mitigations of control system vulnerabilities and leads the transition of new mitigation capabilities into fielded solutions.
Her research interest includes the digital transformation of control systems, Software Defined Networking (SDN), and the development of Tactics, Techniques, and Procedures (TTP) using software orchestration for control systems. Ms. Scalco is a Senior Member of the Institute of Electrical and Electronics Engineers (IEEE). She is an International Council on Systems Engineering (INCOSE) Certified Systems Engineering Professional (CSEP) (Credential ID 30251735) and member of the seventh cohort of the INCOSE Institute for Technical Leadership. She is Information Technology Infrastructure Library (ITIL) Expert Certified in IT Service Management (Credential ID GR761012539AS). In addition, she is certified at the highest Defense Acquisition Workforce Improvement Act (DAWIA) Certification in Engineering Level 3. She is certified in Science & Technology (S&T) Management and Program Management at Level I. She is an Industry Advisory Board Member at Charleston Southern University, Department of Computer Science for the 2021 — 2024 Term. Her honors included the NSA/CSS Crescent Performance Award for Mission Excellence in 2013.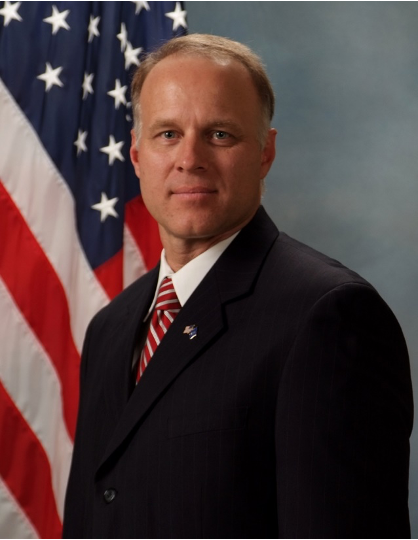 L. COL William A. Waugaman, Ph.D. USAF Critical Infrastructure Systems
Electrical Engineer
Dr. Bill Waugaman is currently a Distinguished Member of Technical Staff, Critical Infrastructure Systems, Sandia National Laboratories, NM.
He applies his electrical and power engineering skills to cyber security of critical infrastructure for national security. His current research areas include smart grid and industrial control system (ICS) cyber security, ICS intrusion detection, cyber deterrence, autonomous unmanned aerial vehicles, and bioengineering. Currently he is detailed to NORAD and US Northern Command (N&NC) as a technical adviser. He is the laboratory technical director for the More Situational Awareness for Industrial Control Systems (MOSAICS) Joint Capability Technology Demonstration (JCTD). Previously, he led N&NC's energy security working group and was the co-operational manager of the Smart Power Infrastructure Demonstration for Energy Reliability and Security (SPIDERS) JCTD. His responsibilities included science and technology advisor, homeland defense and national security support, cyber security of control and weapon systems, energy infrastructure awareness during exercises & real-world events, and interagency coordination. Prior to this position, he was the Deputy Head of the Department of Electrical and Computer Engineering, Dean of the Faculty, United States Air Force Academy, Colorado.
A native of Detroit, Michigan, Dr. Waugaman graduated from the United States Air Force Academy in 1985. He earned his MSEE at the University of Texas in San Antonio and his Ph.D. in Electrical Engineering from the University of Colorado in 1999. As an Air Force officer, Dr. Waugaman primary duties were as an Instructor Pilot and Associate Professor. Dr. Waugaman is a command instructor pilot with over 3300 flying hours in the T-38, TG-7, and UV-18. He is married to the former Melanie Peak of Lubbock, TX, and they have two grown children.
EDUCATION:
1985 B.S., Electrical Engineering, U.S. Air Force Academy, CO
1987 Squadron Officer School
1997 Master of Science in Electrical Engineering, University of Texas at San Antonio
1998 Air Command and Staff College
1999 Ph.D. in Electrical Engineering, University of Colorado, Boulder
2006 Air War College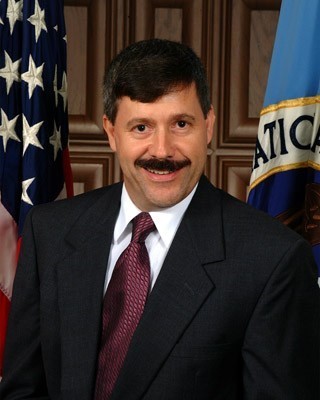 Salvatore Richard Scalco 
Naval Information Warfare Center – Atlantic
Senior Cyber Engineer, U.S. NAVY      
Current Position: Based out of Charleston, South Carolina,Mr. Scalco serves as a Senior Cyber Engineer and the More Situational Awareness for Industrial Control Systems (MOSAICS) Technical Manager. In this role, Mr. Scalco is leading a National level technical team to develop solutions to secure our Nations Critical Infrastructure.
Education: Mr. Scalco graduated from Johns Hopkins University, Whiting School of Engineering Baltimore, Maryland, in 1985 with a Masters of Science in Technical Management. He also holds an additional Masters degree awarded in 1999 from the National Defense University, Industrial College of the Armed Forces, Ft McNair, Washington, D.C. with a major in National Resource Strategy and a minor in Information Strategies. He holds a Bachelor of Science in Electrical Engineering from Capital College, Laurel, Maryland 1982 and an Associate in Arts degree in Engineering Technology with Phi Beta Honors from Montgomery College, Rockville, Maryland 1974. Mr. Scalco is a professionalized Cryptologic Engineer and is Defense Acquisition Workforce Improvement Act (DAWIA) certified Acquisition Level III. Mr. Scalco also attended the Federal Executive Institute, Leadership for a Democratic Society Program, Charlottesville, VA and National Security Agency (NSA) Senior Development Program.
Prior Positions: Mr. Scalco served as the Deputy Chief of the National Security Agency (NSA) Information Assurance Directorate (IAD) Engineering Office. The Engineering Office developed, evolved and managed information assurance engineering solutions required for an assured National Security information technology enterprise. Prior to this position he served.as DOD's Director of the Global Information Grid Information Assurance Portfolio Office (GIAP) where he oversaw the DOD's Information Assurance budget of over $3 billion annually. In July 2001, Mr. Scalco was accepted into the Defense Intelligence Senior Executive Service (DISES) and served until departing NSA in 2015. Mr. Scalco has over forty-five year's government service including five years with the United States Census Bureau, Suitland, Maryland prior to coming to DoD. Mr. Scalco has served as a project engineer, program manager, branch chief, division chief, office chief and special assistant in multiple NSA/DOD directorates.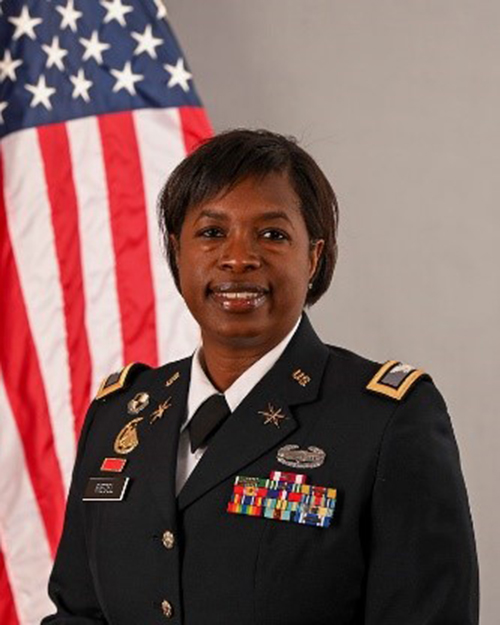 COL Linda Riedel
Citadel DoD Cyber Institute, The Citadel/Brigade Commander, 228th Signal Brigade, S.C. Army National Guard
Deputy Director
Colonel Riedel is the Brigade Commander for the 228th Theater Tactical Signal Brigade, South Carolina Army National Guard (SCARNG) located in Spartanburg, SC.
She is a recent 2020 graduate of the Cyber War College at the National Defense University (NDU), College of Information and Cyberspace (CIC) at Fort McNair, Washington, DC. Riedel is South Carolina's first commander of the 125thCyber Protection Battalion (CPB). Colonel Riedel formed a new cyber battalion, basically from scratch, and within 6 months, prepared the battalion for deployment in support of Task Force Echo in March 2018-2019. A Task Force comprised of more than 150 Soldiers from various branches across the country to support the Cyber Mission Force. Colonel Riedel is a 2018 Jeffrey B. Jones Cyber Operations Award Recipient and continues to support the cyber initiatives of the SCARNG and the cyber community.
A career Signal Officer, Colonel Riedel, was selected and awarded AOC 17A Cyber Operations Officer designation in 2019. She holds a Master of Science in Government Information Leadership with a concentration in strategic cyberspace and information warfare from the Cyber War College at NDU. She has a Master of Science in Project Management from The Citadel and a Bachelor's Degree from the University of South Carolina. She currently works full-time at The Citadel as the Deputy Director of Operations and Outreach, Citadel DoD Cyber Institute (CDCI). She also serves as an adjunct professor teaching an undergraduate cybersecurity course at The Citadel. COL Riedel has served as an Associate Professor of Military Science at The Citadel and has worked as the SCARNG Cyber Project Manager focused on critical infrastructure and state partnerships. She worked as a senior paralegal for ten years in tobacco, asbestos, and pharmaceutical litigation.
As an active participant within her community, COL Riedel holds the following memberships: SCARNG Association, Military Cyber Professional Association (MCPA), Armed Forces Communication and Electronics Association (AFCEA), VP for National Guard Affairs for the Charleston Chapter of AUSA.
Colonel Riedel is married to her husband of 26 years and has two children.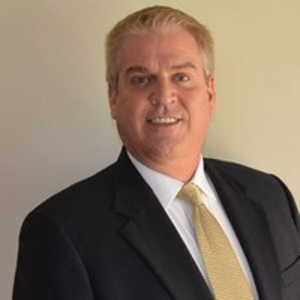 Jon Dollan
Savannah River National Laboratory (SRNL)
Cyber Director
Jon Dollan is the Cyber Director for the Savannah River National Laboratory where he oversees the cyber portfolio including business development and cyber relationships.
He has been involved in business and program development for over 14 years in both private industry and the U.S. Government. He previously has held positions as the Director of Business Development-Africa for Frontier Services Group generating over 65 million dollars in revenue and acquisitions of key African logistic companies and as the Laboratory Director at the University Multispectral Laboratory where he led innovation in high-end scientific research supporting DoD and intelligence agencies. He spent 25 years in the U.S. Navy managing substantial intelligence and cyber programs culminating in tours with the Chief of Naval Operations (N8) as the C4ISR, SAP and IO portfolio manager and senior program analyst and later as the Director of Information Operations for the Secretary of Defense where he was responsible for oversight of all IO operations for the DoD and key IO technology investments. He completed his final military tour as the Signals Intelligence Director, NSA Georgia prior to retiring from the Navy in 2011 as a Captain.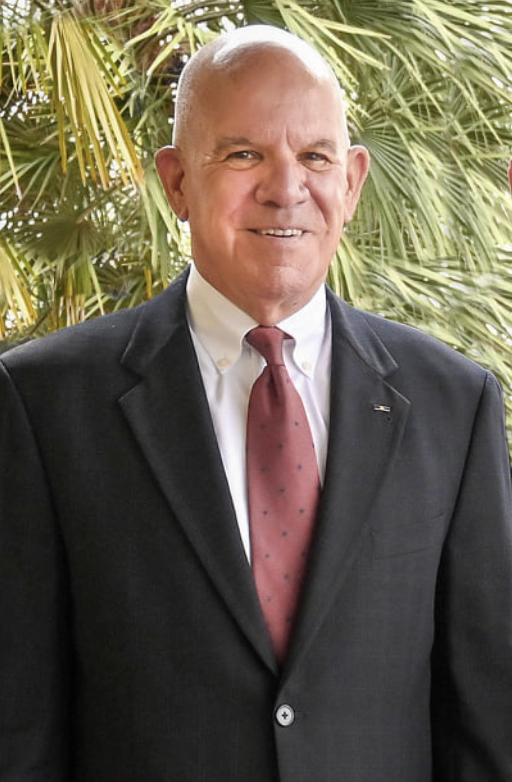 COL Warren Parker, USMC (Ret)
South Coast Cyber Center
Chairman
Warren Parker is Chairman and Executive Director of the South Coast Cyber Center in Beaufort, SC. He retired from the US Marine Corps as an infantry officer at the rank of Colonel and has had a diverse career as an executive in the private sector – banking, the defense industry, and trade association management.
Col Parker earned a BS from the University of Maryland and his MA from Harvard University. He is a graduate of the National War College; Syracuse University National Security Studies course; and recently earned a Certificate in Cybersecurity Risk Management from Harvard University. He is a co-winner for 2019 of the US Naval Institute Cyber Essay contest.
He has led the South Coast Cyber Center from its inception in January 2020.
Michael Kilcoyne
Naval Facilities Engineering Systems Command (NAVFAC) Deputy CIO/ Navy Cyber Technical Warrant Holder (CTWH)
Michael Kilcoyne is the Navy's Cybersecurity Technical Warrant Holder for ashore control systems at Naval Facility Engineering Systems Command (NAVFAC) HQ, Washington Navy Yard.
Mr. Kilcoyne brings a wealth of experience with more than 33 years of experience in the IT field. Michael worked for SPAWAR transitioning Defense Business Systems onto the NMCI platform. Mr. Kilcoyne began his government service as the NAVFAC Information System Security Manager in 2007. During the last thirteen years, Michael has focused on developing a strategy to secure the Navy's Facility Related Control Systems (FRCS). Michael was promoted to DCIO-Cyber security and worked with OSD, USCYBERCOM, FLTCYBERCOM, Department of Energy, and the National Labs on the development and implementation of the ICS cyber security strategy. Mr. Kilcoyne is the Navy's Cybersecurity Technical Warrant Holder (CTWH) for ashore control systems. Michael is a member of the Navy's Cybersecurity Working group (CSWG) whose responsibility is the development of cyber security standards for the Navy and is currently setting up the NAVFAC Cyber Planning and Response Center (CPRC) office. Mr. Kilcoyne holds a Bachelor of Science degree in Information Technology, a Master of Science degree in Cyber security, and a Certified Information Systems Security Professional.
Alexander Beall
Cybersecurity Engineer and Project Manager, Senior Development MOSAICS, Johns Hopkins University Applied Physics Lab (JHU/APL)

Alexander Beall is a Cybersecurity Engineer and Project Manager for Navy Industrial Control Systems Cybersecurity at the Johns Hopkins University Applied Physics Lab (APL). He was a technical developer on the MOSAICS JCTD and currently works with several US Government organizations to develop and deploy solutions to secure the nation's civilian and federal critical infrastructure systems. At APL he manages the Cypress Lab, a collection of industrial testbeds for researching the kinetic effects of cyber-attacks and how to defend against them.
Lt. Sean Fay
Lieutenant, S.C. Law Enforcement Division (SLED), S.C. Critical Infrastructure Cybersecurity (SC CIC)
Bart Hoffman
Risk Mitigation and Threat Intel Fusion, National Security Agency (NSA)

Dr. Csilla Farkas
Professor, University of South Carolina
Dr. Daren Timmons
Provost and Executive Vice Chancellor for Academic Affairs, University of South Carolina Aiken
Drew Stephenson and Mark Plum
Knowledge Based Systems, Inc. (KBSI)
Jacob Dustan
Ernst and Young LLP

Klaehn Burkes and Harrison Howell
Savannah River National Laboratory