What is Civil Engineering?
The civil engineering course curriculum focuses on practical issues related to engineering design and professional practice. Courses prepare students for challenging careers in civil engineering and include four discipline specific concentrations:
Structural Engineering
Mechanics of materials, structural engineering systems, reinforced concrete design, and steel design.
Environmental Engineering
Air pollution and air quality control, hazardous and solid waste, hydraulics, hydrology, water resources, and water/wastewater treatment plant design.
Geotechnical Engineering
Soil mechanics, soil sampling and testing, shallow and deep foundations and retaining wall design.
Transportation Engineering
Airport design, maritime shipping facilities, public transit, traffic control devices, highway safety and roadway design.
---
The curriculum culminates with a comprehensive capstone design course focusing on land development, environmental, structural, or transportation engineering. Students prepare design documents and engineering drawings within a context of professional practice.
What can I do with a Civil Engineering Degree?
Engineering employment opportunities include serving as technical experts, designers, constructors and managers of major civil engineering projects such as power plants, waterways, airports, schools, hospitals, wetlands preservation, environmental protection, and many other public works and commercial infrastructure projects.
---
View the program brochure or the prerequisite plan below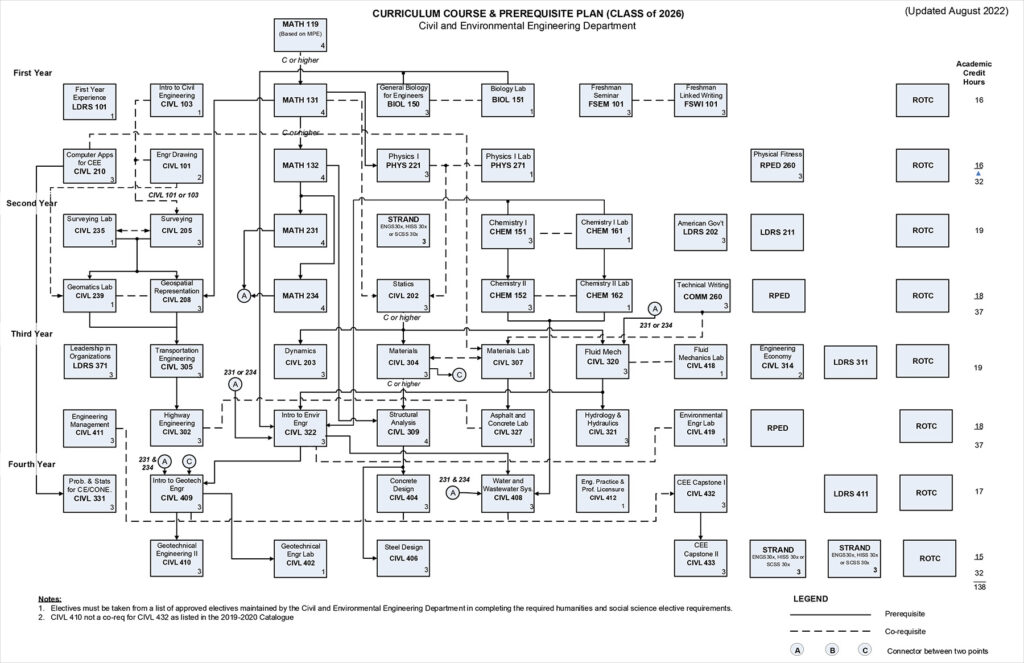 ---