Fostering Global Engagement Within The Citadel Community
The Center for International and Special Programs offers various services for international students in order to help international students acclimate to the U.S. culture, and make the immigration process as understandable and beneficial as possible. If there is information you are unable to find here, please do not hesitate to contact us. We look forward to making The Citadel feel like home to you!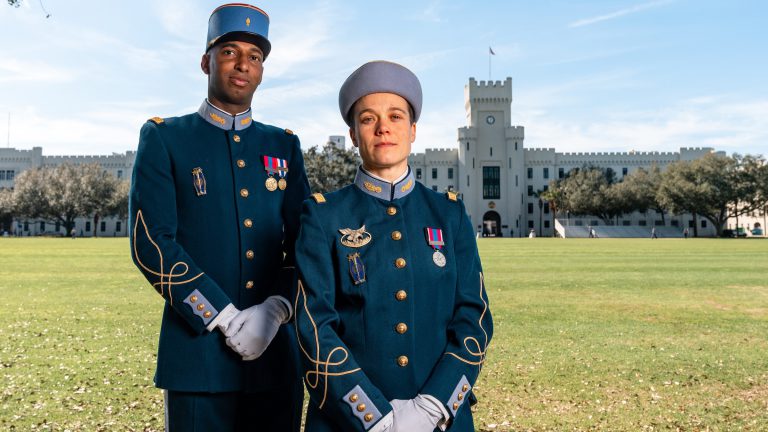 ---
International Student Services Team Contacts
Zane Segle, Ph.D., PDSO
Executive Director
Center for International and Special Programs
(843) 953-7083
seglez1@citadel.edu
Amie L. Parris, M.Ed., DSO
Assistant Director
Center for International and Special Programs
(843) 953-4915
aparris@citadel.edu
---
FAQ's
When should I talk to my DSO/PDSO?
Changing major, program, or degree level
Changing education level
Transferring to a new school or taking a leave of absence
Taking a break from school
Travelling outside of the United States
Moving to a new address
Requesting a program extension
How do I stay legal in the U.S. as an F-1 Visa student?
Maintain at least 12 credit hours for the fall semester and 12 credit hours for the spring semester

If you find school to be too difficult, speak to your DSO immediately.
If you believe that you will be unable to complete your program by the end date listed on your I-20, talk to your DSO about requesting a possible program extension.

Summer semesters are the only approved vacations throughout the school year.
Make sure your I-20 does not expire.
Do NOT work without proper authorization.
What do I need to know in regards to credit hours and courses?
Online courses: You may only take ONE online course per 12 credit hours per semester.
Retakes: Unless you fail a course, you cannot retake a course. If you need to retake a course, you will have to come to the CISP to discuss your options. You will have to do this before you register for the course again. If you retake the courses without permission from the CISP, your I-20 will not be extended.
Withdrawals: If you are registered for 12 credit hours and choose to withdraw ("W") from a course, you will be considered out of status. Remember, you must register for and complete the semester with at least 12 credit hours. Receiving a "W" grade does not count towards the credit hour requirement.
What if I want to change my major?
You must receive approval from the PDSO in the CISP before completing a change of major form with an academic advisor.
What do I need to know about employment as an F-1 Visa student?
You may NOT work without authorization; work authorization for F-1 students is very limited.
You are allowed to work on campus if a job is available.
F-1 students are eligible for curricular practical training (CPT) at either the undergraduate or the graduate level during your program of study. CPT employment must be an integral part of an established curriculum and the position must directly relate to your major area of study.
F-1 students are also eligible for optional practical training (OPT) during or following the program of study. OPT is a form of temporary employment that directly relates to your program of study.
Please discuss any work options with the CISP, DSO, or PDSO before engaging in employment. For more information, here is a helpful article from the Department of Homeland Security regarding F-1 student employment options.
How do I get a SC Driver's License?
In order to apply for a driver's license, you will need: all signed versions of your I-20 forms, a valid passport and most recent student visa, your Social Security Number, and proof of residence.

To obtain a Social Security Number, you will need to verify you are in Active status in the Student and Exchange Visitor Information System (SEVIS). Talk to your DSO or PDSO about locating a nearby SSA office. Note: As an F-1 student, you do not qualify for a social security number unless you are working.

A driver's license applicant may also need to pass both a driving and written test. Depending on your state, if you have a license from your home country or another state, the DMV may not require you to take the tests. However, not all states accept driver's licenses from other countries.
Talk with your DSO or PDSO to help you navigate the process.
What happens when my program ends?
Once you complete your program of study and any authorized period of practical training, F-1 students have 60 days after the program end date listed on your Form I-20 to leave the United States. If you wish to extend your stay in the U.S., talk with your DSO to learn more about doing one of the following:

Transfer to another school
Change your education level (i.e., bachelor's to master's)
Apply to change to another visa status (i.e., H-1B temporary employment status; O-1A/B extraordinary ability in science, art, or business)
Any other important information I should remember?
Your visa can only be renewed outside the U.S. at a Consulate or Embassy in your home country. It is okay for you to stay in the U.S. with an expired visa.
Your passport can be renewed in the U.S. by your home country's embassy. Go to www.embassy.org for more information on how to renew your passport. It is important that you maintain a valid passport.