Does the idea of a conventional education seem a little… boring?
If you're looking for a transformative experience that will give you leadership skills that will set you apart, The Citadel is the place for you. Located in Charleston, South Carolina, The Citadel offers a values-based education set in a military environment with a time-honored reputation for producing leaders. At The Citadel you will learn from professors who are leaders in their field of study. You will learn what it means to be part of a team. You will develop enduring friendships. And you will push yourself… hard. You will test yourself. And your endurance. You will learn about perseverance… resilience… stamina… determination. And in four years, you will emerge strong, confident, ready to tackle any challenge that comes your way. You will become a leader.
Service before self
Principled leadership training teaches cadets the value of integrity and moral character in everyday life. Cadets pledge to abide by the college's core values of honor, duty and respect. The Citadel develops leadership, initiative, character and confidence by placing cadets in positions of responsibility within the Corps. Additionally, The Citadel offers many opportunities to serve the community, with cadets donating more than 25,000 hours of service every year.
Small classes, big outcomes
Cadets benefit from small classes, professors dedicated to their success and a wide array of educational support services that provide one-on-one guidance and tutoring. Special programs, such as the Honors Program and a robust study abroad program, offer unique opportunities to enrich the academic experience. With courses that offer challenging classroom and hands-on experiences, a Citadel education enables cadets to pursue their passion and fulfill their highest academic potential.
Structured for success
Cadets are immersed in a rigorous military lifestyle. They also complete training in the ROTC branch of their choice. These experiences arm cadets with the time management, teamwork and leadership skills necessary to succeed in military and civilian careers. Regular habits—including discipline, attention to detail and organization—are considered among the most valuable features of a Citadel education.
The extra mile
Effective leaders take pride in their level of physical fitness. A lasting value of a Citadel education is the foundation of fitness and healthful living that remains long after graduation. In addition to the physical health benefits of being physically fit, there are mental health benefits as well. Cadets participate in regular physical training and are expected to meet and maintain fitness standards. Division I athletics and club sports provide additional opportunities to exercise while developing teamwork skills in a competitive environment.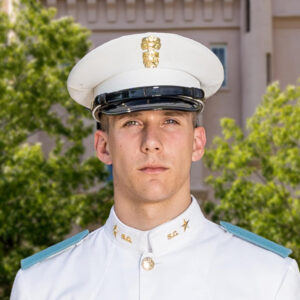 "We come to The Citadel for a challenge. And when things get hard, my classmates always help me through it. If I ever need anything I know they are there, and they know they can come to me, too."
Aaron Daninger, '22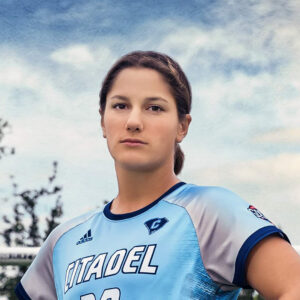 "You're not only a team on the field but also a team in the Corps. The leadership you learn in the Corps helps you become a better leader on the field."
Kate Manzione, '21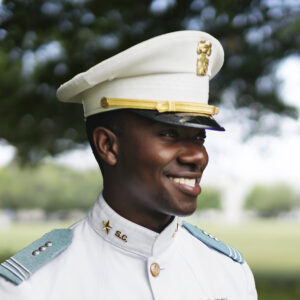 "The Citadel has taught me not to see a challenge as a problem; instead, to see a challenge as an opportunity to make an impact."
Marcus Milhouse. '19