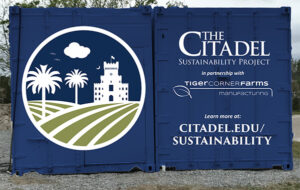 Sustainability is one of the most critical concepts of the 21st century. As the world looks to new options to feed an ever-expanding population, sustainable food sources have taken center stage, in place of traditional farming methods. The Citadel Sustainability Project (CSP) is designed to not only meet a wide variety of needs for the college itself but also create new experiences and opportunities for students across the Lowcountry. The CSP is based on three simple concepts: Cadet-based, fills immediate and long-term nutritional needs, and provides hands-on sustainability education. These concepts will serve as the building blocks for the project as well as guiding principles for its eventual expansion on several levels.
---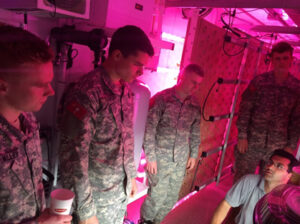 Student Involvement
Cadets learn about the fundamentals of aeroponic farming and the importance of having access to fresh, nutritious produce. The container is entirely cadet operated with faculty and Tiger Corner Farms providing support as needed.
---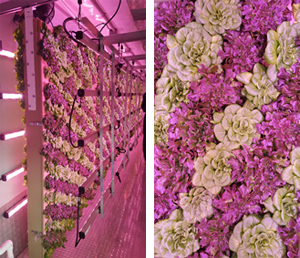 The Future of Sustainability
An important piece of the Sustainability Project is education. As colleges across the country, particularly in urban areas, begin to see sustainability as far more than just a classroom endeavor, more focus is being placed on programs that present the institutions as overall sustainably focused. From energy to resources to food, these topics are gaining traction across the world and deserve the attention of The Citadel and surrounding school districts. To address this need, the Sustainability and Environmental Studies minor will be added to the curriculum starting Fall 2017.
---
Contact
If you have questions, need more information on The Citadel Sustainability Project, or like to get involved, please contact Jennifer Alberts at jalbert@citadel.edu or 843-953-7121.